Unleashing the power of 'Next to Normal' at Media Theatre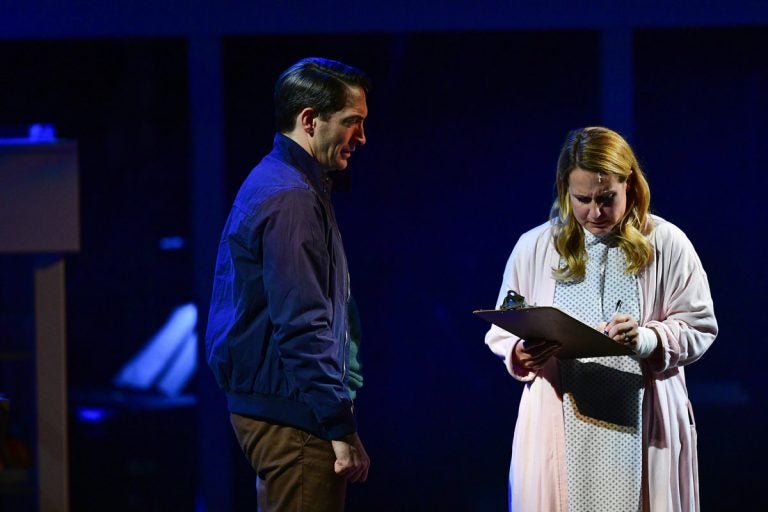 It's been a decade since "Next to Normal" made its Broadway debut – a serious musical that plumbs the consequences of mental illness not just on the victim, but on the entire family. After seeing the splendid, gripping production now in the middle of its run at Media Theatre, two things strike me:
"Next to Normal" is timeless. The situation it poses resonates with families whose members cope, sometimes heroically, with mental illness. That's why people went to see it more than once during its Broadway run, and also four years ago when it was done here by Arden Theatre Company.
Its producers who invested money originally and the artistic directors who now choose to produce it regionally – are brave. It's not an easy musical for the cast – I sometimes wonder how they keep from bursting into tears just performing it – and it's no less comfortable for an audience. The show is best summed up by my colleague, the theater critic Toby Zinman. She calls it "a musical tragedy."
And a very real one. It involves a mother (Krissy Fraelich, masterfully performing the role she played in the Arden Theatre production) who has been depressed 18 years, since her son died in his infancy. As time passes, she falls mentally deeper into a place no one can reach – not her husband (the veteran Philly actor Ben Dibble) or her high-school daughter (Molly Sorensen, a real-life high-school junior with a commanding stage presence and voice).
Her doctors (both played by Patrick Ludt) are effective only to a degree; drugs and therapy work, then don't. "I don't feel like myself," the woman tells a doctor. "I mean, I don't feel anything." His take on that? "Patient stable."
The child who died has become her demon. He appears on stage in "real time" – as the 18-year-old he would have been, not the infant he was. He is a fiction – only his mother and the audience can see him – and he's part of her life, and also her comfort and the strangler of her sanity.
He's played with brio by the young actor Ronnie Keller, who sings the role (about 90 percent of the show is sung), sometimes defiantly. "I'm alive! I'm alive!" he insists in one of "Next to Normal's" best-known songs. And for him, survival means staying alive in his mother's mind.
The show's book and insightful lyrics are by Brian Yorkey, and Tom Kitt won the Tony Award for his music – tunes I find repetitive because of their similar, static progressions through the show. Still, the songs are often bold declarations of the way mental illness can shred all the lives in a family. Even a love song between the daughter and her new-found boyfriend (Christopher Infantino) dwells on planetary destruction.
Fraelich and Dibble are spot-on as husband and wife. She sings with a mixture of tears and sweetness in her voice, he with frustration and almost always, a nod to hope. It's no easy show to sing – the music ranges all over the place and sometimes in a matter of seconds.
No matter how you respond to the show, you can't take exception to the performances, hoisted by the spirited sense of storytelling that director Geoffrey Goldberg demands from the cast, the standard two-story set for the show that was designed for Media Theatre by Kyle Brylczyk and by the crisp accompaniment from Ben Kapilow's six-piece orchestra. Alas, when I saw the show Tuesday, one of the few obvious missteps came in a plot-hinging song, when the percussion stomped all over the lyrics.
Over the years, people have told me how much "Next to Normal" means to them. The gist of their comments isn't that they enjoy it but that they admire it. True, it's hard to enjoy a musical that keenly interprets the effects of mental illness – but the main reason we want to enjoy musicals, any musical, is that we're conditioned to be entertained by them. "Next to Normal" is all the more influential because it breaks the feel-good mold of a musical while keeping its framework. Without producers brave enough to put "Next to Normal" on a stage, I suspect there'd be no "Dear Evan Hansen" to wow audiences on Broadway now with another challenging anti-hero – this time a scared boy lost in himself. Wait a few years, Media will find a way to do it.
—
"Next to Normal" runs through Feb. 25 at the Media Theatre, 104 E. State St. in Media. 610-891-0100 or mediatheatre.org.