Twilight zone: Blackwell to remap West Philly in her last days on Council
With just a month left in City Council's fall session, outgoing Councilmember Jannie Blackwell unveiled big plans for her West Philadelphia district.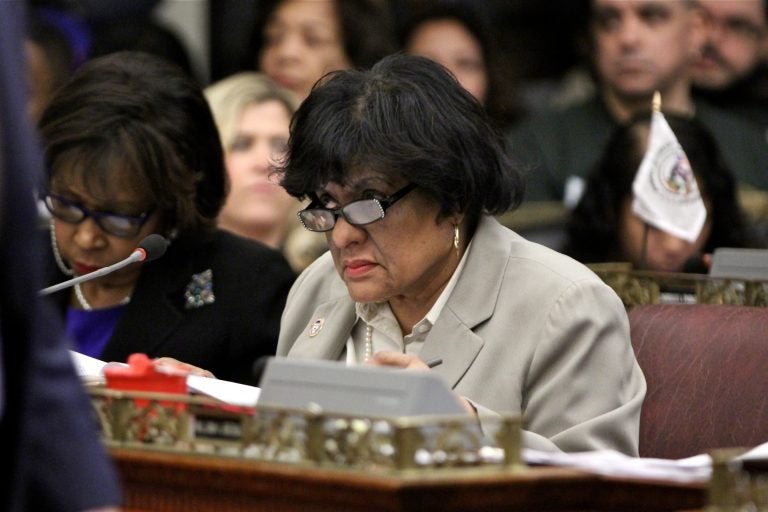 West Philadelphia City Councilmember Jannie Blackwell is going out with a bang.
With just a month left in her final City Council session, the longtime incumbent Thursday unveiled big plans for her district, introducing a whopping eight bills to change zoning maps.
Given Council's tradition of councilmanic prerogative, where district representatives get preference over land use legislation in their territory, the bills are virtually guaranteed passage.
"My time is short and I wanted to make sure to represent my community groups all the way up until the end," said Blackwell.
Blackwell is ending her 25-year career in City Council at the end of 2019, after losing to newcomer Jamie Gauthier. The incumbent's loss in the May primary came as a surprise to many political observers, and some saw it as a rebuke of Blackwell's erratic approach to land use policy. Some of  the measures Blackwell introduced Thursday propose zoning changes community groups have wanted to see for years.
Gauthier, who has a degree in urban planning, promised, as recently as last week, to begin her tenure with an inclusive, community-driven rezoning process. She rebuked Blackwell's try for last-minute rezoning.
"I should have the space as the incoming council person to work on this with the community," said Gauthier. "For me, it is unfortunate that these bills, that could have a major impact on development for years to come, are being rushed and pushed forward in a very short timeline."
Thursday's Council meeting was the last at which zoning bills could be introduced in time for passage by the end of the year. Such legislation must be reviewed by the Rules Committee, which only has two more meetings before the fall session's end.
Blackwell's office approached the Planning Commission two weeks ago and asked for bills to remap the entire district. But given the fast timeline, the legislation she got doesn't do anything too dramatic or complex. Instead Blackwell's measures largely include the kind of corrective remapping — changing underlying zoning to match what is already there — that many neighborhood groups have long requested to no avail. They mostly cover Kingsessing and Cobbs Creek, with a few smaller areas of Powelton Village and Belmont.
The move represents a 180 for Blackwell, a longtime skeptic of the kind of big-picture neighborhood planning that remapping encourages. After the city overhauled the zoning code in 2012, she held hearings to interrogate the very idea of working with professional planners to craft land-use regulations. No other City Council member attended the hearings.
"You can't sit in the [Planning Commission] and come up with what you think should go in my community when I'm answering to all the people there," Blackwell told city officials in 2013. "I don't believe in voting myself out of a vote."
Blackwell prefers to engage in spot zoning — a controversial practice where a politician changes the zoning on a parcel to enable a specific development or transaction. Good government groups argue that legislating in this way encourages pay-to-play politics.
"Councilmember Blackwell has a history of questionable decisions around land use and zoning in her district," said Pat Christmas, policy director for the Committee of 70, a political reform group. "This is a big bundle of bills at the last minute, on an accelerated timeline. It absolutely raises a flag."
Blackwell has championed councilmanic prerogative, which has given her and other district councilmembers control over zoning maps, street regulations, and public land sales in their territory.
In the year prior to the primary election, Blackwell attempted to withhold the sale of public land at the behest of a wealthy developer and tried to remap a single parcel of land owned by a development company in such a way that would have massively increased its value.
But most of the zoning bills introduced Thursday seem to be the exact kind of neighborhood zoning bills that Blackwell scorned and her replacement campaigned on.
Gauthier told WHYY last week that she will have an urban planner on staff and that her first order of business upon taking office would be launching a series of community-driven zoning efforts.
"The current councilmember has not been an advocate of remapping, and zoning in a broad sense has [languished] for a really long time," said Gauthier, when asked for her reactions on the deluge of zoning bills. "I was not reached out to or communicated with at all, so it was surprising, confusing and not helpful."
The bills Blackwell introduced include some of the kinds of initiatives that Gauthier says she would have sought to pursue early in her first term.
Blackwell told reporters she couldn't imagine that Gauthier would have any criticisms of her last-second legislative blitz.
"I think my successor, my guess is that she would do the same thing," said Blackwell. "It's what the people want. I'll do whatever I can to try to satisfy them and their legislative requests. It's my job to do that, so I'll do that until the end."
WHYY is your source for fact-based, in-depth journalism and information. As a nonprofit organization, we rely on financial support from readers like you. Please give today.