Trump's gains in North Philly show Latino voters are not a 'gimme' for Democrats
Voting data show Trump's message resonated more broadly than is often recognized, particularly in a city where Democrats hold an overwhelming advantage.
Listen
3:36
You'd be hard pressed to see much sign of support for President Donald Trump in North Philadelphia.
But in a few majority Black and Latino wards here, this is where turnout for Trump in the city jumped the most in 2020.
These neighborhoods did not dramatically swing the margins in Philadelphia toward Trump. Turnout here has historically tended to be lower than average and this year was no exception. Trump received nearly six times as many votes in reliably red Packer Park in South Philly as in his best ward in North Philly.
But the president's gains show his message resonated more broadly than is often recognized, particularly in a city where Democrats hold an overwhelming advantage.
"[Democrats] figure that the Hispanic vote is a 'gimme' vote," said David Torres, GOP leader in the 19th Ward who also ran for U.S. congress this year against incumbent Democrat Brendan Boyle.
Torres lost, but he increased his vote count compared to his last try in 2018, from about 42,000 then to more than 75,000 in 2020, a gain of five percentage points. He said the gains highlight how Trump connected with people in places supposedly unfriendly to Republicans — those he said who have pent-up resentment against the Democratic party.
He said residents are unhappy with the failure of city government to improve neighborhood quality of life. They lament crime happening out their doors and want more police on the street, while Democrats debate law enforcement budget cuts.
Other North Philly Trump supporters cited the coronavirus relief checks the president authorized as part of their motivation. Some criticized what sometimes felt like arbitrary business and community lockdowns mandated by Democratic electeds. 
"You couldn't go to church, but the drugs were still running," Torres said.
'He talked to us'
President Trump won over more Latino voters on a national scale during this election cycle, notably in South Florida and Texas. Surprise over these gains has been met with eyerolls from many Latinos, who say political parties and the media have not bothered to recognize the different cultural, racial and political affiliations within their ranks.
"It's like 'Oh my gosh, Latinos are more diverse than we thought,' and anyone who studies Latinos would say, 'Well, you haven't been paying attention,'" said Michael Jones-Correa, a political science professor at the University of Pennsylvania who studies Latino political involvement.
From Florida to Feltonville, Trump gained voters in areas presumed to be Democratic strongholds.
The greatest percentage increase in GOP support citywide compared to the 2016 election came in the 7th, 19th and 37th wards — all North Philadelphia neighborhoods east of Broad Street that include or border the epicenter of Philadelphia's opioid crisis.
In the 19th Ward, 59% of residents are Latino, 35% are Black and median household income is $19,130, according to U.S. Census data.
In this ward, Trump's support nearly tripled, from 249 in 2016 to 648 in 2020. Neighboring wards saw similar increases.
While the vote totals are small, they represent noticeable gains in a city where Democrats outnumber Republicans by a 7-to-1 margin. Democratic turnout here also fell, dropping off by 2,000 votes in the 43rd and the 7th Wards.
That was "concerning," said Councilmember Maria Quiñones-Sánchez.
"Potential Democratic voters didn't come out," she said, in part because the party failed to make overtures to them. 
For example, local elected officials weren't tapped to help share Democrats' message with their constituents. 
"Biden/Harris put out a wonderful Puerto Rican plan," Quiñones-Sánchez said. "I didn't even do one robocall to talk about it. I was like, 'Folks, are we going to tell people about this?" 
As evidence of outreach to area Latinos, the Biden campaign pointed to a roundtable between Vice President-elect Kamala Harris and area elected officials, including Quiñones-Sánchez, as well as a program for Spanish speaking business owners called "Nuestros Negocios, Nuestro Futuro," as just some of their efforts to reach potential voters.
Turnout this year in Philadelphia exceeded 2016, but was still lower than some had expected. Vote totals actually decreased compared to the previous presidential election in areas where the GOP picked up more votes. Wealthier, predominantly white neighborhoods helped Democrats the most, as did their counterparts in Philadelphia's collar counties.
Democrats "overlooked" Latino voters in Philadelphia this year by not meeting them where they are, said Jones-Correa. Toward the end of the election cycle, Biden was flush with cash, but the largest door-knocking effort in these neighborhoods came not from his campaign but from the service workers union Unite Here.
Instead of spending his political war chest on get-out-the-vote efforts, they "were just shoving it into ads," Jones-Correa said.
"Low-propensity voters, that's not the way you're going to reach them or mobilize them," he said. 
On the whole, Latinos in the United States tend to favor Democrats over Republicans by a 2-1 margin, and that's likely to hold this year even with low urban turnout, according to Correa-Jones. Even with marginal gains for Republicans in Philadelphia, returns crunched by the UCLA Center for Latino Policy & Politics Initiative show that precincts where more Latinos lived tended to vote overwhelmingly for Biden, and helped deliver his win.
Trump's name and message, though, did cut through, and the campaign invested in sending surrogates to this area.  Eric Trump, the president's son, held a "Latinos for Trump" event at In the Light Ministries in Feltonville in October.
Trump's wooing of conservative Christian voters also may have helped him here, said several people interviewed. 
"There's a natural tendency of Latinos to be more conservative. We have a large evangelical, pentecostal community," Quiñones-Sánchez said. 
Democrats sometimes counter that messaging by running on social justice issues, she said, but many of her constituents vote based on other topics, such as the economy or conservative values.
"He talked to us. That means a lot," said Pastor Phillip Fisher Jr. of the Center of Universal Divinity, located in Olney. Fisher, a friend of Torres', said that many in the neighborhood feel ignored by both the local and national Democratic party, and that certain messages do not translate to the needs of their neighborhood.
"When you say you want to defund the police, what you're actually saying is you want to take what little resources we have away from us," he said.
The coronavirus and ensuing job loss also weighed heavily on these neighborhoods. Whereas many Democrats blame the president for not doing enough on both fronts, some here praised the direct relief checks, which had "President Donald J. Trump" emblazoned on the left side.
"People still had the hope he was going to give them the second one," said State Rep. Angel Cruz, who also serves as the 7th Ward's Democratic leader.
Outside of a staffing agency in West Kensington, Angel Pagan, waited to find out if he could pick up a gig on Wednesday. A forklift operator, Pagan had been working at an audio equipment warehouse in New Jersey before the coronavirus pandemic cost him his job.
Pagan said he was incarcerated in 2016 and so did not vote in that election, but this year he voted for Trump.
"We've been with him for four years and he went and helped many people out. A lot of people don't look at that," said Pagan, who named the federal Pandemic Unemployment Assistance program as one such form of help.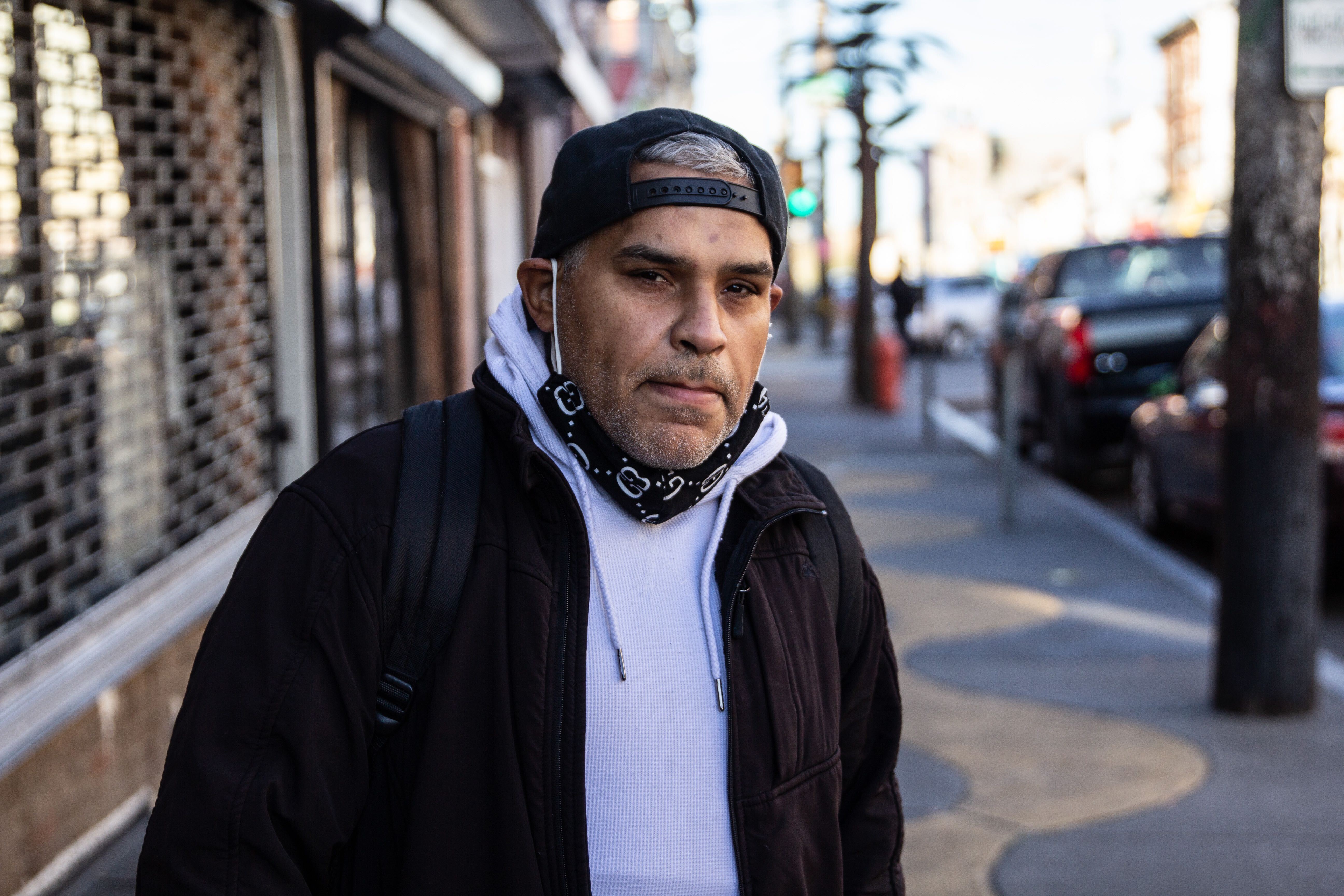 He said he also likes Trump's personality.
"We need a president who, how you say, that is not weak," Pagan said.
An employee from the staffing agency approached to use Pagan's lighter and said he supported Biden in 2020. When asked about increased support for Trump in the area, he said, in part, he could relate.
"Trump, he's not that bad of a guy. I really like Trump. I voted for him four years ago. I honestly did," he said. "But this time around — he's too impulsive."
Get more Pennsylvania stories that matter
WHYY is your source for fact-based, in-depth journalism and information. As a nonprofit organization, we rely on financial support from readers like you. Please give today.