Toll Brothers pursuing condo project at Society Hill Playhouse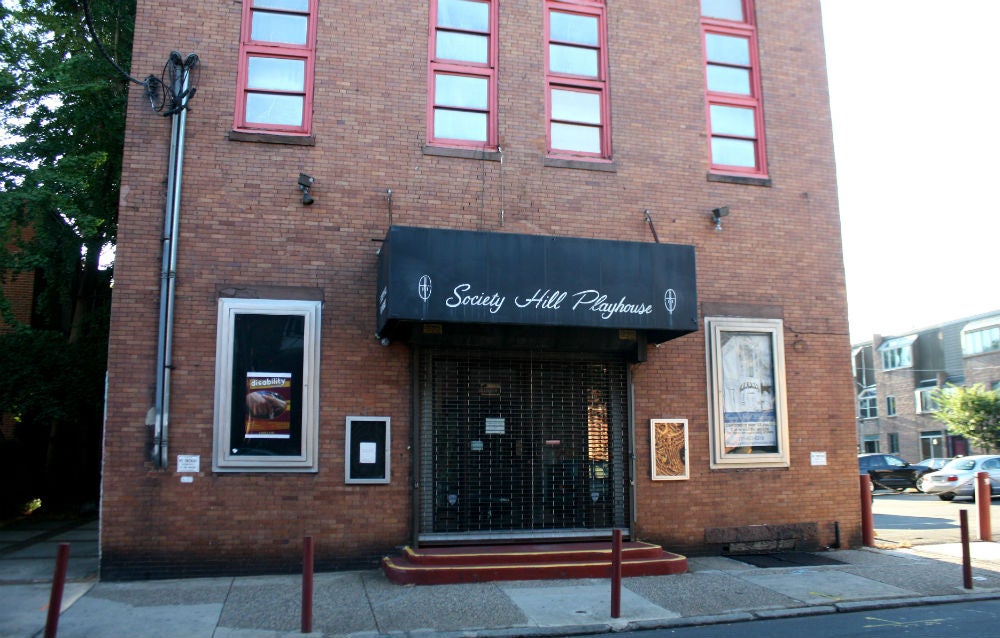 Three groups of neighbors in the area surrounding 8th and Lombard streets in Washington Square West are staunchly opposed to a proposal that would see Society Hill Playhouse and a two-story garage across the street torn down and replaced with condominiums.
Toll Brothers, the Horsham-based development company, has been in talks with neighbors about the project since the spring. On Tuesday night, Toll presented a revised version of the proposal to Washington Square West Civic Association, which is considering whether to support the developer's pursuit of a City Council bill rezoning the property. Virtually everyone in attendance at the meeting was outright opposed to the development, saying it would be too tall and doesn't respect the character of the neighborhood.
Toll has scaled its original proposal down from a maximum height of 60 feet with 24 units and 16 parking spaces to a maximum of 51 feet tall with 17 units and 18 parking spaces. Brian Emmons, a Toll Brothers vice president, encouraged residents at Tuesday's meeting to go look at the company's nearby construction project, 410 at Society Hill on Headhouse Square, for comparison.
"Our buyers are going to be spending $500,000 to $1 million on these homes," Emmons said. "And these folks are just like you."
Neighbors still aren't having it—at least the group that showed up for the meeting on Tuesday. The properties in question are zoned RM-1, a low-density multifamily classification with a 38-foot height limit. Most neighbors said they would like to see townhomes built there, if anything.
Residents who oppose the project have organized themselves into three groups which have been meeting with Toll Brothers separately: those who live on the 700 block of Rodman Street, the 700 block of Bradford Alley, and residents of Lombard Mews on the west side of 8th Street. The latter group has hired an attorney.
ENVIRONMENTAL CONCERNS
Toll Brothers also took the opportunity Tuesday night to reveal that, during its due diligence, it has discovered petroleum contamination underneath the garage property on the west side of 8th Street. The company contracted with Tri-State Environmental to investigate the conditions at the site. A representative of the company said on Tuesday that the assessment showed a number of chemicals were present at the site, at levels that exceed statewide health standards. The contamination is substantial, said the representative, but neither Tri-State nor Toll Brothers was able to say how harmful it might be. The garage previously featured drive-in gas service.
Toll Brothers said it has the capacity to remediate the site but wouldn't do so before purchasing the property. That purchase would be contingent on having zoning for the development approved. Contamination has not been found beneath Society Hill Playhouse, the company said.
Given the environmental issues, Toll Brothers said that if a zoning change was adopted in Council, it would start work on the Society Hill Playhouse site next summer and be finished within a year. Deconstruction of the garage across the street, remediation, and development of the project on that side would take around two and a half years, Emmons said.
Paul Boni, the attorney representing Lombard Mews residents, said that the mention of the environmental issues from Toll Brothers felt like a threat to coerce neighbors into supporting the project lest the contamination go unchecked. He said the property's current owner, Frederick Simeone of the Simeone Foundation, has the means to clean up the site and should be held responsible for doing so.
"When I hear it, I know you don't mean it as a threat, but it sounds like a threat," Boni said.
PROSPECTS UNCERTAIN
Councilman Squilla told PlanPhilly late last month that he was waiting on negotiations between Toll Brothers and neighbors to shake out before deciding whether to introduce rezoning legislation. (Toll has hired lobbyist and former Councilman Frank DiCicco, Squilla's predecessor, as a consultant on the project.)
Washington Square West Civic Association has yet to take a formal position on the project. There was no vote at Tuesday's meeting, but the board went into a private session after the public meeting adjourned, and Judy Applebaum, a board member who led the meeting, said the group would report the neighbors' position to Councilman Squilla.
Paul Boni stood toward the end of the meeting to convey his clients' opposition to the project and to denounce the process of legislative rezoning for specific projects. He said that if Toll Brothers wants to build something the zoning code doesn't allow it should have to make its case and face opposed neighbors at the Zoning Board of Adjustment. (Residents can testify at City Council when a zoning bill is up for adoption, but developers don't have to prove they have a hardship there.) Boni, who is currently suing the city and Councilman Squilla for spot zoning in a case related to developer Michael Samschick's Canal Street North project, questioned why the civic association would support legislative rezoning.
"Why would you not only support it but support it in a way that deprives [residents] of their right to oppose it at the zoning board?" he asked.
Society Hill Playhouse, which has been putting on shows since the late 1950s, also has yet to make any announcements about a possible closure. Deen Kogan, who started the playhouse with her husband, Jay, a former assistant L&I Commissioner who died in the early 1990s, told PlanPhilly last month that she didn't have any information to share about the playhouse closing or the development that might take its place.
(Jared Brey)

Garage property owned by Simeone Foundation on S. 8th Street south of Lombard.

(Jared Brey)

700 block Bradford Alley
WHYY is your source for fact-based, in-depth journalism and information. As a nonprofit organization, we rely on financial support from readers like you. Please give today.