These South Philly seniors wanted the vaccine to come to them. Their landlord had other ideas
Residents of Birchwood at Cedars Village set out to organize a vaccine event for themselves. They had to jump through unexpected hoops to do it.
Listen
4:36
Ask us about COVID-19: What questions do you have about the coronavirus and vaccines?
Theresa Barry had big plans for the month of March. Her son's wife is pregnant, and she wanted to make it down to Florida in time for the gender reveal. She knew she didn't want to fly without a COVID-19 vaccine, but as a senior with a heart condition, she figured she would get immunized right away.
She had heard that some senior facilities were arranging for vaccination clinics right at their buildings through an independent pharmacy called Centennial. So Barry inquired with the management at her building, a 64-unit low-income independent senior center called Birchwood at Cedars Village in South Philadelphia, near the Italian Market.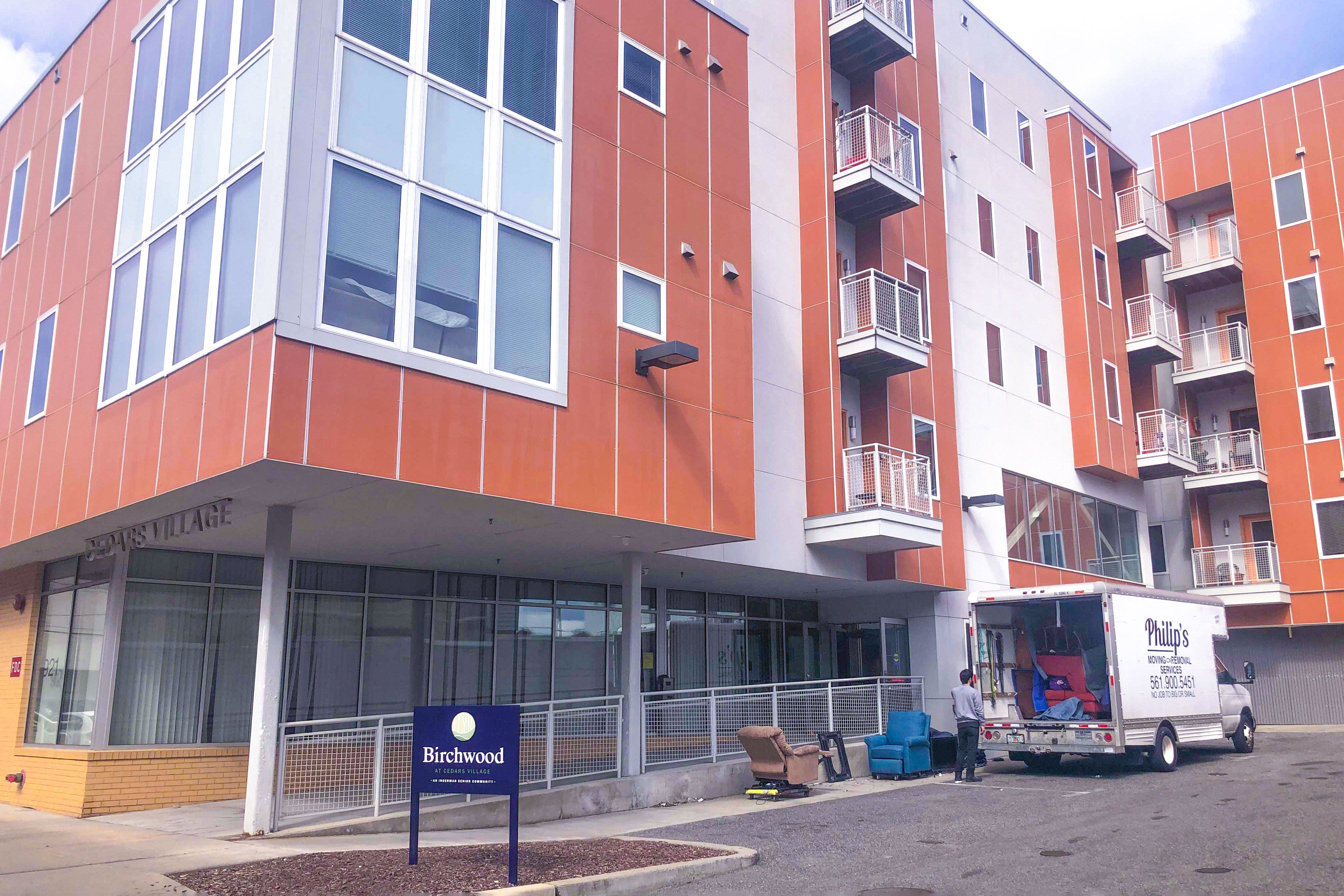 The response she got was not what she expected.
"She said, I don't want strangers coming in from the outside," Barry said of the building manager. Barry explained that this would just be for residents — no one else would be coming to get vaccinated.
Still no luck. "She said, It's not my job to do that."
The response from Birchwood at Cedars Village comes in stark contrast to the one at many other apartment complexes, which have been scrambling to get vaccinations for their residents as a sort of amenity that comes along with living in the building. Centennial Pharmacy has been bringing vaccines directly to seniors' doors in an effort to increase access for those with limited mobility.
"To bring these folks to our facility, it would be a real daunting task," said Centennial co-owner Joseph Dymowski. "We're much better off if we come to them."
The local chain's owners say they have been flooded with requests from apartment buildings — both for seniors, and for the general population. At the end of February, Centennial had delivered nearly 10% of the vaccine doses given out among Philadelphia's pharmacies. It is booked solid with two to three vaccination clinics a day through June.
Barry was stunned by the property manager's response. Two of her neighbors had died of COVID-19, and more still had tested positive. Everyone in the building had been terrified of getting sick for a year. She and a cadre of her neighbors figured management might just have been prickly because the residents tried to schedule the event without asking first, so they connected Centennial with the building directly, in hopes staff members would be more amenable if they coordinated directly with the pharmacy.
The next thing they knew, the residents received a letter in the mail. Beneath a clip-art image of a police officer with a stop sign, Ingerman Management, the parent company of Birchwood at Cedars Village, warned them that it had become aware of an "unauthorized organization soliciting information from our residents regarding a COVID-19 vaccination." The letter went on to prohibit anyone from entering the building under the pretense of scheduling vaccinations.
"Identity theft is real and ongoing in senior communities during these uncertain times," the letter read. "Protect your personal information from criminals!"
Brad Ingerman, CEO of Ingerman Management, wrote in an email to WHYY News that his social services manager had made several unsuccessful attempts to reach Centennial Pharmacy to verify its credentials.
"When our staff did reach a representative from Centennial Health — they indicated they were unaware of such an event in our area," Ingerman wrote.
But Lindsay Dymowski, co-owner of Centennial, said she had a conversation with Cedars Village community services provider Yuri'el Ben Israel, in which he told her that Centennial was not welcome at the facility.
The group of residents that had been organizing the vaccinations was shocked, but would not be deterred. With the help of Councilmember Mark Squilla, the group arranged for the clinic to take place at the church hall at St. Maron Maronite Catholic Church, just a block away.
That's when they got the second letter.
On March 2, a few days before the clinic was scheduled at the church, Ingerman Management sent residents another letter making it clear that the event was not approved or authorized by the building, and that residents would assume all risks.
"They did exactly what they intended — they scared the people again," said Linda Harkins, another Cedars Village resident who helped organize the clinic.
"They're senior citizens! They're already so scared of everything. So then they got scared about that. They did everything they could to try to stop it," Harkins said.
The day before the clinic, the residents of Cedars Village received a third letter from the building management. It notified them that FEMA had set up a clinic at the Pennsylvania Convention Center, and offered to help them fill out an interest form with the city. There was no mention of the clinic the residents had scheduled for the following morning, down the street.
"Now they're sending a letter saying, Oh, FEMA's giving it out if you want to go stand in line," said Theresa Barry. "I got a heart condition, I got five stents in my chest. I got a pacemaker defibrillator — I can't stand in line for five hours."
The last letter was too little, too late. Barry, Harkins and their co-organizers assuaged the fears of their neighbors and forged ahead.
Jabbed, against all odds
On Saturday March 7, 71-year-old retired mechanic Harry Nelson waited until his floor was called, tucked his shaggy lap dog under one arm, and walked the block and a half to St. Maron. He said he doesn't drive anymore, so he was grateful the vaccine was coming to him.
"If I go to the hospital, I have to find somebody — depend on them," he said on his way back home from getting the shot. "I don't depend on nobody."
Asked about the first thing they would do once they were vaccinated, a group of residents responded with nothing more than a chorus of laughter and knowing glances.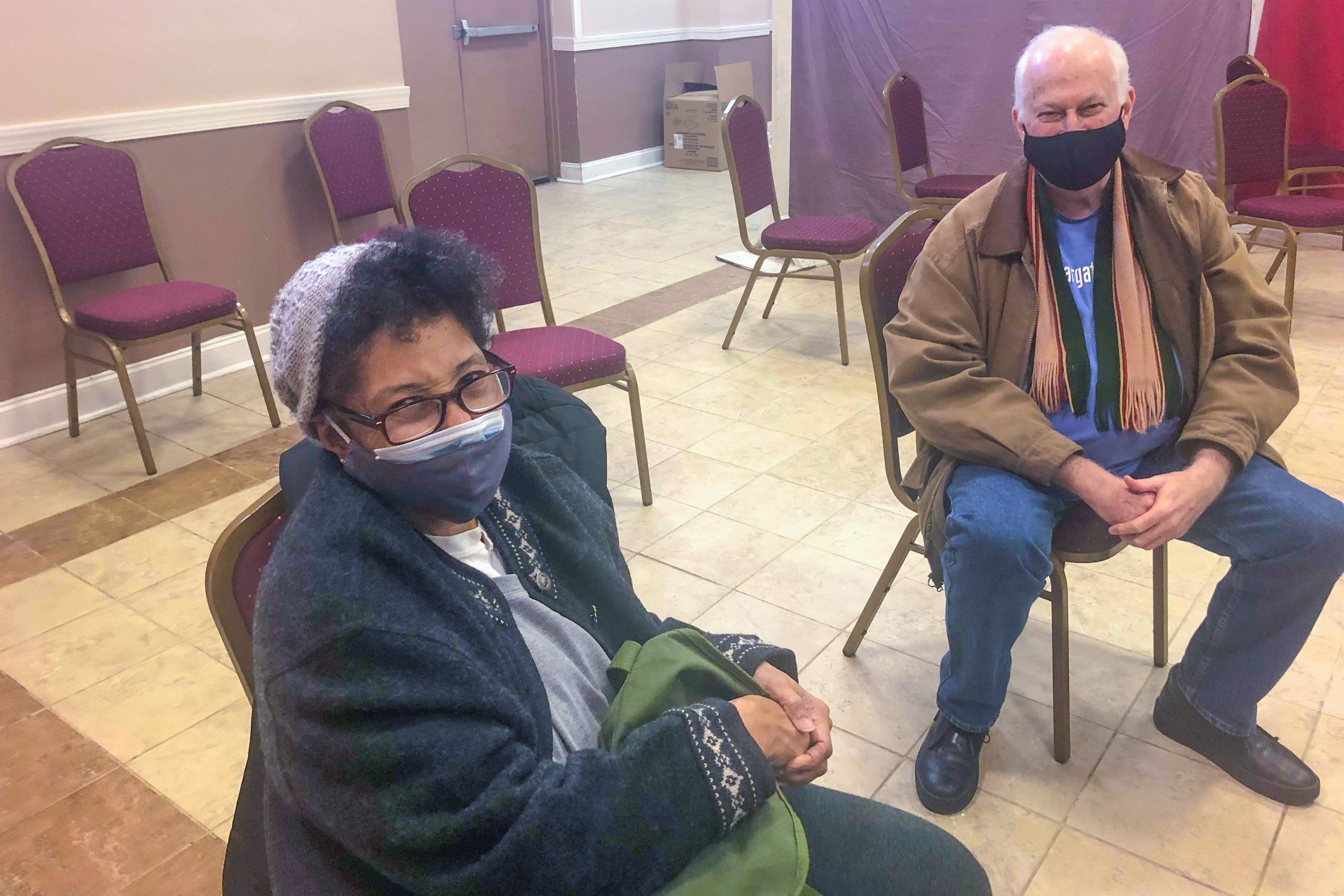 "She did not just ask that!" Olynthia Archie exclaimed with a giggle. She said she was looking forward to a few trips down the Shore this summer.
All told, Centennial vaccinated more than 100 people at the clinic — about half of them were from Cedars Village, and the rest were child care providers or others affiliated with the church.
The Dymowskis said they don't understand why the apartment management made it so hard — at the fancier complexes, management companies collect paperwork for residents and help facilitate a smooth process.
"I wish that the facility they live in would have been a little more proactive with the residents," said Joseph Dymowski. "It's not fair to them."
Lindsay Dymowski said Cedars Village is the only management company that has met them with resistance so far. Though she was glad the residents were resourceful and able to work around management at this particular facility, she expressed concern about Ingerman's reticence overall — the company operates two senior living complexes in Philadelphia, one in Chester and one in Glen Mills, none of which have been responsive when Centennial reached out about on-site vaccinations. The company manages dozens of senior buildings and family living complexes throughout the mid-Atlantic region.
Because the vaccine clinic she helped organize had to be pushed back and rescheduled so many times, Theresa Barry is unlikely to get her second shot in time to make it to Florida before her son's wife gives birth. But she bought her tickets for next month, and no one can stop her.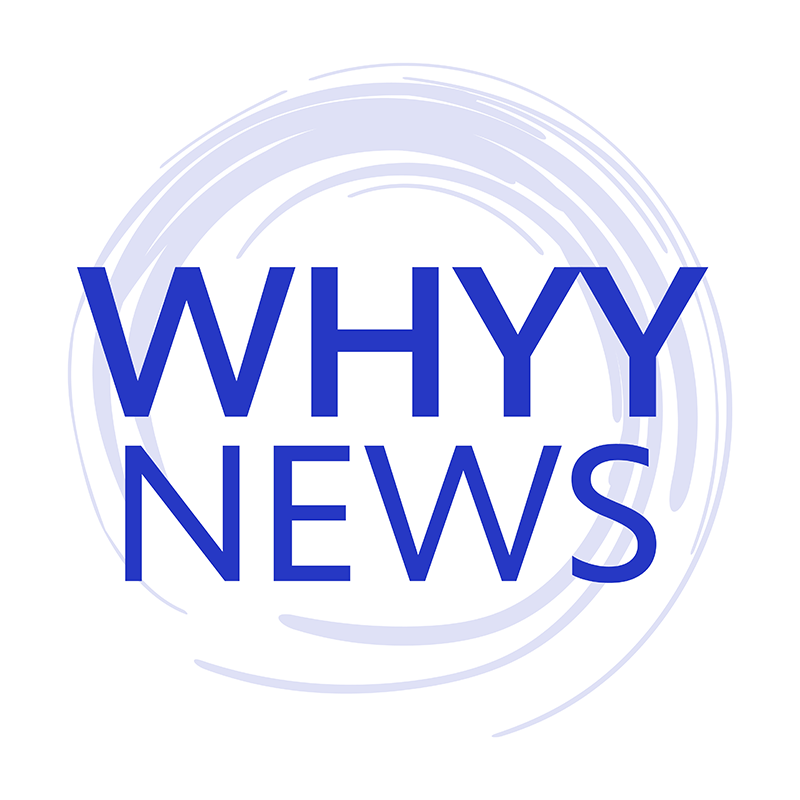 Get daily updates from WHYY News!
WHYY is your source for fact-based, in-depth journalism and information. As a nonprofit organization, we rely on financial support from readers like you. Please give today.