17 shows I want to see at the 2014 Fringe Festival
Listen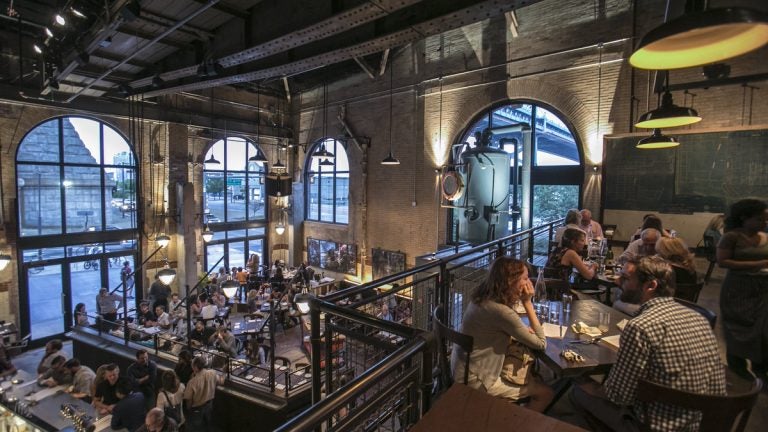 It's a crap shoot – and that's one of the best things about the Fringe Festival. So often, you don't know what you're going to get. It could be cutting-edge and terrific, or dull-bladed and bland. Or in between. It could be new and inventive. Or something more typical, and all along the range of quality.
For not a lot of money – although ticket prices keep rising every few years – the Philly Fringe is what you might call a risk with good value, and an adventure. And this year, the Fringe is more than theater, dance and art: The opening of the new FringeArts building in a renovated fire department pump house at 140 N. Columbus Blvd. – at the foot of Race Street and hugging the south side of the Ben Franklin Bridge – is a big deal.
The permanent headquarters for Fringe Arts, the organization that runs the 17-day festival, will now present programming year-round in the building's theater and at its bar, sell tickets from its box-office there, develop new work in its rehearsal space and entertain customers at La Peg, the new restaurant inside the building and outside on the adjoining plaza.
The restaurant officially opens late Friday night, along with the festival, which runs through Sept. 21. The nightly post-performance Fringe bar, up until now a nomadic experience year to year, opens Friday evening too, with the region's leading drag act, Martha Graham Cracker. (She's the alter-ego of longtime Pig Iron Theatre artist Dito van Reigersberg.) Ms. Cracker, who's been performing at Joe's Pub in the Public Theatre in New York along with her regular Philadelphia stints, will be backed by her band and members of the Philadelphia Orchestra in a show that begins at 11:30 p.m. on opening night.
So, out of 135 shows, which are the ones to see? It's anyone's guess, but I'll tell you my top picks for this 18th Fringe Festival. First, though, a little about the way the Fringe is composed. What used to be officially called the LiveArts Festival and Philly Fringe is now called what everyone generally called it all along: the Fringe.
Some of the shows and attractions – 13, to be exact – are called "presented Fringe" because FringeArts is either bringing them here or paying for their creation and performances. The other 100-plus shows are called "neighborhood Fringe" because they're in various places around town (and some, in the suburbs) but mostly in and around Center City. These shows are self-invited – whoever leads them is producing the work and paying a moderate fee to join the festival. FringeArts, in turn, handles the marketing of all the shows in its schedule booklet and on line at www.fringearts.com, plus all ticket sales.
The whole thing has a free-for-all feel, which is what makes it the most liberating of all arts gatherings for audiences, and probably for the artists, too. I can't vouch for any of the theater entries I'm about to pick – these are some of the shows I myself want to see. But about a decade-and-a-half of Fringing has given me a feel for risk-taking and for what may work and work well. I hope.
Check out the reviews at "Shapiro on Theater" as the festival plays out, or click back here on links I'll attach to each entry as I review the works.
99 BREAKUPS. This show by Pig Iron Theatre Company, the Philly-based group that is one of the nation's most respected cutting-edgers, takes place in the public spaces of the venerable Pennsylvania Academy of the Fine Arts on Broad Street. It came about after its director, Pig Iron cofounder Quinn Bauriedel, witnessed an ugly public breakup on an airline. The show will change a bit every performance, and is said by Fringe Arts, to be painful, funny and embarrassing, just as a public breakup would be to onlookers and participants alike. To me, it's the classic sort of show you go to a Fringe Festival to see – theater, out of the normal. For more information: http://fringearts.com/event/99-breakups-09-16-14-2/?template=dynamic. FOR MY REVIEW: http://is.gd/HJ2d41
THE ADULTS. Two families gather in the mountains, in a house by a lake. No, wait! – that's Anton Chekhov's set-up… True, but "The Adults" is loosely based on the Russian master's "The Seagull" — yet knowing the work of New Paradise Laboratories, "loosely" is the important word here. Like Pig Iron, the Philly-based New Paradise is a visible outré troupe, and you can expect a highly physical "radical means of expression," as the group says in its material. New Paradise has specialized in examining ritual – "Batch," its exploration of a bachelor/ette party, was wildly inventive. This one's a look at adulthood. For more information: http://fringearts.com/event/the-adults-17/?template=dynamic. FOR MY REVIEW: http://is.gd/HJ2d41
BROKEN WING. I know better than to take descriptions in the Fringe booklet and on the Web site at anything more than face value. But every once in a while, one comes along that, well… Here's how Leila and Pantea Productions describes its "Broken Wing," which was nicely received in the Edinburgh Fringe Festival, the mother of all Fringes: "In a land of sand, blood and roses, where disasters are counted in stones, two men's good intentions for one woman have unexpected consequences when modern life, Persian myth and love collide." For more information: http://fringearts.com/event/broken-wing-6
INTIMATE EXCHANGES. The start of the season for 1812 Productions, the city's stage company devoted to comedy, is also a part of the Fringe this year – and it's a theatrical first. Alan Ayckbourn's "Intimate Exchanges," written in 1983, involves a character faced with a choice. When the choice is made, a certain combinations of scenes can follow. The show's two actors (here, Jennifer Childs and Anthony Lawton) normally would work out beforehand which scenes they'd choose to build the play for each performance, changing the order and outcome from time to time. But according to 1812 Productions, for the first time ever the audience will make that decision at each performance. This means Childs and Lawton must be ready, at a moment's notice, to perform any possible combo of scenes – in all, eight hours worth of theater that breaks down to eight possible plays with eight possible endings. For more information: http://fringearts.com/event/intimate-exchanges-12. FOR MY REVIEW: http://is.gd/mMrt92
SUSPENDED. Highly physical local choreographer Brian Sanders puts his dance troupe, JUNK, through some impossibly looking paces, often beautiful to watch and sometimes scary for brash movements at lofty heights. The theatrical quality to his work tends to shine, especially in the Fringe, where a Brian Sanders piece just seems right. This year, he's producing a new work, "Suspended," in the large studio he rents in the nave of Shiloh Baptist Church on Christian Street – it's supposed to involve being suspended in a warp of different emotions. The show is said to have strong adult content. For more information: http://fringearts.com/event/suspended-12. FOR MY REVIEW: http://is.gd/HJ2d41
IN THE PONY PALACE/FOOTBALL. An all-female cast is said to skew things in this play about a girls high-school football team, its cheerleaders, its coaches, and its general psyche. The show comes from New York's Half Straddle, a company that produces plays written and directed by Tina Satter. She says in the FringeArts material that her high school team "exists a couple airwaves removed from reality." For more information: http://fringearts.com/event/in-the-pony-palacefootball-09-19-14/?template=dynamic
THE BODY LAUTREC. Last year, local theater artists Aaron Cromie and Mary Tuomanen did a remarkable Fringe piece about Joan of Arc, and this year, they've teamed up to explore the life of quirky painter Henri Toulouse-Lautrec. Expect puppetry – Cromie is a master puppet designer, maker and operator, among other things. Expect unusual interpretation, in which Tuomanen is highly skilled. For more information: http://fringearts.com/event/the-body-lautrec-8
100% PHILADELPHIA. Rimini Protokoll, a German group, came up with an idea to examine a place by putting a large number of its residents on stage to show what real people – and not statistics or general profiles – say about a city. The group staged their show in Melbourne and other places, and now brings it here, with 100 Philadelphians who will apparently pose and answer questions or be confronted by them. As the performers make decisions, they split into like-minded groups. A camera mounted from above allows the audience to track the demographic changes of these groups with each issue raised. The head of FringeArts, Nick Stuccio, says about "100% Philadelphia" that "in my whole career as a presenter, this is what I'm most excited for." Stuccio's been leading the Fringe here from its conception, so that's saying something. For more information: http://fringearts.com/event/100-philadelphia-09-21-14/?template=dynamic
iHAMLET. South African playwright Robin Malan wrote this play – a one-person performance of a character who speaks only the words of Shakespeare's Hamlet. The role will be played by Melissa Dunphy, an Australian who moved to Pennsylvania in 2003 and who performs often with the Philadelphia Shakespeare Theatre, the producer of this Fringe show. For more information: http://fringearts.com/event/ihamlet-7
NIGHTMARES IN NEVERLAND. Maybe I'm just a sucker for Peter Pan and Tinkerbell, but something about this independently produced production of two original one-acts about the loss of childhood and innocence, with the promise of surrealism, intrigues me. For more information: http://fringearts.com/event/nightmares-in-neverland-10
THE FOUR SEASONS RESTAURANT. One thing I know for sure about highly regarded Italian director Romeo Castellucci's "The Four Seasons Restaurant" is that it's big – the set came into Philadelphia on two-and-a-half large shipping crates. His group, Socìetas Raffaello Sanzio, produces this show, which is about the impact of absence, or "that which is present but never revealed." It promises to be, in Castellucci's reputed style, a piece as disturbing as it is magnetizing. For more information: http://fringearts.com/event/the-four-seasons-restaurant-09-13-14/?template=dynamic
THE RAPE OF LUCRECE. "Riveting" and "gender-bending" are buzzwords often associated with Fringe shows in promotional copy. In the case of the Philadelphia Artists' Collective — the fairly new troupe of seasoned actors whose work is already making a mark here — the buzzwords have a good chance of being accurate. Its co-founding artistic director Dan Hodge has adapted Shakespeare's epic poem involving the gorgeous Lucretia and the fate that befalls her. It's a one-person show that Hodge will perform. For more information: http://fringearts.com/event/the-rape-of-lucrece-9
TWO STREET – A TALE OF STAR CROSSED MUMMERS. The local group of spirited movement actors called Tribe of Fools has several times produced the dark-horse hit of the Fringe, a word-of-mouth sell-out. Whether this will be another one is anyone's guess – like their stuff in general, it's Philly-based and will probably have a homegrown, rough-hewn feel. It's the story of two guys, Ronnie and Jules (get it? Romeo and Juliet) who believe they are perfect together in their gay infatuation – but they belong to two rival Mummer brigades. Is this a Fringe plot, or what? For more information: http://fringearts.com/event/two-street-a-tale-of-star-crossed-mummers-12. FOR MY REVIEW: http://www.newsworks.org/index.php/shapiroontheater/item/72538-fringe-review-two-street
WHITE RABBIT RED RABBIT. Nassim Soleimanpour, an Iranian theater artist, has written this play about the loss of freedom, to be sight-read by a different actor at each performance. FringeArts is producing the work, and swears that each actor who opens the sealed script each night will ever before have read or seen the play. FringeArts says the play is a "wild theatrical adventure" that Soleimanpour created "to travel the world when he couldn't, and speak to audiences in his stead." For more information: http://fringearts.com/event/white-rabbit-red-rabbit-2014-09-21/?template=dynamic. FOR MY REVIEW: http://is.gd/zIJDko
RHINOCEROS. Eugène Ionesco's 1959 play, about a small town in France where the residents are turning into rhinos, is a key example of the Theater of the Absurd. So what better group to put a spin on it than Philly's Idiopathic Ridiculopathy Consortium, whose slogan is "We bring good nothingness to life." (Point of fact: They often bring fascinating theater to life.) For more information: http://fringearts.com/event/eugene-ionescos-rhinoceros-18. FOR MY REVIEW: http://is.gd/zIJDko
THE HUNCHBACK OF NOTRE DAME…A MUTE PLAY. Michael Durkin, artistic director of the city's Renegade Company, conceived and directs this take on the venerable tale, with original music and movement. The show promises to evoke a "nightmarish impressionist landscape," according to its press material. This version is inspired by silent movies, and if the title is to be taken literally there'll be few or no words. For more information: http://fringearts.com/event/the-hunchback-of-notre-dame-a-mute-play-11
ANNA K. Theater artist Chris Davis, who's produced in four Fringes here and also in Edinburgh, has adapted Anna Karenina and updated it to 2014. He's set the play in a South Philadelphia row home – and it will be performed in one. The row home, which is supposed the be the home of the Kareninas, gives the adaptation a fresh viewpoint, Davis says, but it still touches on the classic themes: love, loss, loneliness. For more information: http://fringearts.com/event/anna-k-9