The Pa. House probably isn't going to cut its own size, after all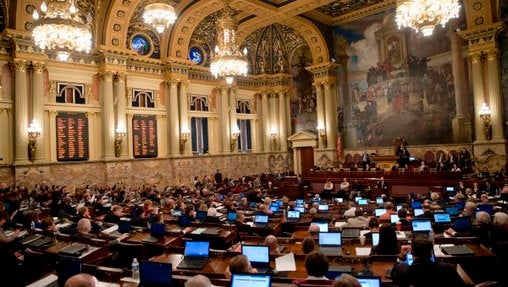 A longstanding attempt to cut down the size of the state House is likely to sputter out in the coming days — though its sponsor plans to make one last attempt to save it.
Pennsylvania has the largest full-time legislature in the country. Representative Jerry Knowles, a Berks County Republican, thinks it's too unwieldy.
For almost four years, he's been pushing a measure to amend the constitution and shrink the body from 203 to 151. It's a bill he inherited from former House Speaker Sam Smith, a fellow Republican who sponsored the effort in multiple sessions.
Amendments have to pass in two consecutive sessions, and the first time around, it made it. But this session it has been railroaded by lawmakers who added a provision to shrink the Senate — basically a poison pill.
Knowles is especially unhappy with six lawmakers — two Republicans and four Democrats — who changed their stance to allow the committee amendment to pass.
"They just threw a wrench into the gears of this process," he said. "I view it as shenanigans and I'm very disappointed that they would do that."
The bill's only shot now is for two-thirds of the House to override the amendment — a long shot. Knowles said he's planning to argue, voters at least deserve a chance to decide whether they want a smaller legislature.
"We can talk about all the reasons why the members of the House believe it's a good idea and a bad idea — let's just do what needs to be done to get it on the ballot," he said.