'The Oval' pop-up park returns for a fourth year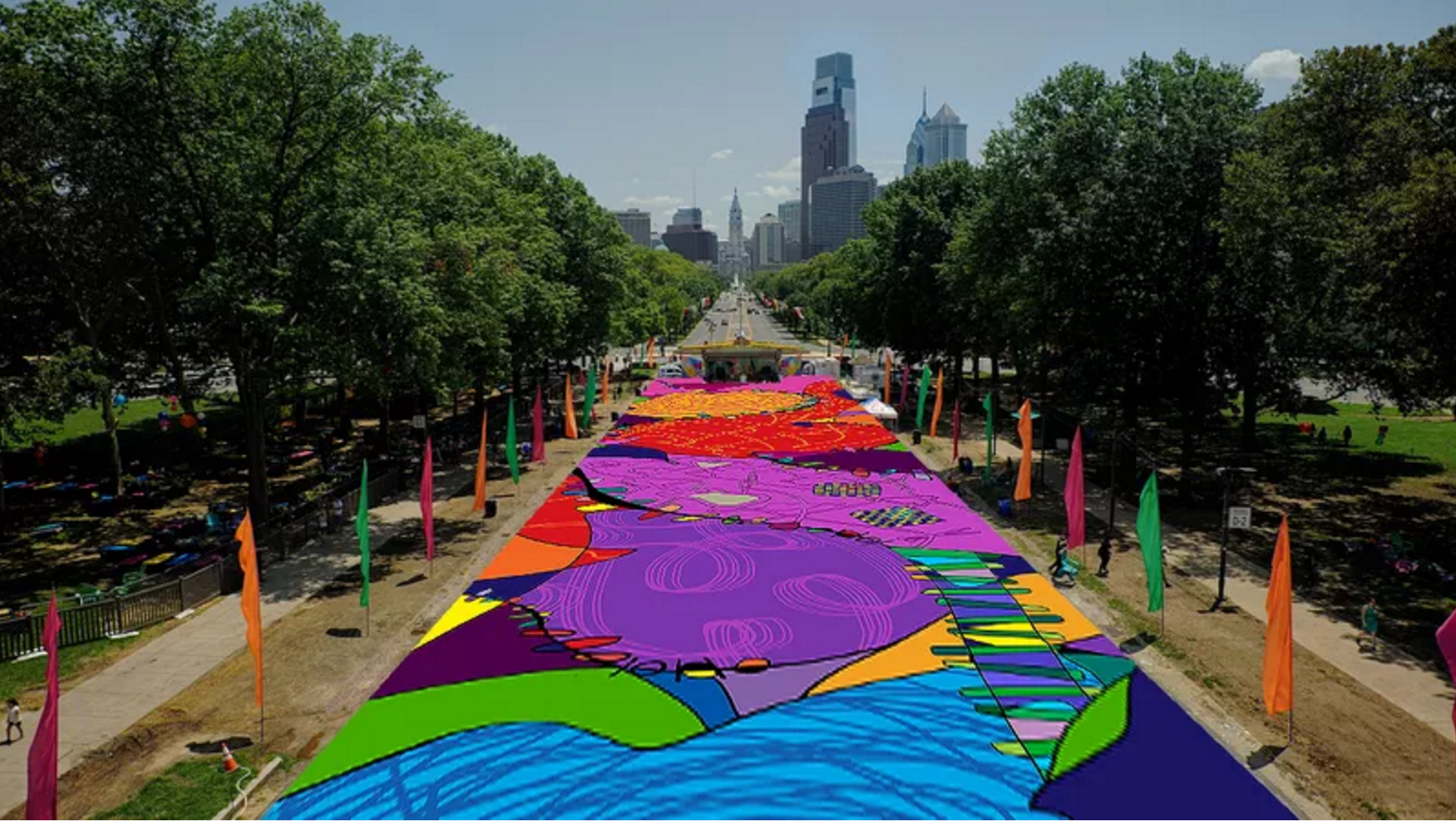 The surface parking lot at Eakins Oval on Benjamin Franklin Parkway will once again become "The Oval" pop-up park this summer, the Department of Parks & Recreation announced earlier this month.
A project of Parks & Rec and Fairmount Park Conservancy, with lead sponsorship from PNC Bank, the popular summer destination will run from July 15th through August 21st, and feature a familiar mix of free programming and events for all ages, including live music, adult dance and fitness activities, movie nights, food trucks, and a beer garden on the seven-acre space at the foot of the Art Museum steps on the Parkway.
Mural Arts has once again commissioned a colorful 25,000 square foot mural for the parking lot's surface. This year's selection, called 'Rhythm & Hues,' was designed by local abstract artist and arts educator Brad Carney, who has created more than 30 murals and worked on 20 others with Mural Arts over the last 14 years. With 'Rhythm & Hues,' Carney aims to create "a full-scale music-inspired abstract experience" that "goes beyond the painted mural with complementary art activities all summer long," according to a release from Mural Arts.
The mural's "whimsical gestures of movement and musical rhythm" set the stage for a new Orchestra Pit area, with instruments on hand for visitors of all skill levels to play, along with music-themed group painting activities, instrument-making crafts, and other creative activities for adults and children.
Image: Brad Carney | Mural Arts (Brad Carney)

Image: Brad Carney | Mural Arts (Brad Carney)

Illustration: Brad Carney (Brad Carney)
Summer in Philadelphia has become increasingly saturated with pop-up public spaces and beer gardens. But The Oval's return for a fourth season was not a given. The Oval was pitched as a three-year pilot back in the summer of 2013, but is now back for a fourth year with little explanation.
"It was a pretty easy decision," said Marc Wilken, Parks Concession Manager at Parks & Rec, "I think it was a successful experience the last 3 years. It was well received by the community and the city at-large and we felt it just made sense to do another run."
Wilken said that though there will be events hosted at The Oval for the Democratic National Convention, the decision to extend the pilot was unrelated to the DNC.
"When we saw the numbers of people coming out, it just made sense to bring it back," he said.
The extension of the pilot beyond the original end date is a baby step toward the transformation of Eakins Oval from a parking lot into a flexible civic space, as described in the 2013 report More Park, Less Way: An Action Plan to Increase Urban Vibrancy on the Benjamin Franklin Parkway from Parks & Rec and PennPraxis.
The report described Eakins Oval's current condition as "a high-volume traffic circle that separates neighborhoods and cultural institutions," but aspired for it to become a more connective space:
"By removing the surface parking, this area becomes a seven-acre flexible civic space. Temporary public art installations, temporary horticulture projects, concerts for various audiences, moveable chairs and tables, pop-up dining venues, and restrooms would help make Eakins Oval a people-friendly locus at the heart of a revived Parkway."
The space has since taken on the flexible role the report envisioned, but so far no major permanent design changes have been made, and it still functions as a parking lot for most of the year. Wilken said a Phase 2 for The Oval is still a goal for Parks & Rec, but they plan to take it slow for the time being, favoring gradual infrastructure investments like irrigation.
"We can discuss it at some point, but I don't think we're there yet," he said, "With the new administration I think we want to give it some time before we have that discussion. It's on everyone's mind, but it's just a matter of when we have that conversation."
The Oval will be open July 15-August 21, Wednesdays-Sundays. For complete programming and scheduling information, visit www.theovalphl.org
WHYY is your source for fact-based, in-depth journalism and information. As a nonprofit organization, we rely on financial support from readers like you. Please give today.