The Actors Group brings a bit of Broadway to Fox Chase
Joe Laub has been enchanted with the theater since watching a Broadway show at the age of five.
He followed with a theater workshop at 13, and again when attending Wilkes College, where he minored in theater and performed in college productions. Sixteen years ago Laub met with other actors and actresses in his Lawndale home and they founded The Actors Group.
After one production at Lawncrest Rec Center, Laub met with the late John Curry at the Fox Chase Rec Center and TAG found a permanent home in Fox Chase.
"John Curry gave me a chance to do theater at the rec," Laub said. "He was a great inspiration and always supported our theater projects."
Laub said he would like to see Fox Chase become the home of the arts in the Northeast. Currently home to an active artist and poetry community, it wasn't always like that.
"I would certainly like it to be. It would be nice if there was a "Broadwayish" atmosphere in the Northeast," he said. "The arts have grown in Fox Chase. When TAG arrived at the Fox Chase Recreation Center, the community was primarily sports-oriented with no drama or dance programs at all. We draw our talent from the local community. The majority of actors and actresses are from Fox Chase and the surrounding areas. We have a mailing list of over 500 names."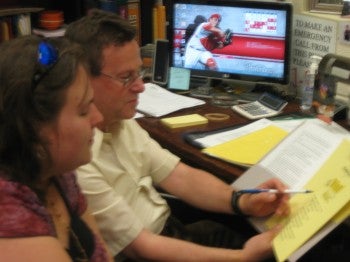 The Actors Group is affiliated with the Philadelphia Department of Parks and Recreation and TAG is the Drama Program at Fox Chase Recreation Center. TAG has produced more than 40shows since its founding and Laub is looking forward to the December production of Honk (the story of the Ugly Duckling). Auditions will be held in early September and the production will go live the first two weeks of December. For more information on auditions you can visit TAG on the web at The Actors Group website.
As for Laub's vision for the future of The Actors Group, "I would like to be able to do new works and perhaps theater pieces written by Philadelphia playwrights and possibly a new musical," he said. "I would also like to do a subscription series for TAG. Basically, I would like to keep doing shows for the community."
If you want to dust off those acting muscles from high school or college, desire to check out your acting skills, have a child or teenager bit with the acting bug, or just want to watch Community Theater, check out The Actors Group.
G.E. Reutter resides in the Fox Chase. You can visit him at his website.You can read his Fox Chase articles for NEast Philly here.