Central Northeast Planning District meeting Sept. 24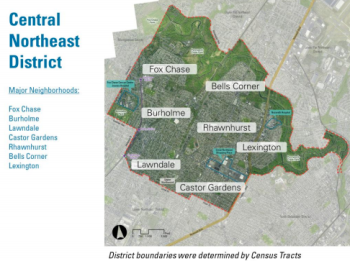 The second of three planning meetings for neighborhoods in the Central Northeast Planning District will take place Tuesday, Sept. 24 at the Northeast Regional Branch of the Free Library, 2228 Cottman Ave.
The area includes Fox Chase, Burholme, Rhawnhurst, Lexington Park, Bells Corner and the northern edges of Lawndale and Castor Gardens, and community stakeholders are invited to the public meeting to participate in the process that will shape how these neighborhoods fit into the Philadelphia2035 master plan.
City Planning Commission staff will describe information and results from the first public meeting of July 11, especially the areas where the greatest community concern and interest was identified. Information from all three district meetings will be used in the plan to help improve community areas, including transportation, capital facilities, and land use planning throughout the district.
Anyone with questions about the meeting can call Community Planner Michael Thompson at 215-683-4632.