Testing out bike share alternatives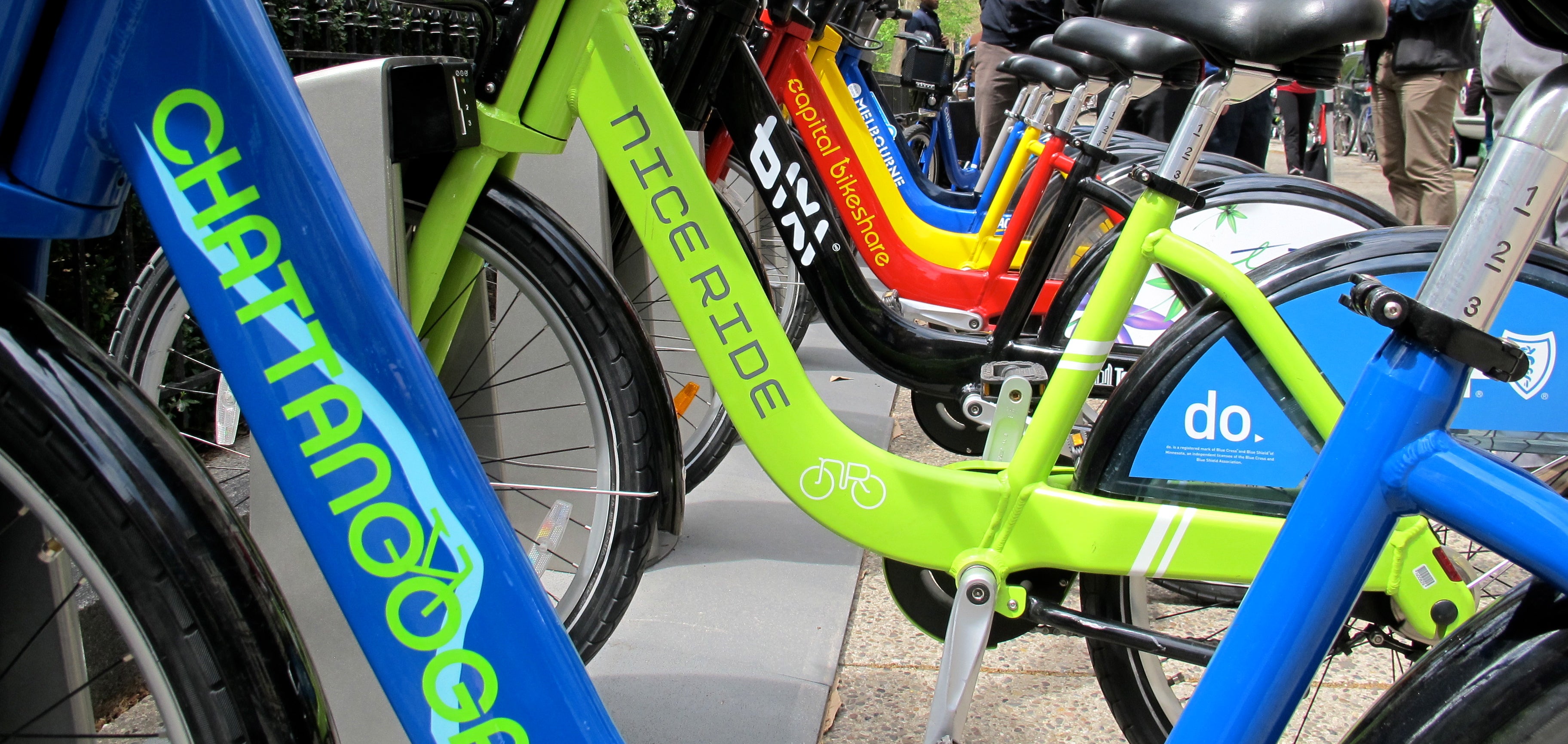 Philadelphia is aiming to launch a bike-share system next year, and on Tuesday we got a preview of what the future could hold.
Three bike-share vendors who will likely vie for Philadelphia's bike share contract – B-cycle, Alta/Public Bike System Company, and Social Bicycles – set up camp at the corner of 18th and Walnut to show Philadelphians and city officials how their systems work and let folks test their bikes.
Mayor Nutter even hopped on a bike to experience what bike share could offer, and touted the bike-share system's potential benefits: "It's green, it's clean, it's convenient."
Deputy Mayor for Transportation and Utilities Rina Cutler (who did not hop on a bike) said that she expects that Toole Design Group will complete the city's bike-share business this spring. Based on that plan, Cutler said, an RFP for a bike-share contractor will be released this summer with the hope that Philly's bike share system will get rolling in 2014.
On Tuesday lots of passers-by took the opportunity to ask questions about bike sharing and took bikes out for a loop around Rittenhouse Square.
"My coworker and I said we might consider doing this during lunchtime," said Jimmy Koshy after testing out one of B-cycle Treks. "I forgot how fun it is to ride a bike."
"It's stress-relieving too, " his coworker Shruti Sem added.
I took all three kinds of bikes for a spin and found each one to have its own advantages. They all felt very sturdy and easy to ride. Each bike had an adjustable seat, beefy kickstand, pedal-powered lights, and a bell. And each model was designed to expose as little of the bike's sensitive parts (think brake cables or chains) as possible. Alta and B-cycle use docking stations, which both vendors emphasized are flexibly designed and able to add capacity – for a special event or at popular stations – very quickly.
Mayor Nutter riding an Alta/PBSC bike.

Bike sharing demo today at 18th and Walnut.
A B-cycle model from Boulder, showing two corporate sponsorships.

A B-cycle station

A B-cycle kiosk.
B-cycle has systems in more than 15 cities, including Denver, Boulder, Charlotte, San Antonio, Salt Lake City, and their home base of Madison, Wisconsin. Annual members get a B-cycle card to use at terminals to take out a bike, or casual users may pay by credit-card at a bike station kiosk. It's also worth noting that B-cycle members can also use the service in 15 cities using B-cycle's bike share system.
B-cycle's Trek bikes are available in 3- or 7-speed models. The 3-speed bike I tested out was comfortable, easy to ride, and felt lighter than it probably is. The user interface, both at the kiosk and docking station, were straightforward and simple enough to use with a member card or credit card. The bike I rode had a front basket – with a built in cable lock – and and one rear pannier, though both were somewhat narrow. I also appreciated the chain and skirt guards.
The many colors of the Alta/PBSC demo terminal.

Mayor Michael Nutter, Deputy Mayor Rina Cutler kick the tires as Alta's Charlie Denney explains their system and bikes.

Alta / PBSC bike share station with examples from several systems.
Alta operates bike share systems internationally (Toronto, London) as well as in our fellow Northeast Corridor cities: Capital Bikeshare in Washington DC, CitiBike in New York (as NYC Bike Share), and Hubway in Boston are all Alta. PBSC is Alta's partner in custom-building the bikes and solar-powered docking stations.
Over the past few years Alta and PBSC have been tweeking their user-interface and bikes, and Alta's Charlie Denney told me that he thinks that they've steadily improved the system, customer service and bikes. Like B-cycle, these bikes are available in 3-or 7-speed models. PBSC bikes are built as bike-share bikes and the station technicians I spoke with from Capital Bikeshare – Ralph Lucas and Brice Hutchings – said that they're very durable. Capital Bikeshare makes sure that each bike is checked out by a technician once a month to keep their bikes in optimal shape.
One of the clear advantages to Alta/PBSC is that it may soon be possible for Philadelphia bike share members to use their membership when traveling to other big cities on Amtrak's Northeast Corridor: Boston, New York, and Washington DC all have Alta/PBSC systems. Imagine hopping on a train to one of those cities and then using your bike share membership to ride around town. That would be a nice membership perk.
The bike I tested out was a 7-speed that rode very smoothly and felt as substantial as the B-cycle I rode. The front basket was narrow but very workable. The bike I was on had the least comfortable of the three seats I tested. Also, the bell was a bit difficult to ring.
Social Bicycle's on-bike solar-powered user interface

A Social Bicycle model
Social Bicycles is a smaller, newer bike sharing system than B-cycle or Alta, operating so far in Buffalo, NY, the San Francisco airport, and Tampa, FL. The system used by Social Bicycles is different that B-cycle's or Alta's in that all of the technology and locking system is within the bicycle itself.
Social Bicycles requires no kiosk infrastructure, just a place to lock up the bikes. Users can reserve a bike in advance via an app, telephone, or online. To take out a bike users operate a solar powered keypad above the rear wheel. Members simply enter their user ID, enter a PIN and ride off. Social Bicycles bikes also feature a "hold" function, which means that if a rider locks a bike up outside a shop while running an errand, no other member can come along to unlock the bike you're already using. One advantage of Social Bicycle's thinking is that there is less equipment to maintain. All a city needs is enough bike racks.
I rode this bike last and it felt lighter than the other two I tested. (It felt more like a road bike than a big-boned bike-share bike.) As I rode around the block, the heavy metal lock rattled in its holster making the bike sound like a clanking jalopy. One cool feature of these bikes is the drive-shaft gear system, as opposed to a chain. The small solar panel and a front-wheel dynamo power the bike's GPS system (used not for navigation but tracking) and lights.
WHYY is your source for fact-based, in-depth journalism and information. As a nonprofit organization, we rely on financial support from readers like you. Please give today.