Successful Philly Spring Cleanup in Frankford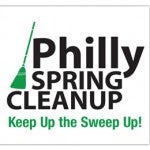 Dozens of volunteers helped spruce up three Frankford parks over the weekend for Philly Spring Cleanup. The Friends of Overington Park and Frankford CDC led the efforts, with help from Councilwoman Maria Quinones-Sanchez and State Rep. Tony Payton.
The Frankford Gazette has recaps of both events, which included cleaning and planting in Overington and Wilmot parks and the small park at Hedge and Orthodox streets.