Study: Storm surge barrier a 'viable option' at numerous N.J. inlets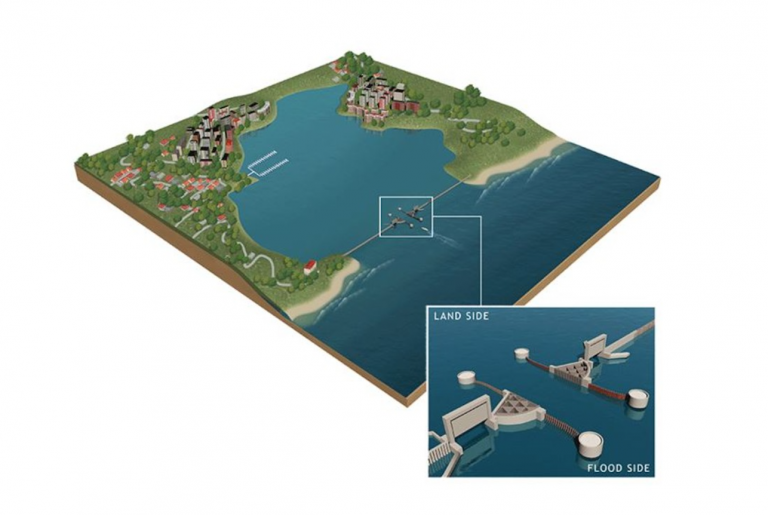 Is a storm surge barrier at New Jersey inlets a solution to mitigate back bay flooding?
A joint study by the U.S. Army Corps of Engineers and the New Jersey Department of Environmental Protection says it's a "viable option."
Through an analysis of 950 square miles and nearly 3,400 miles of waterways in Atlantic, Burlington, Cape May, Monmouth and Ocean counties, the interim New Jersey Back Bays Coastal Storm Risk Management Study presents a variety of methods reduce damage from coastal storms.
According to the study, engineers utilized modeling and screening analyses to select potential methods, including storm surge barriers (inlet closures) and interior bay blockages; levees and floodwalls; residential building retrofits; and natural barriers.
The researchers preliminarily determined that storm surge barriers are acceptable at the Manasquan, Barnegat, Absecon, and the Great Egg Harbor inlets. Interior bay closures with navigable gates are viable north of the Absecon Inlet and south of Ocean City.
The study further found that floodwalls and levees are potentially viable at Cape May City, West Cape May, Wildwood Island, West Wildwood Island, Stone Harbor/Avalon, Sea Isle City, Ocean City, Absecon Island, Brigantine Island, Long Beach Island, and the area just north of Manasquan Inlet.
The reported cautioned that the structural flood mitigation methods "may pose significant indirect impacts on hydrodynamics such as tidal flow, and tidal range, water quality, and shifts in flora and fauna abundance, distributions and migrations."
Researchers say the primary purpose is to manage the risk of storm surge events rather than flooding due to inadequate storm sewer systems and nuisance inundation.
At a public forum last year, officials said not just one solution alone will solve the problem.
Peter Blum, the Army Corps Philadelphia District's chief of planning, said it's the first time the federal government has had the "authority and funding to stay the back bay areas," adding that they have the oceanfront "literally" covered with beach replenishment.
"But some of the same areas protected by that are also vulnerable to the back bay flooding. It's very important that we address this," he said.
The Army Corps expects to release a final report in 2021, receive possible Congressional funding approval in 2022, and begin construction in 2026.
The public can comment on the interim report via email through April 1.