Staycation: Kayak on the Schuylkill River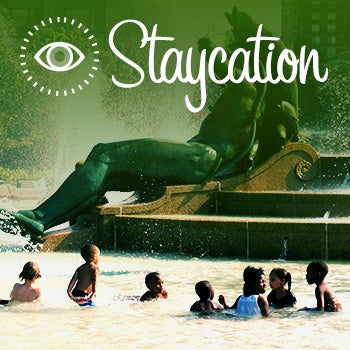 WHAT TO KNOW IF YOU GO:
2013 Kayak tours are given until September 28 on Thursdays, Saturdays and Sundays, departing from the Walnut Street Dock on Schuylkill Banks.

Kids must be older than 8 to go on a kayak trips.

Tours cost $40, but group discounts may be arranged.

To sign up for a tour call (215) 222-6030 x100
The river was murky olive green beneath my kayak and rays of light bounced off of the silt churned up by a record rainfall. It was a bright blue, glorious summer morning tailor-made for being outside, and I was lucky enough to be paddling the tidal Schuylkill River with staff from the Schuylkill River Development Corporation (SRDC).
I'd never been on the Schuylkill River before (despite good intentions) and I will confess that I was enthusiastic but intimidated. I hadn't kayaked in probably 15 years and I'm generally dubious of the Schuylkill's water quality, particularly after eight inches of rain. But that all melted away as we paddled from the Walnut Street Dock to Bartram's Garden and back. Maybe it was the turtles we saw sunning, maybe it was the peaceful and refreshing experience of seeing the city from a new angle.
It was marvelous to see the river in its own right, instead of some untouchable urban landscape feature, and to watch its natural and maritime activity.
SRDC contracts with Hidden River Outfitters to offer kayak tours on Thursday, Saturdays, and Sundays in summer to give more people the opportunity to enjoy the Schuylkill. This year tours go until September 28.
I found the kayak easy to get in and out of and to maneuver. We had an especially calm day so the paddling was easy even over a few hours. Save for a few drips from the paddle I didn't get wet and the boat felt steady. And, yes, we wore lifejackets. (For those of you who feel that kayaking won't be for you, you can always take a River Tour in a much bigger boat to explore treasures of the Schuylkill.)
Most tours head upriver from the Walnut Street Dock to the falls at the Fairmount Water Works. I opted for the southbound route because I've been on a personal quest to get to know the Lower Schuylkill better. Much of this area's industrial and post-industrial waterfront isn't easy to get to, so seeing it from the river was a neat opportunity to get close to an otherwise unknowable landscape.
(Neal Santos)

(Neal Santos)
Once we hopped into our kayaks at the Walnut Street Dock as the tide was heading out, so we positively cruised downriver. We passed the new Schuylkill Banks boardwalk construction site and jawed with the workers.
I can't count how many times I've commuted over the South Street Bridge, but seeing the bridge from below gave me a whole new perspective on this familiar place. I'd forgotten that the base of the original bridge was down by the waterline.
Below South Street the river's banks become more lush and leafy, save for bridge overpasses, sewer outflows, and the Schuylkill Expressway.
You can't see into most of the Grays Ferry Crescent trail segment this time of year because of the thick vegetation groing along the river's edge, but the fishing pier (a rebuilt former fire pier) and the riverside plaza allow glimpses. Passing under Grays Ferry Avenue Bridge we could hear skaters using the new skatepark.
(Neal Santos)

(Neal Santos)
(Neal Santos)

(Neal Santos)

(Neal Santos)

(Neal Santos)

Heading north along with the High Roller tug.
I especially enjoyed the bridges on our route. From the river Paul Cret's University Avenue Bridge is especially beautiful and proud. And then there are the rusty metal railroad swing bridges that add texture and drama to the landscape. One at Grays Ferry Crescent is currently set in its open position to allow tall tugboats through, specifically for Veolia Energy. Another swing bridge further south, near Bartram's Garden and Devil's Pocket, is actively used by CSX freight trains. We were lucky enough to watch it open to let the High Roller, a tall tugboat, through with a barge being used by electrical contractors for SRDC's bridge lighting project upriver.
It was a pretty rare sighting, Joe Syrnick, SRDC's President and CEO told me, promising he hadn't arranged our tour to coincide with this interesting river traffic.
(Neal Santos)

Purple loosestrife. | Neal Santos

(Neal Santos)
As we paddled Syrnic and I talked about SRDC's ongoing work to extend the Schuylkill River Trail southward to Bartram's Garden. Beyond the boardwalk, SRDC had some exploratory test drilling done for a boardwalk section below the South Street Bridge and discussion continues about reusing the swing bridge at Grays Ferry Crescent to carry the Schuylkill River Trail from the east side of the river over to meet Bartram's Mile.
Traveling at kayak speed makes you notice different things, and the hum of cars and industry became white noise secondary to the sounds of water. And even though we were paddling through a familiar part of the city, it was energizing to see this landscape through fresh eyes.
Here's a time lapse look at our tour:
Thanks to Joe Syrnick, Josh Nims, Zoe Axelrod and Danielle Gray from SRDC for the tour, especially Josh who paddled photographer Neal Santos around in a tandem kayak so he could take these great shots.
WHYY is your source for fact-based, in-depth journalism and information. As a nonprofit organization, we rely on financial support from readers like you. Please give today.