State Rep. candidate "a civic by nature"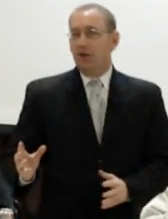 Marc Collazzo is "a civic by nature."
That's what the Republican candidate for State Representative in the 17oth District told Burholme residents last night.
Collazzo — a Bustleton native — told the more than 20 residents who attended the monthly Burholme Civic Association and Town Watch meeting "we live in rare times."
What's rare about it, he said, is the recent behavior by state and city governments to support tax increases and "out of control spending."
Collazzo, who attended Baldi Middle School and George Washington High School, told Burholme residents: "The most important thing you can ever do is help your neighborhood."
The candidate — a longtime family lawyer — said one of the first things he wants to change if elected is the law surrounding grandparent visitation and custody rights. Citing a case he took on in the beginning of his law career, Collazzo said he wants to make sure grandparents aren't denied custody or visitation rights with their (parentless) grandchildren simply because of their old age.
Also among his top concerns is the proposed billion-dollar budget for Pennsylvania. Remarking that the state and city governments are spending what they don't have, Collazzo said the "rainy day fund has been exhausted."
Plan ahead
Barbara Melsch, a state licensed family services counsellor was on hand to promote Sunset Memorial Park.
Melsch encouraged Burholme residents to pre-plan their end-of-life arrangements, and discussed discounts and property rates with residents.
The 227-acre property has been providing its services since 1929.
"We in the Northeast pay the highest percent of taxes of anybody in the city," he said, going on to say taxes should be kept to the basics for police, fire, education and infrastructure.
If elected, he continued, Collazzo would propose a 10 percent cut across the board for each governmental department. That, he said, would be a "wonderful start."
Also at last night's meeting…the Burholme Civic Association board will meet with the owner of Chuck's Alibi to discuss the problems residents have with the establishment…Zoning for the parking lot at St. Vincents and Pennway streets is still being discusses, and President Al Taubenberger promised a meeting the the neighbors in the "very very near future."…On June 3, Burholme Town Watch will host a meeting for patrollers and potential patrollers.