Burholme woman earns honors, scholarship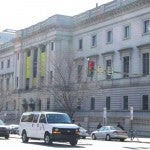 When Fraidel Phelps isn't busy being a wife and mother of six, she's making headlines as scholar in the state.
Phelps, 34, became a member of the 2010 All Pennsylvania Academic Team Friday, and also earned the title of national finalist in the 2010 Coca-Cola All-State Community College Academic Team program.
The Burholme resident, who goes to Community College of Philadelphia's Northeast campus, received a scholarship, which she can use at any of Pennsylvania's 14 state colleges where she'll complete her education degree. Until now, Phelps has only been qualified to teach in privately run Jewish schools. She currently does her field work and some volunteer tutoring at Bustleton's Politz Hebrew Academy.
While she chooses a university to complete her studies, Phelps, who hopes to teach elementary education, can enjoy the fruit of her efforts: a 4.0 grade point average.