St. Matt's track coach devoted to parish, but four sons come first [video]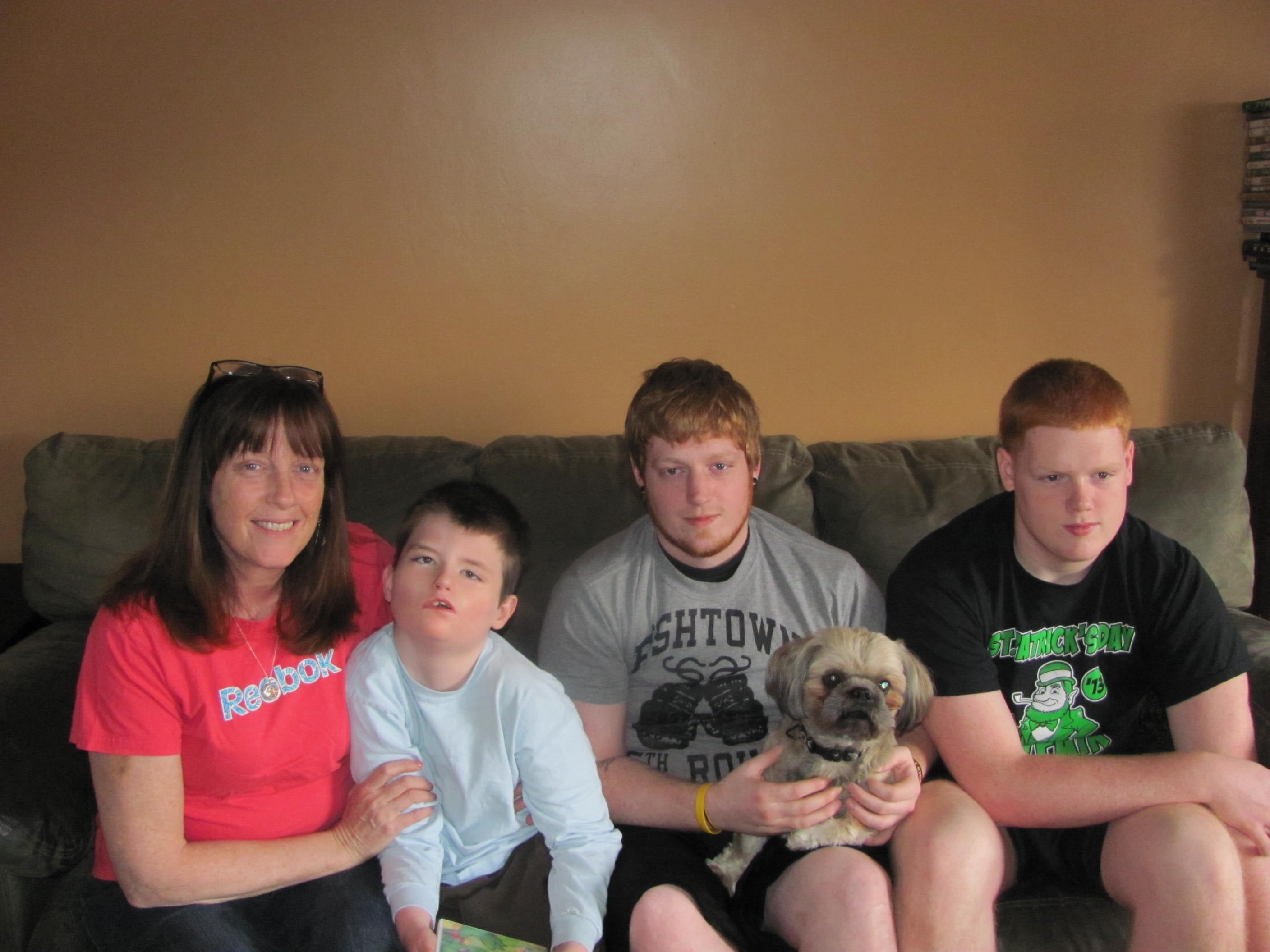 Pam ewing with three of her sons, from left: Mark, Jimmy and Ian, and dog Hunter. Photo/Tiffany GoforthMotherhood is a full-time job, one in which the work is demanding, stressful, challenging and tiring. But, being a mother is also gratifying and fulfilling.
Pam Ewing, a mother of four, is going into her 25th year as coach of the fifth- through eighth-graders who participate in track and field at St. Matthew's Parish in Mayfair. A Eucharistic minister at the school as well, Ewing is quite busy.
But these commitments fo not compare to her job as a mother.
Ewing is the proud mother of four boys, who range in age from 12 to 24. Her first three children Jimmy, 24; Vincent, 22; and Ian, 17; were born healthy and have lived active lives.
However, Ewing's youngest son, Mark, was not as lucky. Born with Moebius syndrome, a rare neurological disorder present at birth, Mark is unable to speak. He has also never eaten by mouth, and relies on feeding tubes.
Although Mark is unable to speak, Jimmy doesn't think it's all too difficult to communicate with him. "It's not as much hard, as it's frustrating," Jimmy explained. "Because I feel bad for him knowing he can't express what he really wants. But you just need to know him to know what he wants."
He said, for instance, when he puts a TV show on for his youngest brother, Mark will either push his hand signaling no or clap when he likes it.
Daily life
Mark's first two years were spent in and out of the hospital and he didn't sit up for the first time until he was 4 years old. A year later, he began to walk and continues to walk with the help of his nurse and the family. "He walks around here pretty well but he doesn't walk any further than a community distance," Ewing said.
Mark sleeps in a trundle bed next to Ewing hooked up to multiple machines, which include a continuous feeding tube, a pulse oximeter and an Intrapulmonary Percussive Ventilation machine.
For Ewing, sleep is considered a luxury. "The problem is he doesn't go to bed until very late, around 12 to 12:30. So sleep deprivation is what I have become the master of, because at 6:30, I'm up to take my 17-year-old to the El," Ewing said. And although sleep is hard to come by, Ewing said she's not complaining because what she does is for her children and it's what she wants to be doing.
Because the threat of choking is so severe, Mark can never be left alone. Most people have the ability to physically clear mucus and secretions by coughing. Mark has exceptionally weak muscle tone and is unable to physically clear secretions.
"He battles respiratory viruses and illnesses much worse than the average person," Ewing said, and because of his weak muscle tone and inability to clear secretions, "he inevitably ends up with pneumonia often."
When healthy and able to go, Mark attends school at Bucks County Intermediate Unit #22 and is accompanied by his nurse.
Strong family bonds
Motherhood can be challenging, and Ewing admits taking care of Mark can be difficult. But her three older boys who have all gone through the football program at Roman Catholic High School and are strong enough to help her out.
"Thank God there's a lot of us, thank God he was my fourth because I'm very blessed to have three healthy children," she said. "With them being all boys and big and strong [it helps], because mobility can at times be an issue with [Mark]."
And with all the time Ewing devotes to caring for Mark, it can be challenging to find time to focus on her other children.
"[Devoting equal time] is what's hard, but I try, no matter what it takes," she said. "I try to spend time with every single one of them or as a group. Whether they are doing an errand with me in the car and I get a chance to talk with them, or I'm throwing a load of wash in the washer. I always try to be there for every single one of them every single day."
When asked if she would, if given the opportunity, ever change anything, Ewing didn't miss a beat.
"Although it's an extreme stressor and it's physically and emotionally and spiritually and unbelievably challenging, I would never go back and change it."
Tiffany Goforth and Ryan McDonald are students reporting for Philadelphia Neighborhoods, the publication of Temple University's Multimedia Urban Reporting Lab.
WHYY is your source for fact-based, in-depth journalism and information. As a nonprofit organization, we rely on financial support from readers like you. Please give today.