At this point in her career as a squash player, Quinetta Bowden says she's lost more games than she's won. But that hasn't stopped her from making it a part of her everyday life.
Bowden directs middle school academics for SquashSmarts' West Philadelphia location. Founded in 2001, SquashSmarts is a free out-of-school sport and academic mentoring program for city students.
When Bowden was a sixth-grader at Morton McMichael School in West Philadelphia in 2002, some SquashSmarts founders and board members came to her school and demonstrated playing squash on the gym walls because the school had no courts.
"The first tryout was on that Saturday, and I went," she said. "And the rest was history."
SquashSmarts runs programs at the Lenfest Center in Hunting Park year round and at Drexel University's Daskalakis Athletic Center during the school year.
In the summer, students from both programs come together for a four-day camp to practice their squash skills. The camp also helps them stay on academic track through writing workshops, as well as critical thinking and problem-solving activities.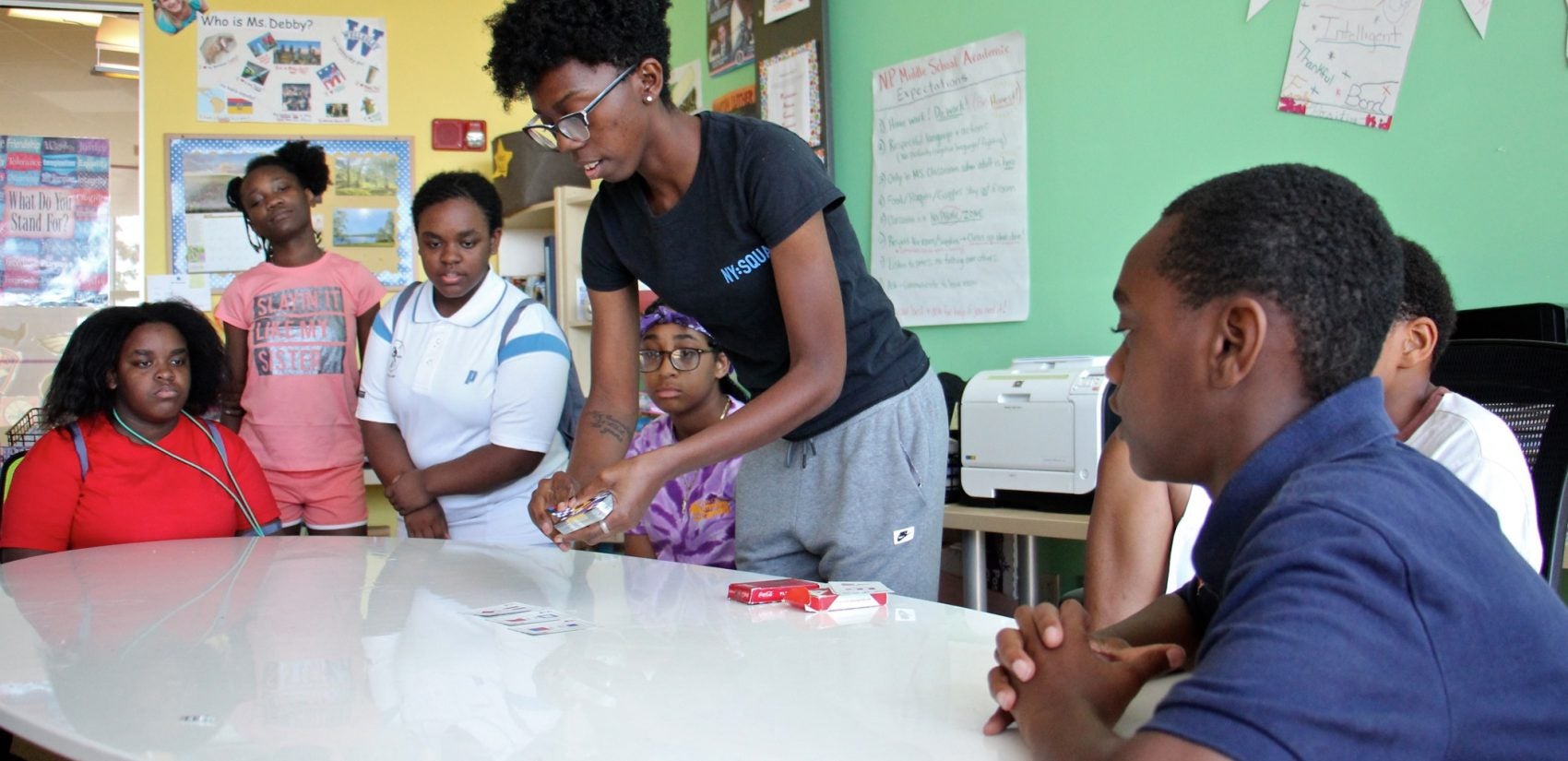 It seems to be working. Alix Cummin, the high school academic director for the North Philadelphia campus, said of the active SquashSmarts students in the last five years, everyone has graduated from high school.
In its partnership with the school district, SquashSmarts recruits currently from specific schools in North and West Philadelphia, including Mary McLeod Bethune School; Esperanza Academy Charter School; George Washington Carver High School of Engineering and Science; and Overbrook Educational Center.
Cummin spends a lot of time guiding students toward their next steps. Her focus isn't necessarily helping every student prepare for college, but helping all students map out a path after high school.
"For me, the idea of helping a student determine their interests and their passions and how to marry that to a college placement or a vocational placement — kind of what's that life plan look like — that's where I just find so much reward in this position," Cummin said.
Not the usual path to success
Another goal is cultivating a community so that students who begin SquashSmarts as sixth-graders stay on through their high school graduation.
Bowden, who was the first sixth-grade SquashSmarts cohort to graduate from high school, said the entire group finished together in 12th grade.
"I was always quiet, reserved, didn't really like to talk to people or share ideas about anything ever," Bowden said. "But coming here and being around … those 10 kids that we started with … and to have that constant consistent group of people who are all cheering for you, rooting for you, really went a long way for me personally."
Some squash players play at tournaments statewide and nationally. Going to the tournaments allowed Bowden to see the reality of the game that's played predominately by wealthier white students.
But Bowden, who's black, and other SquashSmarts participants have found a way to claim the sport as their own.
"For squash to be that vehicle and to … encourage other kids from our similar communities and situations to play the sport is the most impactful thing," Bowden said. "I think that's something we all have in common … we aspire to be better than where we came from, but also different — and not take the usual path to success."
Getting in the game
Students with good attendance are rewarded with opportunities to attend squash camp or college preparatory. And the program has proved a good launching pad — three SquashSmarts students were accepted into the University of Pennsylvania's SMASH program, a three-year pre-college STEM program at the Wharton School.
The rewards don't stop there. One of the top cardio sports played with a racket, squash also teaches players dedication, patience and persistence — all transferable life skills, Cummin said.
"A sport that's individual, but yet also has a team environment, that appeals to a lot of students because they like being responsible for their own outcomes," she said. "Squash opens a lot of doors because it is something that would cause a college to look at them more carefully as an applicant. That's not the student they might necessarily see coming from this community."
Ranson Gaymon, who attends Boys Latin High School, has been part of SquashSmarts since sixth grade. Now 15, he's planning for college and hopes to play squash at that level.
Competing in squash tournaments is a chance for underrepresented communities to get in the game, he said.
"It's not necessarily a black sport, so it's good that people like me … and the rest of the program go out and represent," Ranson said.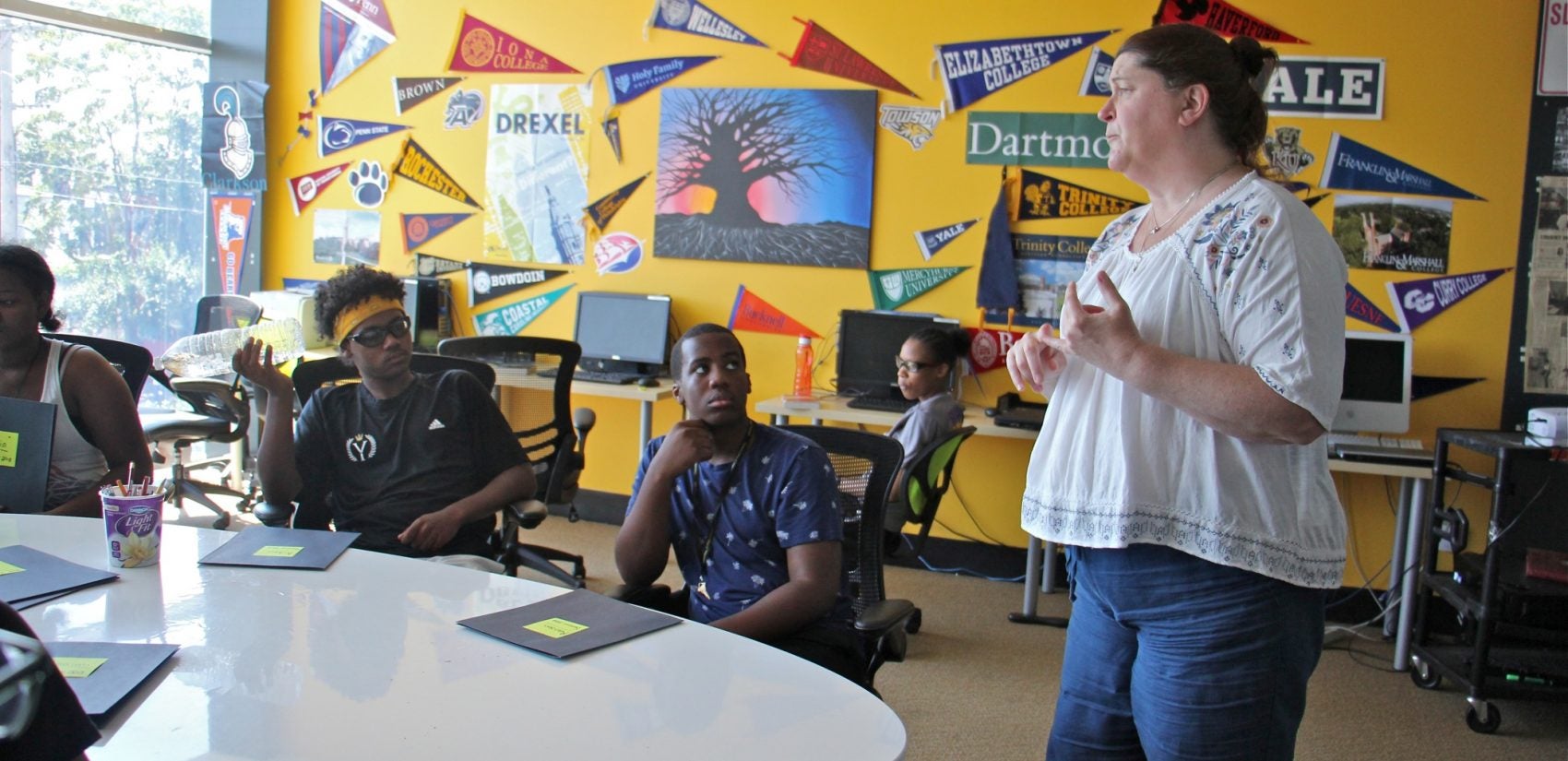 Although Cummin would like to see students playing at colleges and universities known for squash, she's happy just to see an improvement in the students' quality of life and future prospects.
"I also want to know that I am helping to graduate students who are independent problem solvers and decision makers," she said. "That they've got critical thinking skills, that they have social confidence, that they know how to look someone in their eye and shake their hand. To me, that is so important."