Spotted: Temporary fixes for part of Camac Street's wooden block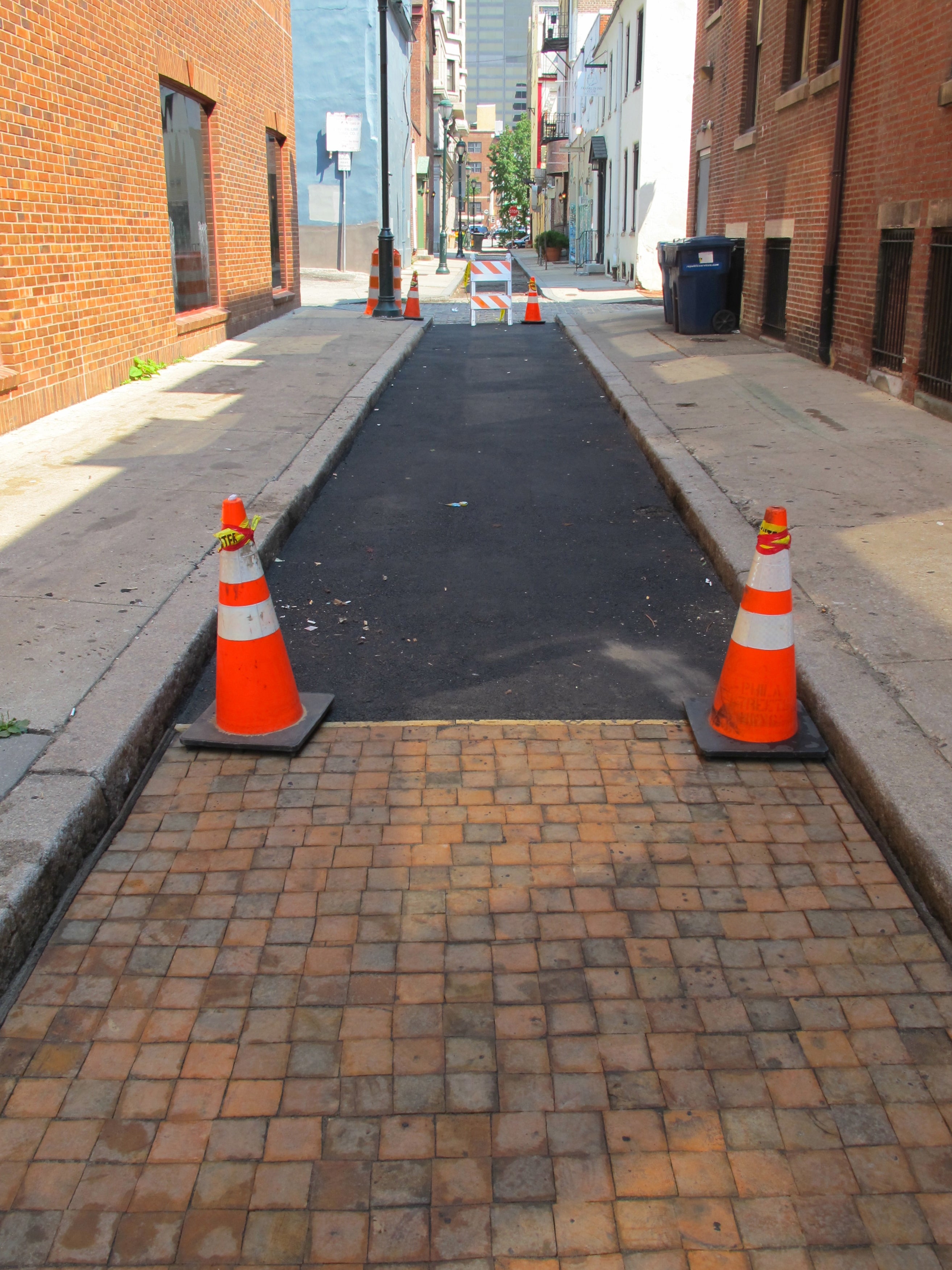 I count Philly's wee streets as some of our most special public places, and the block of Camac Street between Walnut and Locust that's paved with wood blocks is one of our little civic treasures. But poor Camac. Abuse from heavy vehicles and moisture has reduced much of Camac wooden pavers to pulp, despite repairs in 2012 and a complete resurfacing in 2008. Some sections were so bad they had to be temporarily patched with asphalt.
This month the Streets Department repaired part of Camac, replacing about a quarter of the red oak wood pavers nearest Locust Street, with oak blocks left over from the last major reconstruction campaign.* But if you walk the 200 block of Camac you've likely noticed that the rest of this section, up to St. James, has been paved with asphalt and north of Chancellor the block is in its same sorry chewed-up state. Unfortunately that's all the help Camac will get for now.
"The current project is an interim repair because of the extensive deterioration of the street," explained Streets spokeswoman June Cantor.
Streets has been working with the Historical Commission to prioritize repairs for historically designated street paving systems – like this part of Camac – to ensure they can remain a functional, historic resource for the city. Of late the Streets Department has about $250,000 to spend on restoration work, an amount that covers roughly half the cost to restore a single block.
Camac, Cantor said, will likely be fully resurfaced during the next year's paving season using larger oak blocks, presoaked in a preservative, and possibly set over a different base.
Streets and the Historical Commission ultimately want to restore Camac to an accurate historic appearance, which Cantor said involves paving the street with four-inch-by-eight-inch wood blocks rather than current four-by-four blocks that have been used for the past several decades.These larger blocks will be white oak, a choice driven by historical correctness, availability, and longevity. And Streets is experimenting with different preservative treatments.
Back in 2008 Streets drilled "weep holes" in the concrete below the wood blocks to help improve drainage but this may not have made enough of a difference. But, Cantor said, Streets is willing to entertain different design or materials to extend the life of the wood blocks. The Philadelphia Society of Small Streets has been advocating for an alternative street bed design that enhances drainage.
"The larger, denser blocks will withstand the elements and live loads better than the existing wood blocks," Cantor said. But that doesn't take away the beating Camac takes by businesses who use it for deliveries or as a dumpster alley. Cantor noted Streets remains "concerned about heavy private waste hauler vehicles that use the street and are crushing the wood blocks in some locations."
*Update , 8/17/15, 3:51pm: Streets Department spokeswoman June Cantor emailed to provide further detail about how Streets is experimenting with the treatment, installation, and maintenance of Camac's wooden blocks. She writes: "The blocks that were just placed were soaked in an oil-based preservative. This is the first time we have tried oil-based products. We won't really know if this helps for years, so we don't know if it will extend the life of the blocks.
One additional note, we place a polymeric sand on the surface of the blocks and broom the sand into the joints between the blocks. This sand, once "wetted down", will harden into a concrete type product. We then paint an additional coat of preservative over the entire roadway – in an attempt to stop any/all water from making it to the substrate. Again, how well this works is up for debate. We can also try to make this an annual maintenance item to try and maintain an impermeable surface and extend the life of the roadway."
Camac's new red oak block pavers

About one quarter of the block between Locust and Walnut was resurfaced in wood blocks, another quarter temporarily paved, and the rest left.

Camac Street, unrepaired

Camac Street saw half a block of repairs in summer 2015.
WHYY is your source for fact-based, in-depth journalism and information. As a nonprofit organization, we rely on financial support from readers like you. Please give today.