SPIN donates to homeless advocacy group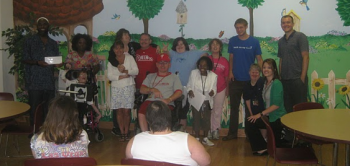 Special People In the Northeast reached out last week to donate to Back on My Feet, a Center-City based nonprofit that helps homeless people prepare for a better life.
Did you know?
SPIN is one of five inductees who will be honored in the 2010 Northeast Philadelphia Hall of Fame.
SPIN, based in which owns and runs programs out of the Norcom Community Center just outside of Normandy, raised and donated $100 to Back on My Feet. The SPIN members, who participated in a community service class that inspired the fundraiser, invited some Back on My Feet staff members for the check presentation.
In the video below, provided by Back on My Feet, SPIN staffer Bernice McHale talks about the organization:
*Look closely at the photo, and you'll see NEast Philly web editor Chris Wink (far right), who works with Back on My Feet.