O'Brien's aide considers run to fill 169th District seat [video]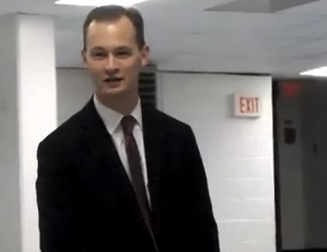 If you go to your neighborhood civic association meeting, chances are you know Dave Kralle. Holme Circle, Bustleton, Parkwood – the residents there know the aide to Councilman Denny O'Brien by name. Before O'Brien's election to Council, Kralle worked for him at the state level when O'Brien served the 169th Legislative District.
The rest of the city got to meet Kralle earlier this year during O'Brien's campaign for Council-at-large. Average height, on the thin side and always in a suit and tie, Kralle is as recognizable to district constituents as O'Brien is. That's likely to work to his advantage if Kralle enters a bid for the now-vacant 169th District seat.
"Denny wants me to run for his old seat in the House of Representatives," Kralle announced at last night's Holme Circle Civic Association.
He had to wait for a presentation from City Controller Alan Butkovitz and introductions from other, new legislative aides before he could stand up and deliver the news.
The Northeast lost the seat last year during the redistricting process – it moved to York County – but it mattered less to O'Brien politically at that point, as he'd just won his at-large seat on Philadelphia City Council.
But when the state Supreme Court decided yesterday to send the map back to the Legislative Reapportionment Commission for a redrawing, O'Brien had the perfect guy in mind to replace him.
Some things need to be worked out before Kralle enters an official bid. Like, for instance, determining if O'Brien's replacement will serve out the remainder of the now-councilman's term or a full term. And of course, the state still needs a new map. Once those matters are figured out, Kralle is poised to enter the special election.
Born in Chalfont, Kralle now lives in Normandy, not far from his alma mater, Archbishop Ryan. He has political science and criminal justice degrees from Temple and is finishing up his master's at the University of Pennsylvania. More importantly for constituents in the district, he says he wants to hear from them about the issues worth fighting for – assuming he decides to become a candidate.
He has a lot of thinking to do, he says, but, "Denny very much wants me to run for this position."