Some of the long-term challenges facing New Jersey's beach replenishment efforts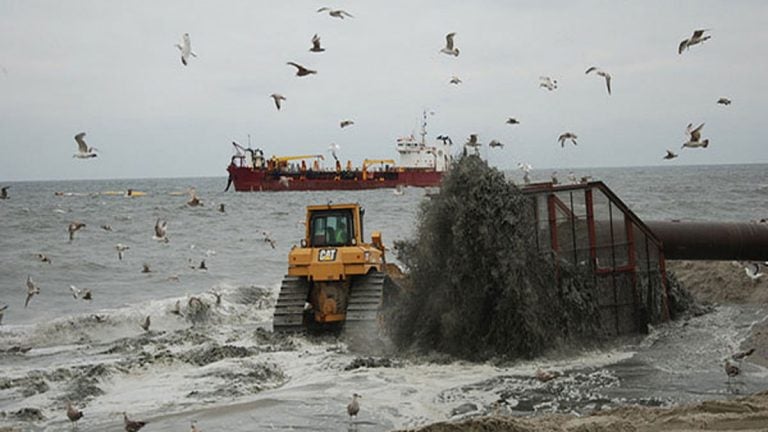 Even before hurricane Hermine threatened to strip New Jersey's beaches yet again earlier this month, skeptics questioned how the state and Army Corps of Engineers can commit to spending nearly $2 billion in beach replenishment through the mid 21st century.
Mercifully, Hermine headed farther east over the Atlantic Ocean, sparing New Jersey's beach replenishment program another price increase.
But the question of whether the program is misguided, due to its high price on both the taxpayers and the environment remains. It will need continual rejuvenation as even the best-engineered beaches lose sand frequently regardless of storms.
Depleting underwater sand piles
As sand becomes increasingly valuable, fisherman expect underwater ridges to be depleted, despite being home to large schools of fish and other sea life. And with an expected sea-level rise, there's no telling how the ecosystem will adjust or how much sand will be required. The only certainty is that local underwater sand hills will be exhausted before century's end.
Judging from the experience with building Long Beach Island beaches — where historic ridges called the Harvey Cedar Lumps are nearly mined out — it appears certain that underwater sand hills close to the beaches will be gone within decades.
Fishermen question the cost to the environment from demands for more and more sand on the beaches. A seafloor survey of sand ridges off Manasquan commissioned in June by the federal Bureau of Ocean Energy Management raised alarms that the Corps of Engineers could dredge more sand from undersea hills that are essential fish habitat.
Collectively known as the Manasquan Ridge, the hills attract seasonal concentrations of fish, and could be a future "borrow area," where sand is extracted to pump onto nearby beaches.
"They are already planning to use borrow areas closer to the beach," said captain James Lovgren of the Fishermen's Dock Cooperative in Point Pleasant Beach, who, with other fishermen, met with DEP officials in late July regarding their concerns about sand mining.
Moving sand isn't cheap
Sand mining will continue throughout much of this century, however. Beyond initial construction phases, major beach replenishment projects now underway or planned have 50-year lifecycles, and will run up $1.92 billion for continued dredging and pumping of sand through the 2060s, according to the Corps' Philadelphia district office. That office plans and manages the coastal protection program in partnership with the state Department of Environmental Protection.
The Corps' estimated basic price tag would exceed the $1.5 billion in adjusted costs spent on New Jersey beach projects in the past 25 years, according to the Center for the Study of Developed Shorelines at West Carolina University.
Those price tags are escalating steadily, said professor Robert Young, the center's director, whose database shows New Jersey is a close second place behind Florida, the champ at winning federal taxpayer dollars to rebuild its beaches.
"If you look at beach nourishment nationally, the cost has been going up pretty rapidly over the last decade or so," Young said.
Take the example of the planned beach widening in northern Ocean County from Manasquan Inlet to Island Beach State Park. It is projected to cost $167 million in initial construction, with first bidding now underway. That includes mining sand from those offshore borrow areas, pumping a slurry of seawater and sand through pipelines, and pouring it onto the beach.
DEP officials announced today that it is now seeking contractors through its bid process.
In 2002, an earlier Corps of Engineers projection for that job was around $70 million. "So right there in 12 years the cost for that project has more than doubled," Young said.
The current plan is to build a beach at least 100 feet wide for 14 miles, backed by an engineered sand dune cresting 22 feet above sea level. Planted with dune grass to catch and anchor windblown sand, the dune will hopefully protect densely developed beach communities from being flattened again by storm waves as happened during Hurricane Sandy in 2012.
Beyond construction costs, there will be the need for periodic renourishment with fresh sand — nominally every three to five years, but more frequently after major storms. The Corps of Engineers and New Jersey are still tapping an additional $1.2 billion appropriation by Congress after Sandy.
Federal and state planners are clear-eyed about those commitments, said Robert Considine, a DEP spokesman.
"The state and the Corps go into these projects knowing there will be needs for renourishments every few years — but not a total reconstruction," Considine said. "Usually, you're talking about 10 percent of the volume of sand in a renourishment. We would anticipate funding for those renourishments as we've had."
It is a continuing cost New Jersey must pay, not just to protect homes and property but the state's $43 billion tourism industry, Considine said: "So I think it's safe to say future funding for renourishments would be a priority."
Who pays for this
The cost is shared between 65 percent federal funding from Congress, and 35 percent state and local share, much of it from $25 million a year dedicated from the New Jersey real-estate transfer tax. State lawmakers from Shore counties are proposing to boost that annual appropriation to $50 million, but housing advocates and other interest groups are fighting that move.
Even some of those who benefit from the dune construction projects question their wisdom. Beachfront property owners in Bay Head are raising the issue of future funding in their court fight with state officials seeking construction and dune maintenance easements for their own project.
"They can't even put money into bridges and roads. How can we depend on them to maintain the beach and dunes?" said Thacher Brown, whose family has owned their home on the beach since 1928. He and his neighbors pay to privately maintain a stone revetment and dunes. "We don't need the government to come in and take over our beach, end our rights to maintain our beach."
"The system that is in place (revetment and dunes) has been in place for over 100 years and has track record," said Anthony Della Pelle, a Morristown lawyer representing the Bay Head group and other Shore property owners appealing the state's plan in Superior Court in Ocean County.
Skeptics are not reassured by the post-Sandy decision to install a four-mile steel sea wall through Mantoloking and Brick as a last line of defense to prevent another ocean breakthrough of the barrier beach and damage to the rebuilt Route 35. Pounded by hurricane Hermine's swells, the beach in front of the steel barrier eroded and sections were off-limits to visitors for days after.
"The steel wall is like a basketball backboard. The water hits it and bounces off," washing away even more sand, said Thom Ammirato of the Bay Head group.
A few miles to the south, the Army Corps and state are in the last stages of the $138.2 million Long Beach Island beach replenishment. That project has been held up as a model for how beach engineering can protect against storm damage.
During Sandy, most of the island was swamped by floodwaters as the storm surge filled the back bay. But along the oceanfront, areas where the beach project had been completed, like Harvey Cedars and Surf City, were protected from the battering storm waves that demolished Mantoloking.
Yet after sand losses from the winter of 2015-2016 — not a particularly rough storm season — the Army Corps and contractor Great Lakes Dredge and Dock Company were back at work this summer, widening the narrowed beaches. In all, the Long Beach Island project is using 11 million cubic yards of sand, about 27 percent more than the 8 million cubic yards in the original plan.
Projected renourishment costs for northern Ocean County would be $513.9 million through 2065. Similar totals appear in Corps of Engineers estimates for maintaining Long Beach Island, Atlantic City and the rest of Absecon Island, and Ludlum Island from Ocean City to Sea Isle City.
Then there is Monmouth County, where 21 miles first widened in the 1990s are still the world's biggest beach replenishment project. The Corps had to throw another $38.2 million into the stretch of Deal, Allenhurst, and Loch Arbour after Sandy. A second beach refill from Deal into the Elberon section of Long Branch is ongoing.
"The cost is an unknown. We don't know how the cost might accelerate, and we don't know if a four-year replenishment cycle will be adequate," said Young of West Carolina University.
Cities need protection too
Already the federal and state governments are looking to protect much more costly urban real estate and infrastructure from the effects of storms and sea-level rise.
In early September the Christie administration announced the favored outcome of the Rebuild by Design project, a $230 million flood-barrier system to protect the Hudson County urban waterfront of Hoboken, Weehawken, and Jersey City from another Sandy.
Across the Hudson River, the same kinds of studies — assisted in a big way by Dutch engineers with long experience in flood protection — foresee a system of dikes and floodgates protecting lower Manhattan. Some estimates put the final price tag at $3 billion.
Not all sand is the same
Along with lots of money, continuing beach replenishment needs lots of sand. Most sand put on the beaches during major construction will stay in the system near shore, even when it washes off during storms.
"The sand that is nearby is going to come back" during mild weather, said Norbert Psuty, professor emeritus with the Department of Marine and Coastal Studies at Rutgers University. "But then a major storm comes and takes it into deeper water, so you have to replace it."
Not just any sediment will do; it must be the proper grain size and consistency to match what is already at the edge of dry land. The best stuff now on the sea floor just offshore used to be prehistoric beaches.
"There are places with no sand, places with a thin layer of sand, ridges of sand nine, 10, 12, 15 feet high … Basically they are old barrier beaches, old tidal deposits," said Psuty, an expert in coastal geomorphology, the study of how coastlines form and change over time. Thousands of years ago, New Jersey's beaches were miles to the east until rapidly rising sea levels at the end of the last ice age.
Now those drowned barrier islands "tend to be loaded with clams, crabs, lobsters. The fish are there going after all the other resources" and that in turn makes the ridges productive grounds for commercial and recreational fishing, Psuty said.
Rising sea levels
In the meantime, barrier islands will be under pressure from sea level rise, even under conservative estimates of a one- to two-foot rise along New Jersey over the coming century.
"Sea-level rise will force the coastline to retreat. That might be the least appreciated factor," Psuty said. "They will have to put in dikes, pumps to get the water out. Streets will get flooded, bridge approaches, more often." "Eventually you won't be able to maintain the infrastructure," Psuty said. But in the meantime, he noted, "We're willing to do almost anything."
"These beach replenishment projects are classic examples of cumulative environmental impacts," Young said. When dredging and beach fillings are rare events, ecosystems likely recover without long-term effects, he said.
"But if you do it every four years, and you do it everywhere, and you have dozens of square miles of borrow areas, that's different."
"This is not something you can expect to do forever," Young said. "That, for me, is what makes these 50-year plans so problematic. Nobody knows who's going to pay."
______________________________________________________
NJ Spotlight, an independent online news service on issues critical to New Jersey, makes its in-depth reporting available to NewsWorks.