Skaters fill potholes left unfixed by city crews
Wearing the flat sneakers they skate in, the self-appointed streets team poured in wet cement and smoothed the surfaces.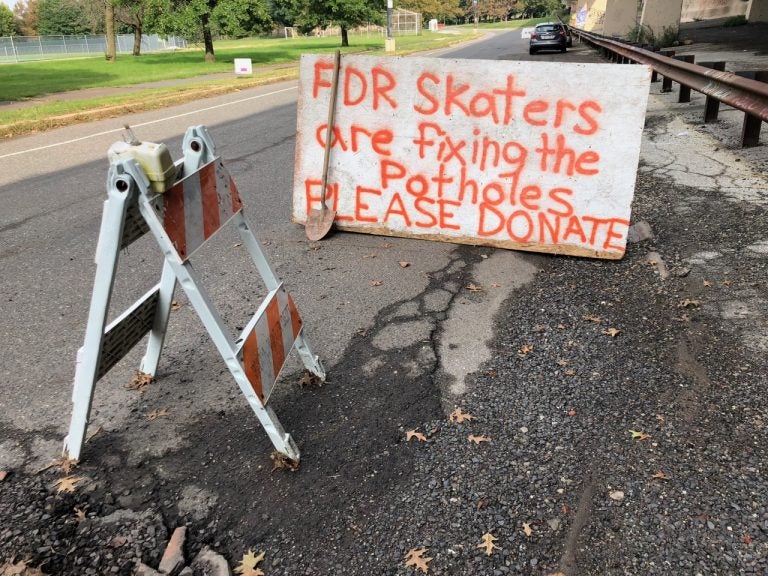 This story originally appeared on PlanPhilly.
—
The do-it-yourself or DIY attitude is essential to skateboarding. Few places demonstrate that truth more clearly than FDR Skatepark, a 16,000-square-foot stunt playground that local boarders have painstakingly built up since 1996, on their own, under Interstate 95 in South Philadelphia's FDR Park.
Now that ethos is being put to work in a way that all Philadelphians can appreciate: filling potholes on the park's well-worn loop road.
The work isn't just about making the streets they cruise safer. It's also a way to raise money for the latest and perhaps greatest addition to their self-made skate park, a large bowl with six colorful, graffiti-covered ramps.
"This road here we drive every day is so bad, so we had the idea of, let's fill these potholes  — we know how to do concrete — and see if people donate," veteran skater Carlos Baiza said, as other skaters rocketed off the park's concrete ramps and highway traffic roared overhead.
Some of the craters in the heavily used roadway have been there for years, forcing drivers to navigate carefully around them and causing countless flat tires. The city plans to make improvements to the park and road, but progress is slow. In the meantime, the potholes continue to multiply and deepen.
"I've seen multiple tow trucks picking up cars," said Baiza. "Some of these things were a foot deep."
On a recent weekend, they put their plan to the test. Surrounded by hundreds of picnickers, soccer players, birthday partiers, food vendors and others enjoying one of the last warm weekends of the year, crews of skaters cut clean edges to the potholes with buzzing concrete saws. Wearing the flat sneakers they skate in, the self-appointed streets team poured in wet cement and smoothed the surfaces.
They spray-painted a large sign announcing the work, set up a "tollbooth" along the road, and collected $1,200 in donations from drivers and passers-by, skater Nicole Rypins said. The skatepark is also collecting donations online.
Rypins said 20 skaters working for two full days made it halfway around the 1.6-mile loop, filling 10 potholes. They would like to repeat the effort twice more to finish the job, she said.
"It's a short-term solution, but it should last two to three years," she said. Meanwhile, progress is also being made on the skaters' epic bowl — it's about a cement truckload away from completion.
While the skaters contributed their time and labor, Friends of FDR Park kicked in some cash to hire cement trucks, skater Matt Rea said. Barbara Capozzi, vice president of the group, said that ideally, the Parks Department would fix the road, but she was pleased the skaters had acted to address the issue. She described it as a serious problem that could discourage people from visiting one of the city's larger public green spaces, home to tennis courts, a lake for fishing and boating, baseball fields and a public golf course, among other amenities.
There is a certain irony in the skaters doing the work of city government. Skateboarding has been banned from many city parks for decades, and planners of parks and other public areas have often designed spaces defensively, with the hope of keeping the ramp-and-bench-hopping boards away.
In recent years, as planners have started to appreciate the contribution skaters make to public spaces and the demand for skateparks, and the city has built a few on public land, such as Franklin Paine's Park near the Art Museum. FDR Skatepark is considered an integral part of FDR Park, and Capozzi said she is glad for the skaters' initiative.
"The skateboarders were terrific," she said. "It comes under the heading of self-help. We'll try anything to make it safer for our walkers and bikers. It's a temporary fix for a very expensive problem."
"The potholes are terrible," she added.
Skater Dickey Johnston stands on a pothole at FDR Park he helped repair. (Meir Rinde for WHYY)

A skater cuts concrete around a bowl at the skatepark in FDR Park. (Meir Rinde for WHYY)

One of several large potholes at FDR Park in South Philadelphia. (Meir Rinde for WHYY)
The skaters join a small tradition of Philadelphians who have taken it upon themselves to fill or even decorate potholes, often large, venerable ones that the city has failed to fix.
In August, neighbors on Mutter Street in North Philadelphia pooled their money to buy 65 bags of cement and fill more than a dozen potholes, some of them 6 years old, after an administrative mix-up led the city to ignore their calls for help. After a video of them making the repairs garnered media attention, the city filled five additional potholes there.
In 2016, the arts initiative Haha X Paradigm commissioned Chicago mosaic artist Jim Bachor, who had turned potholes in his city into artwork, to do the same at three spots in Philadelphia. This past April someone took a cruder approach to a PGW excavation had that remained open on North Fifth Street for several months, spray painting an obscenity on the road with an arrow pointing to the hole. (PGW repaired the hole, though a spokesman said they were unaware of the graffiti.)
A different pothole-related publicity stunt played a role in inspiring the FDR Park repairs. Domino's Pizza recently fixed potholes in four cities, painting its logo on the fresh asphalt and recording the work for a TV ad. Baiza had already thought up the idea of filling potholes, but seeing the commercial galvanized the skaters to act. "We just laughed," Rypins said. "As soon as we saw that, we said, you know what, let's actually put it into action."
The skaters are conscious of the fact that FDR Skatepark operates in a gray area with regard to municipal regulation, and said they were not criticizing the city's maintenance efforts. A Parks Department spokesman declined to comment directly on the skaters' work but said the cash-strapped agency may complete the repairs itself.
"We will be going out to assess the existing conditions along sections of the loop road to determine if there are interim solutions we can provide to alleviate some of the most severe conditions. While repairs to FDR Park's loop road are certainly necessary, we need to ensure that any repairs are performed correctly and in a safe and durable manner," the department said in an email.
"We are currently in the middle of a robust master planning process for the entire park. Repaving of the roadway in FDR Park is a multi-million dollar project and there is infrastructure beneath the roadway that is being evaluated as part of the master planning process. We want to ensure that all capital improvements for FDR are planned in a cost-effective manner and prioritized appropriately as we work to implement this significant master plan," the statement said.
Three FDR Park Master Plan public design workshops are scheduled for this month and a community meeting is set for the evening of November 14 at South Philadelphia High School, Capozzi said.
WHYY is your source for fact-based, in-depth journalism and information. As a nonprofit organization, we rely on financial support from readers like you. Please give today.