Situation Vacant: Earthship calling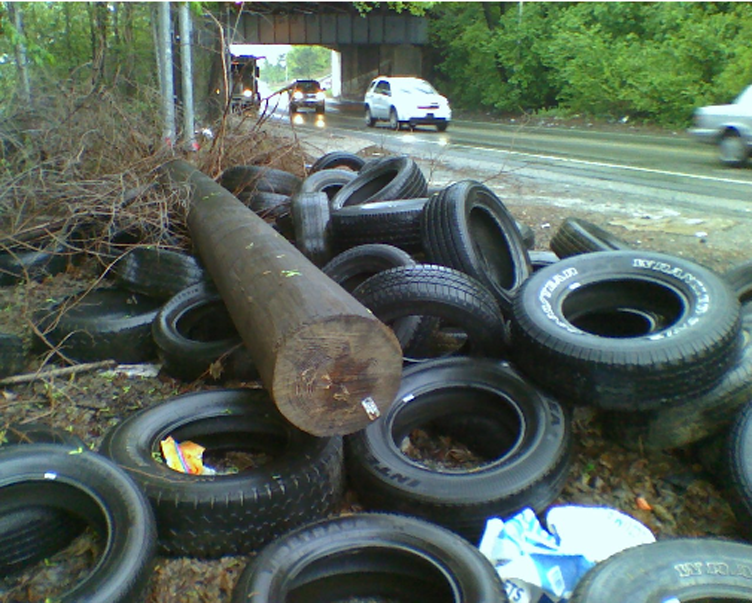 In advance of PlanPhilly's panel discussion about the city's vacant land strategies on June 12th, Eyes on the Street is collecting and sharing stories from Community Contributors about the effects of vacancy and blight on neighborhood quality of life, community development, and the potential for positive change presented by the city's vacant property reform efforts. Rashida Ali-Campbell dreams of using the city's profusion of illegally dumped tires to build earthships on vacant properties. But finding one lot for Earthship Philadelphia, among our city's 40,000 vacants, has proven harder than one might think.
You can travel down any street in Philadelphia, and sooner or later you will see a tire. Sometimes, you see a single tire lying up against a fire hydrant, or cleverly tucked behind a dumpster. The other times, there are piles of this rubbery waste, illegally dumped on a vacant lot or stacked inside an abandoned building. The culprit is long gone, but the damage is done. The city is left to pick up the tab and discard of the tires properly, and not long after the site is cleaned another one takes its place. Illegal tire dumping is a growing crisis in Philadelphia, and the vacant land allows it to continue at an alarming rate.
The city of Philadelphia and its environmental organizations has made valiant attempts to remedy the tire dumping issue in both the land and water. Tire Round Up is a city program designed to pay organizations to collect tires from the city streets. However, due to limited funds, this program is seasonal, and the amount of tires an organization can collect for monetary benefit is capped. The community organization The Seventh Wonder goes into the Schuylkill River to collect tires. However, once the tires are collected they still need to be disposed of properly, and the organization is left to foot the bill or find storage for hundreds of tires.
My organization LoveLovingLove Inc. saw this problem as an opportunity to solve two problems at once. Vacant land and tires…sounded like the materials for an earthship. So, for the past 3 years we have been working to bring an earthship to a vacant lot in Philadelphia. An earthship is a house that can heat and cool itself, provide its own food and water, and maintain its own electricity and sewage. Further, it is made primarily from recycled materials, namely tires. Our efforts to make Earthship Philadelphia, a reality were soon confronted with the challenges of finding the "real owners" of vacant properties. These challenges were amplified in the cases where the prospective land was owned by two and three different entities.
The search for vacant land in a city with over 40,000 vacant lots was going to be harder than we thought. We began to contact the city about ways to secure land for Earthship Philadelphia. We were told about the conservatorship act and city community gardens. Although these seem like reasonable substitutes, there is always the fear of being asked to leave the land we cared for. In order for our project to move forward, we need to procure land that we can build on and own. It is the hope of our organization, LoveLovingLove Inc., that the land bank bill and vacant property reform will create a fair and transparent way of land distributorship. The bill has the potential to create opportunity for concerned Philadelphians to contribute to making Philadelphia a greater city. In addition, the vacant land reform can be a catalyst to empower individuals to take personal responsibility for their impact on the city.
———
Rashida Ali-Campbell is the Executive Director of LoveLovingLove Inc., a 501( c) 3 nonprofit serving the Philadelphia region with holistic health education and love.
Eyes on the Street is collecting stories about the effects of vacancy on neighborhood quality of life and community development in Philadelphia. If you want to share your story, send it our way.
WHYY is your source for fact-based, in-depth journalism and information. As a nonprofit organization, we rely on financial support from readers like you. Please give today.