SEPTA to shrink without additional funding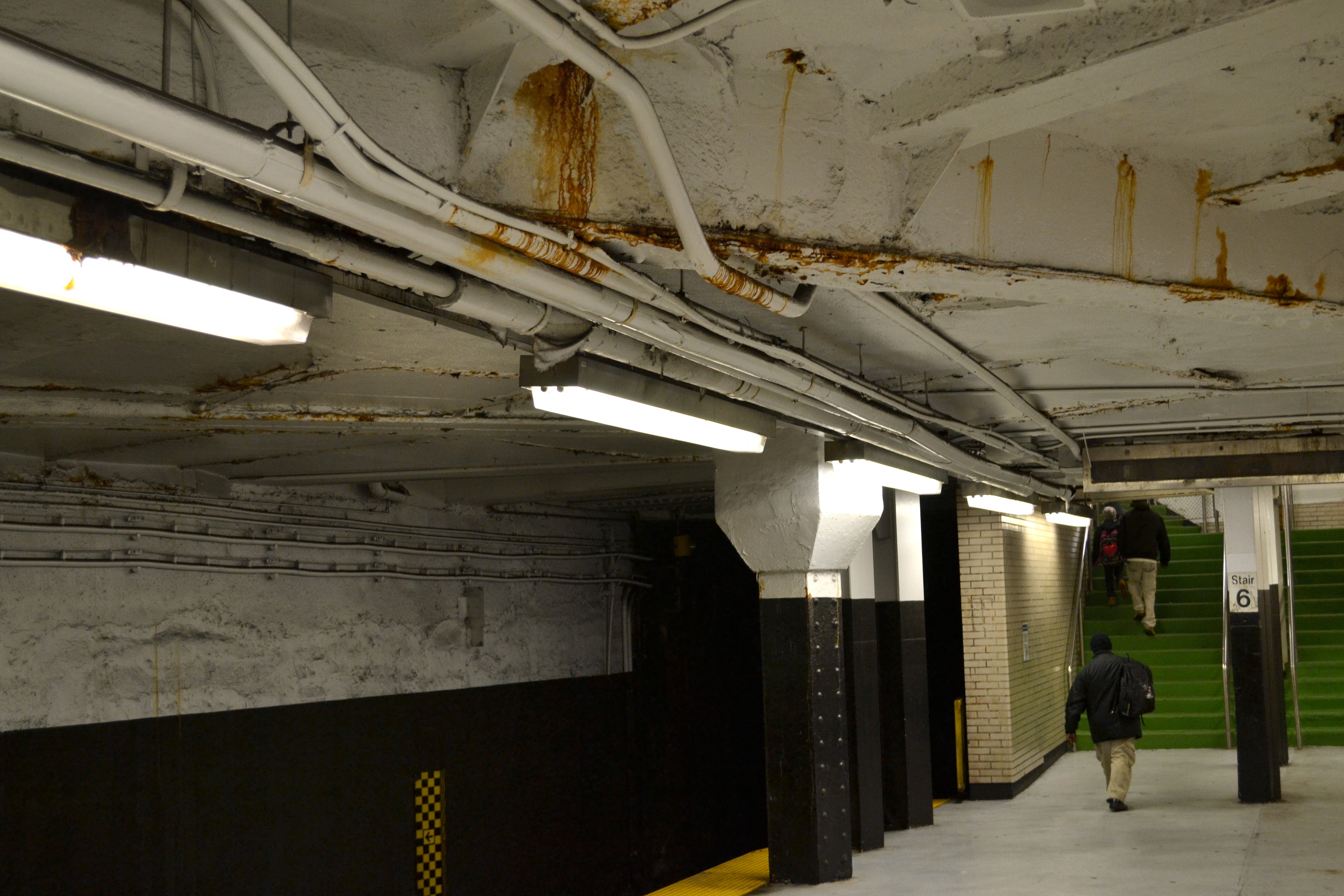 The long-awaited overhaul of City Hall and 15th Street stations will begin summer 2016.

SEPTA's City Hall Station overhaul is on SEPTA's list of deferred capital projects

The $100 million City Hall Station overhaul is on SEPTA's list of deferred capital projects
SEPTA's list of deferred state of good repair projects is going to become a list of closed infrastructure if transportation funding at the state level is not increased soon. The Media-Elwyn, Norristown High Speed and Chestnut Hill West lines will be first to lose critical bridges or viaducts if more funding is not secured.
For years, SEPTA has been focusing on its state of good repair projects – maintenance and replacement projects necessary to keep equipment, infrastructure and facilities safe and running – but with a capital funding budget of $303 million and a $4.7 billion backlog of necessary state of good repair projects, SEPTA simply does not have enough money to keep the entire system running.
"This is really a serious matter," said Richard Burnfield, SEPTA chief financial officer & treasurer. "We've been able to hold it together for the last five or 10 years. We can't hold it together for another five to 10 years."
First to go
SEPTA has identified five critical projects that have been deferred because the authority does not have adequate capital funding:
Crum Creek Viaduct Replacement, Media-Elwyn Line

Bridgeport Viaduct Rehabilitation, Norristown High Speed Line

Bridge 0.15 Replacement, Norristown High Speed Line

Bridge 0.35 Rehabilitation, Chestnut Hill West Line

Viaduct Rehabilitation at three locations, Media-Elwyn Line
If funding is not secured for these projects, they will likely be the system's first casualties. It will start with speed restrictions. Then the bridges or viaducts will close, and SEPTA will consider bussing passengers around the out-of-service infrastructure.
The Norristown High Speed Line could lose the Bridgeport Viaduct, which already has speed restriction and a one-train capacity, as early as this summer.
"I think we'd try to provide busing, but you give people two seat rides, it's not very attractive. It's not a good situation," said Jeffrey D. Knueppel, SEPTA deputy general manager.
Busing passengers around defunct bridges will mean longer travel times and a shrinking bus fleet in other areas as vehicles are rerouted to the regional rail routes.
"That's the kind of fear that we have, that the system will start shrinking," Knueppel said.
Also at risk
In addition to these five critical system stress points, SEPTA has a $4.7 billion backlog of state of good repair projects.
The partial list of deferred projects – projects the system needs but can't afford – is 22 items long and includes the $100 million City Hall Station overhaul, $40 million Paoli Transportation Center, $62.6 million in parking expansions and improvements, $67 million in railroad substation improvements and $51 million in ADA station upgrades.
Currently, SEPTA is plugging away at as many state of good repair projects as it can.
For some projects, like the Wayne Junction Station overhaul and rebuilding the Route 100 platforms at 69th Street Station, SEPTA uses third party contractors. In other instances, SEPTA's own in-house team tackles projects like track maintenance and signal upgrades. The work for both contractors and in-house crews is endless, and SEPTA does what it can to stretch its limited dollars.
"We are right on the cusp of having certain structures have to go to [passenger-train speed] restriction," Knueppel said.
The Chestnut Hill West 0.35 Bridge is one of those structures. In addition to speed restrictions, SEPTA will most likely allow only one train on the bridge at a time.
"Those are the type of things we'll do for a while to buy us some time, but ultimately the problems with some of these structures are very significant," Knueppel said.
He said crews are constantly doing safety checks and that if something becomes unsafe it will be repaired or taken out of service.
Digging the hole
The $4.7 billion state of good repair backlog is just the beginning of the grim sticker shock.
Over the next 20 years, SEPTA will need approximately $8.5 billion to pay for additional state of good repair projects. That cost combined with the backlog means the total state of good repair cost from 2011 through 2031 is an estimated $13.2 billion.
More than 43 times the size of SEPTA's current annual capital budget.
In addition, if SEPTA keeps investing in state of good repair projects at the currently programmed funding levels, the backlog will grow from $4.7 billion to $8.6 billion by 2031.
All of these bleak projections are in 2011 dollars. Account for inflation and the situation is even worse.
Officials said the problem is not SEPTA's ability to spend money.
When SEPTA received $191 million in federal stimulus funding, the authority processed 54 different contracts within a year of the signed legislation. Within the first term of the Obama Administration, SEPTA spent all of its federal stimulus funding.
"We really wanted to show people they had the wrong impression of us on being able to efficiently and effectively spend capital dollars, and I think we were recognized nationally for our ability to conduct a really, really great stimulus program," Knueppel said.
The problem is limited state-level transportation funding.
As SEPTA begins planning its fiscal year 2014 capital budget, officials are waiting anxiously for word from the commonwealth.
"I think we're all cautiously waiting to see what we hear over the next month, but until we hear something we have to plan on a capital budget based on what money we know we do have," Burnfield said.
Ripple effect
For passengers, the lack of funding could very well mean that parts of the Norristown High Speed, Media-Elwyn and Chestnut Hill West lines are removed from service. That could lead to shuttle bus service between some stations or could truncate part of the rail network.
On lines where SEPTA can buy more time until rail work is possible, reduced train speeds and bridge capacity restrictions could mean longer travel times and system unreliability.
"If we don't have the dollars to invest in our infrastructure, then you will find those individuals who are going to think twice about how much of a commitment they make to transit," Burnfield said.
If the system starts to shrink, the fear is that ridership will go with it.
The lack of capital funding will impact SEPTA employees as well. All of the behind the scenes work that keeps the system going is being challenged by leaky facility roofs and equipment that is getting old, Knueppel said. Employee performance is being challenged.
Burnfield said he is nervous that all of the achievements SEPTA has made in the past five to 10 years will be undermined by the lack of capital funding.
"Ridership up 43 million trips annually in 6 years, customer satisfaction up significantly, balanced budgets for the last 13 years – all of that is at risk if we don't see an increase in funding for transportation," he said.
Knueppel said SEPTA has been working to stretch its limited dollars but that ultimately SEPTA cannot operate effectively during record ridership without the capital dollars to renew the infrastructure.
"Not saying it's today, not saying it's tomorrow, but at some point the system starts to shrink," Knueppel.
As SEPTA waits for a transportation funding decision from the state and works to chisel away at the $4.7 billion project backlog, PlanPhilly will be regularly covering SEPTA's financial situation, aging infrastructure, attempts to hold everything together and the impact on transit riders.
WHYY is your source for fact-based, in-depth journalism and information. As a nonprofit organization, we rely on financial support from readers like you. Please give today.