Second Annual History Faire a lesson in promotion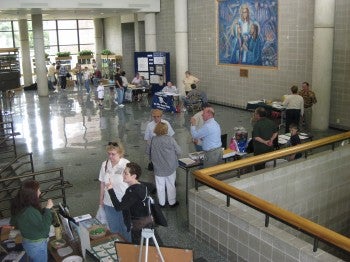 Northeast Philadelphia held its second annual Northeast Philadelphia History Faire yesterday. The event featured about a dozen historical organizations. These included Friends of Lower Dublin Academy, the Historical Society of Tacony, the Historical Society of Frankford, Byberry Friends Meeting House, a table for the Poquessing Creek Watershed, the Delaware Valley Civil War Round Table and tables for Kensington and Torresdale, plus more.
The event, which featured a live folk band and a table for food, was once again held at Holy Family University's Campus Center.You can view more photos from the Faire in our slideshow.
Exposure is the key according to Frank Hollingsworth. "The more you push it out, the more people hear about it," he said. Hollingsworth manned the Torresdale table.
While there were fewer organizations this time around, Hollingsworth was optimistic, offering to help figure out why. He suggested a steady date annually in the fall.
Byberry Friends Meeting member Dona File, whose ancestors, the Walton Brothers, were original settlers in Byberry, believes that the event brings people in the community together. "Especially those interested in history – very local history."
Regarding a third event, File suggested signs outside the building, along with more advertisement. "I think people would come if they knew about it."