Rutgers professors celebrate contract deal while adjuncts wait
A strike has been averted at New Jersey's largest public university after Rutgers reached a tentative deal with the school's main faculty union, which had been working without a contract for nearly a year.
The proposed four-year contract includes pay hikes for faculty members, pay equity measures for female and minority instructors, and better job security for some non-tenured professors.
It will also put compensation for faculty at the university's Newark and Camden campuses on par with those working in New Brunswick at Rutgers' main campus and increase funding for hiring a more diverse faculty.
"We were able to gain just about everything we asked for," said Jim Brown, an associate professor of English at Rutgers-Camden and a member of Rutgers AAUP-AFT.
The deal came late Tuesday evening after several marathon negotiating sessions and as faculty members and students at the three Rutgers campuses were preparing for what would have been the first strike for the university that has existed nearly 253 years.
Vivian Fernández, Rutgers senior vice president for human resources and organizational effectiveness, said the deal was "a credit to the hard work and diligence of negotiators" from both Rutgers and the faculty union.
Gov. Phil Murphy also praised the deal struck by Rutgers and the 4,800 full-time faculty and graduate students as "not only good news for students and faculty" but one that "moves our state's flagship university closer to being a true model for fairness, diversity, and pay equity."
While countless faculty and students joined in the celebration Wednesday just hours after the deal was finalized, many professors were still awaiting an agreement of their own.
Around 3,000 adjunct professors — called part-time lecturers at Rutgers — have remained without a contract since September and were not part of the deal reached Tuesday.
Cynthia Saltzman, an adjunct professor who teaches in the anthropology and sociology department at Rutgers-Camden, said part-time lecturers were among the most vulnerable members of the faculty population.
"We have no long-term contract. We have no job security. We do not have any health care," she said.
On top of all that, Saltzman said, the pay is insufficient. Adjunct professors at Rutgers University earn $5,178 per class, according to advocates.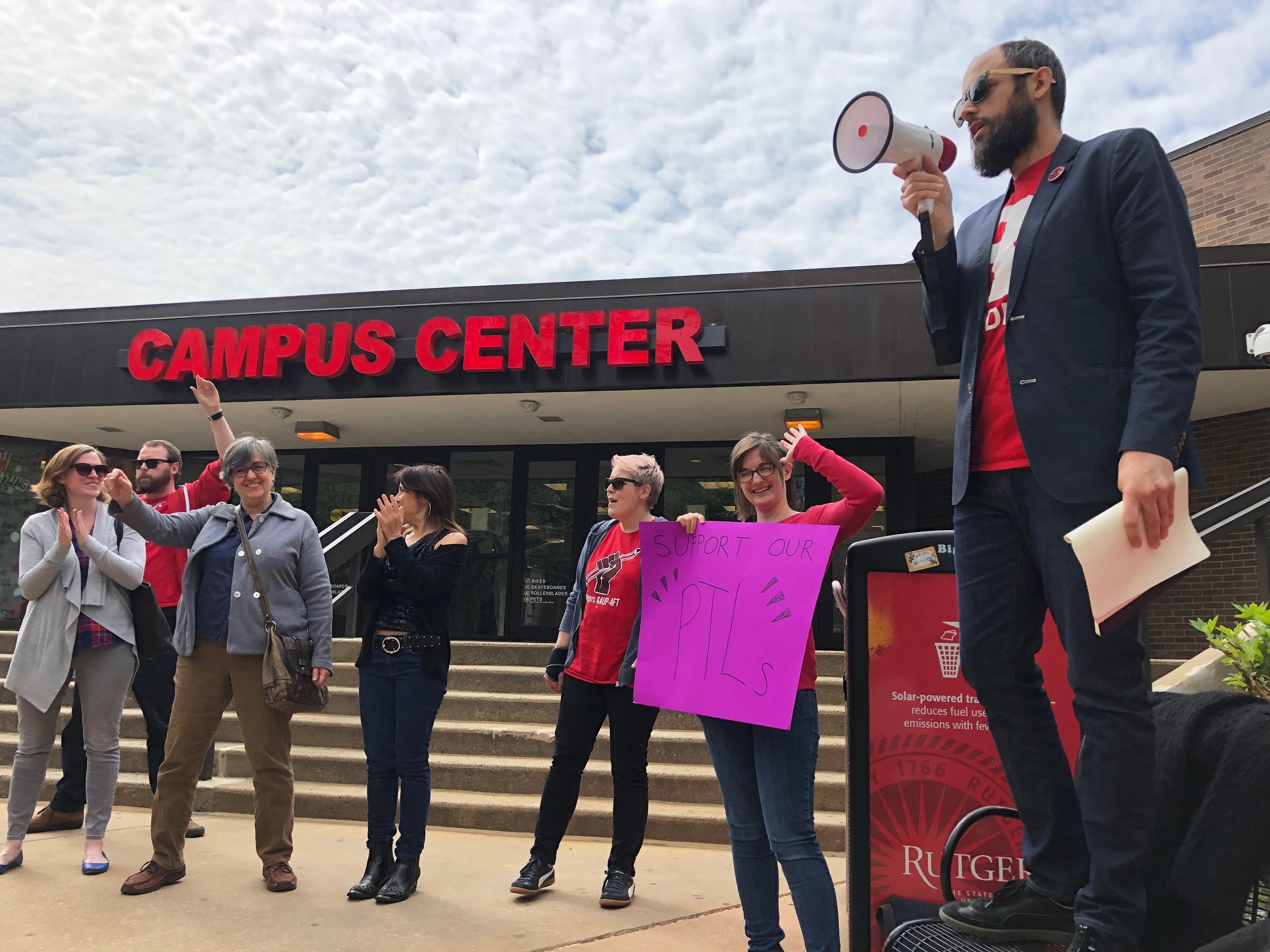 The AAUP-AFT bargaining unit representing adjunct professors has yet to reach a separate deal with the administration.
Recent contract negotiations at Rutgers campuses across the state has galvanized student activists, some of whom publicly backed their professors and were preparing to participate in the strike.
"We chose this campus and this college because we think that it supports equality and diversity and all the things that the union is fighting for," said Noah Gregory, a second-year social work major at Rutgers-Camden. "To see them make a win like this is really cool, and we want to support that."
Maria Saavedra, a junior majoring in economics and digital studies, said low pay for faculty and graduate students has impacted students' experiences in the classroom.
"We just want to make sure — especially for grad students who are [teaching assistants] — that they can pay their tuition and also be helpful in class," she said. "A lot of people sometimes don't understand how difficult it is to do everything."
The contract will take effect once it is ratified by AAUP-AFT members, and it will be retroactive to July 1, 2018.