On Thursday, Earth's Northern and Southern hemispheres received equal amounts of daylight and night. The sun hovered directly above the equator, signaling the beginning of the fall in the North, and spring in the South.
People celebrated the autumnal equinox with a fire performance at Mayor David L Vanella Memorial Park in Runnemede, N.J., and by walking the labyrinth inside the Peace Garden that was built in March 2021 by Reimagine Runnemede. Nestled between the turnpike and wetlands, a few community members gathered at sunset to walk with intention.
Reimagine Runnemede, which was formed in 2019 and held its first Labyrinth event in September 2020, aims to enliven the borough through community-engaged, creative placemaking. The goal is to "put Runnemede on the map" for the arts, said Elaenor Kelly, Runnemede councilperson and Reimagine Runnemede trustee.
David Steinberg, the labyrinth's designer, said "Runnemede is a town that's not afraid of new ideas." He led the group in a brief reflection on forgiveness, then they gathered in the center of the labyrinth to give thanks for the opportunity to commune with nature.
With the help of students from a local high school, poet Robert Hawthorne laid out the labyrinth, a spiraling trail of bricks through a grassy area next to a parking area. Hawthorne calls it the "sunset lot," where he watches the sun set over Big Timber Creek every day. He said he walks the labyrinth about five times a week, and works to keep Green Acres litter-free.
"Nature is my church," he said, adding that highway sounds become white noise if you hang around long enough.
Taquan Allen came 15 minutes from his home in Camden, carrying a notebook with a giant panda on it and palo santo to burn during his walk. The 26-year-old filmmaker took off his shoes and smiled while traversing the labyrinth paths. He walked with the intention to forgive those who've enacted violence on him in the past. Allen has walked the labyrinth four times and felt peaceful and lighter after, and free of thought. He was first brought to the labyrinth by Reimagine Runnemede president Ken Leap, whom he met while working on a film.
"He's the big brother I never had," said Allen, adding that he's found growth through the connections he's made at the Peace Garden.
After dark, Leap, wearing antlers and a hooded cloak, spun a fire staff in the sunset lot. Preteens on bikes and playing in the nearby basketball courts gathered to watch and take pictures. Next up Reimagine Runnemede will hold a community planting day with crocus bulbs and late-winter blooming flowers planted in the Peace Garden.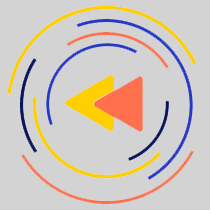 Saturdays just got more interesting.
WHYY is your source for fact-based, in-depth journalism and information. As a nonprofit organization, we rely on financial support from readers like you. Please give today.