Roosevelt Boulevard speed cameras represent rare bipartisan win
Between 2011 and 2015, Roosevelt Boulevard's 16-mile stretch has tallied six percent of the city's total of crashes and 13 percent of its traffic fatalities.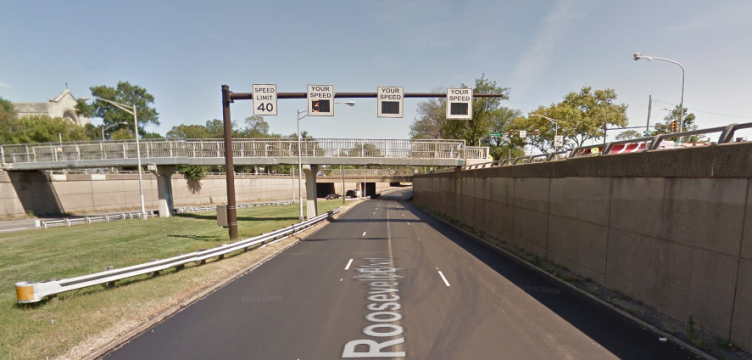 It's rare that Philadelphia can go more than just a few days without another person being killed in a car crash. Seventy-eight people died last year, and 96 were killed the year prior. That's why the city adopted a Vision Zero Action Plan last year – to reduce traffic deaths to zero by 2030 through changes to street design, better traffic law enforcement, and increased road safety education.
It's even more rare, in these hyper-partisan days shortly before the midterm elections, to see a moment of bipartisan bonhomie among elected officials. But at Friday's conference updating the public on the city's efforts to reduce car crashes, a steady stream of Democrats stood up to applaud State Rep. John Taylor (R-177).
"I just want to take a moment to thank John Taylor for his career in the Pennsylvania House," said Mayor Jim Kenney, soliciting a standing ovation from the assembled crowd of safety advocates and city officials.
It helps that Taylor is retiring — politicians rarely speak ill of dead political careers. But Taylor's efforts to pass a new traffic safety law that will provide the city a new tool to constrain speeding on Roosevelt Boulevard probably played a bigger role inspiring the kind words.
"This legislation — for me, in my short tenure here —  is one of the most important, if not the most important, legislation that has passed and that is because it is truly going to save lives," said PennDOT Secretary Leslie Richards.
Taylor, who represents the Northeast, has been pushing for a version of Senate Bill 172 for years. Signed into law by Governor Tom Wolf, the new law will let Philadelphia install nine cameras along Roosevelt Boulevard equipped with lidar or radar to automatically take photos of any vehicles going over the speed limit by 11 miles per hour. The bill also authorizes PennDOT and the Pennsylvania Turnpike to put up speed enforcement cameras along the state's highways in construction work zones.
There are 2,575 miles of streets in Philadelphia, but between 2011 and 2015, Roosevelt Boulevard's 16-mile stretch has tallied six percent of the city's total of crashes and 13 percent of its traffic fatalities. Since 2011, more than 60 people have been killed, and another 4,700 injured, in crashes along the Boulevard. Pedestrians trying to cross the Boulevard's twelve lanes made up one-third of those killed.
Opponents of the bill often point to Maryland and Washington D.C., where speed camera programs have generated tens of millions of dollars in fines — so much so, that motorists complain that they're designed to raise revenues, not reduce speeding.
City officials revenue generation is not the city's goal.
"I just want to be clear: It'll be a very happy outcome if we collect no revenue because everyone's complying with the law," said Mike Carroll, deputy managing director for the city's Office of Transportation, Infrastructure and Sustainability.
The revenues generated from the cameras will go towards transportation safety projects, similar to how revenues from automated red light enforcement cameras are distributed, Carroll said. The new cameras are expected to start issuing tickets in about six months.
Taylor blamed Republican leadership in Harrisburg for the delays in passing this bill, which passed the state Senate 47-1 and the state House 173-22. He also criticized them for preventing floor votes on a pair of other safety bills, which would have imposed penalties for cellphone use while driving and allowed local police departments use radar guns to enforce speeding (Pennsylvania is the only state that limits radar guns to the state police).
"It's curious because if you look at the vote on [SB] 172, it was overwhelmingly passed by the legislature — but very, very hesitant was the leadership to run it," Taylor said. "The same thing with distracted driving and local use of radar."
Taylor, who chaired the House Transportation Committee, also touted a bipartisan bill introduced by state Rep. Rick Saccone (R-39) to end driver license suspensions for individuals convicted of drug-related offenses. Taylor was also instrumental in the fight to pass Act 89 in 2013, which raised state gas taxes to fund transportation construction projects and nearly doubled SEPTA's capital budget.
Democratic voters vastly outnumber Republicans in the 177th district. With Taylor's retirement, Democrat Joe Hohenstein is the favored to defeat Republican Patty Pat Kozlowski. That would leave the Philadelphia caucus with just one Republican — that is, assuming incumbent Rep. Martina White can hold off challenger Mike Doyle in the 170th district, where Democrats outnumber Republicans two-to-one. White has drawn the ire of the Philadelphia's progressives for her strident opposition to the city's sanctuary city policy.
Should Republicans lose all of Philadelphia's state legislative races, but still maintain their control of both houses of the General Assembly, there's a concern that the state GOP's already apathetic attitude towards Philly will grow even more antagonistic.
"Any time you lose a talented legislator like John Taylor, I do worry," said Kenney. "He has years of experience and expertise, and the ability to reach across the aisle, so it's certainly a loss for us."
Taylor expressed confidence in both White's reelection chances and her ability to be the city's lone voice in the Republican caucus. "she's very capable," said Taylor. "And even I —  and the mayor — disagree with her on some things, but when it comes down to the overall viability of the City of Philadelphia, she's going to be able to step up."
In addition to SB 172's passage, city officials touted other efforts towards their Vision Zero goal.
The city will reduce speed limits on 14 miles of residential roads from 30 miles per hour to 25. Higher speeds contribute to both the likelihood of a crash and the severity of the injuries in one.
City officials also announced $1.5 million in new city funds for five Vision Zero construction projects. These are projects the city has already won grants to fund construction, but not the design work. Rather than doing it in-house — where there's currently a backlog of projects — or trying to find additional grants to hire an outside design team, the city itself will pony up the money for design consultants.
The funds will shave off a year on the usual four-year timeline the city usually takes on such small street redesign projects. As part of the city's Safe Routes to School program, Cramp Elementary and Hamilton Elementary will see improvements to crosswalks and intersections around the schools. The city will also tweak intersections along North Broad Street to make crossing easier for pedestrians. Parkside Avenue and Roosevelt Boulevard will also see improvements, Carroll said.
Carroll also called on city residents to begin applying for OTIS' new Neighborhood Slow Zones Program. The new program inverts the city's traditional approach to traffic safety-inspired street interventions: In the past, city planners largely worked to identify problems areas behind the scenes, and then would come into a neighborhood with plans to fix the perceived problem. That would often elicit knee-jerk opposition to the proposed changes. By asking residents to apply for the "slow zones," city officials will now be responding to community-identified problems with some solution suggestions.
The hope is that this shift in approach, plus widening the focus from individual streets to entire neighborhoods, may help reduce community outrage over traffic-calming measures that may reduce the number of parking spots.
WHYY is your source for fact-based, in-depth journalism and information. As a nonprofit organization, we rely on financial support from readers like you. Please give today.