Should Atlantic City trust Chris Christie?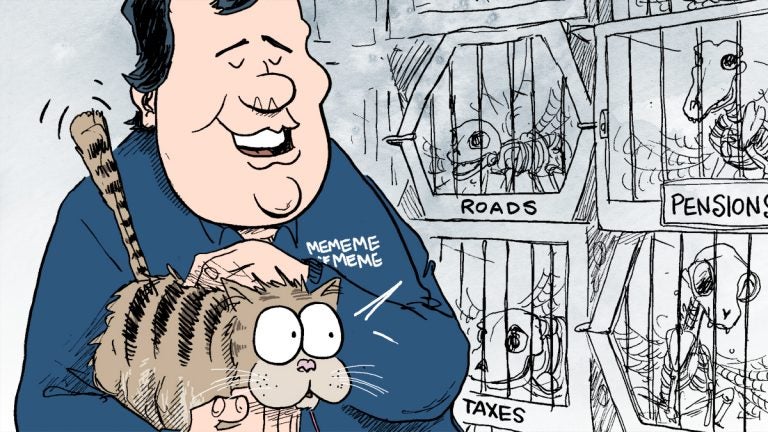 A funny thing happened while Chris Christie was galavanting around the country securing support for his inevitable Presidential run – Atlantic City imploded.
Four out of the city's 12 casinos went belly up and closed, putting 8,000 people out of work. To make matters even worse, all signs point to the Taj Mahal ushering in some holiday cheer with pink slips galore as they shut their doors for the last time, potentially putting 3,100 more workers out on the street weeks before Christmas.
But never fear, our bold, absent-most-of-the-time leader has a bevy of new proposals he's considering to rescue Atlantic City. Don't worry, these ideas are completely different from his initial rescue plan back in 2010, which involved him creating a state-run tourism district and forcing through a giant, now-bankrupt casino no one wanted.
Does Atlantic City really need a state-appointed emergency manager, as Christie proposal suggests? First of all, the state has had fiscal oversight of the resort for nearly four years. Secondly, Atlantic City's mayor, Don Guardian, is no Lorenzo Langford. Guardian, in only his first year, has worked hard to cut costs and develop innovative economic opportunities in the city, like Richard Stockton College taking over the now-defunct Showboat casino.
Guardian's plan to develop twenty-two acres in Gardener's Basin, which he sees as being Atlantic City's version of Baltimore's inner harbor, is particularly interesting, and more innovative than any proposal coming out of Trenton.
Another suggestion from Christie's squad is to use money from the closing of the Atlantic City Alliance (the group created to promote the resort with things like the "Do AC" campaign) to fund a new public-private development corporation. Does anyone other than Christie and his team think this won't become just another money sponge? A more sensible approach is Senate President Steve Sweeney's proposal to use the Alliance's $30 million budget to help pay down the city's debt, putting the resort on much more stable footing.
Christie's not the exclusive holder of bad ideas. Nestled in Sweeney's separate rescue proposal to have the casinos pay a flat rate of $150 million to cover a two-year period for property taxes. Sweeney claims this is to allow city officials to have a predicable source of income, but this smells like a casino tax break to me. What about helping city taxpayers, who are struggling under an oppressive 53 percent property tax increase over the last two years?
It seems that besides Guardian, most of our lawmakers don't have the first idea how to stabilize Atlantic City's economy. But Christie takes the cake with his naively optimistic ideas that wouldn't pass an Economy 101 class.
Remember when Christie pushed internet gambling, that wonderfully-distracting form of entertainment where the state can suck money from helpless addicts from the comfort of their kid's soccer game?
Christie boasted that online gambling would bring in a projecting $180 million in additional taxes in its first year. So far, total online gambling revenue has average just about $10 million a month, creating a small fraction of the taxes Christie expected to collect.
Then there's Revel, Christie's pie-in-the-sky idea that building a new casino could help save an over saturated market where the number one problem is too much competition. With investors willing to walk away from the $2.4 billion casino, Christie had the chance to stop the project four years ago. Instead, he went all in, shoveling $261 million worth of taxpayer funds to finish his now-empty hermetically sealed failure that sucked money away from other casinos, hastening Atlantic City's decline.
When I was brainstorming cartoon ideas to sum up my thoughts about Christie's inept handling of Atlantic City's problems, I had the thought to draw him as Icarus, flying too close to the sun on wings of gambling revenue.
I had to trash it. As fun as it would have been to draw, that idea would require me to think Christie was competent enough to build the wings in the first place.
___________________________________________
Rob Tornoe is a cartoonist and WHYY contributor. Follow Rob on Twitter @RobTornoe.
WHYY is your source for fact-based, in-depth journalism and information. As a nonprofit organization, we rely on financial support from readers like you. Please give today.