Review: Tromping across the world with 'Jason and the Argonauts'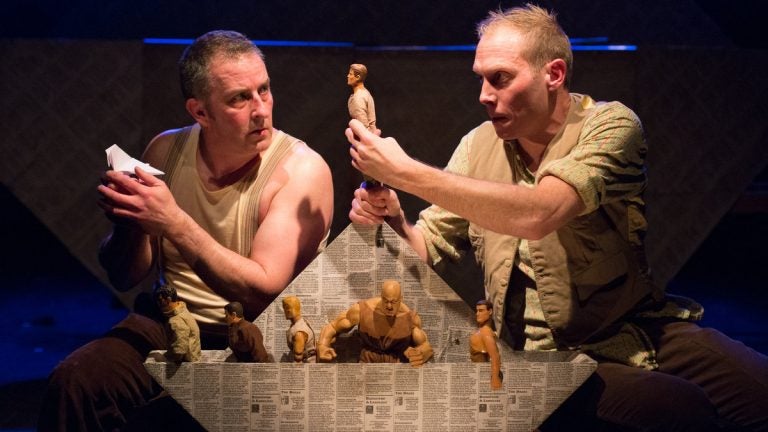 Pity poor mythological Jason. He finds out his father was killed by his uncle, who's become a cruel king. He sets out to avenge the murder but has to go to the end of the world to do it, because there, he must pick up a Golden Fleece before he can kill the king. And he's swept off his feet by the treacherous Medea, a love that eventually goes south in the most foul way. But that's another story.
For now, we'll just stick to the part before Medea goes bonkers, a story rich enough to suffice — certainly in its current telling at People's Light & Theatre Company in Malvern. There, "Jason and the Argonauts" is being performed with invention and spirit and storms and harpies and clashing rocks and even Spider-Man, just for fun.
And the whole thing's done by two guys.
"Jason and the Argonauts" is part of People's Light's Discovery series, meaning that it's family fare. This version of "Jason and the Argonauts" is the sort of smart and fringy stuff dear to many Philadelphia theatergoers; kids will love it, but to call it kids' theater would be inaccurate.
People's Light brings in the show from Visible Fictions, a stage company from Glasgow, Scotland, that Zak Berkman, the producing director in Malvern, had seen. The show's two actors, Tom Settle and Simon Donaldson, are fast, facile and sometimes even frantic in telling their story. They get it all in and they get it all right. (Spider-Man is just a funny distraction.)
Their props: A large cart that turns into the ship Argo, and more. A bunch of large plastic figurines that become the brave and super-powered Argonauts. The actors use a stick here, a cloth there and little else but the excellent stage design of Robin Peoples and Paul Ancell. The incidental music of Daniel Padden is properly stirring for a tale that stretches to the end of the world.
In about 70 minutes, the duo plays out a complex, action-jammed piece and, astonishingly, this stage version has almost no narration. Instead, the play by Robert Forrest, under the direction of Visible Fictions' leader Douglas Irvine, is all dialogue. The actors shift from character to character, sometimes taking the role that the other was playing and sometimes stepping out of the story to portray the fictional actors telling it, who are also characters in the show. It's so well done that it's never confusing, which is more than you may be able to say for the original mythology itself.
"Jason and the Argonauts" runs through April 4 at People's Light & Theatre Company, 39 Conestoga Road in Malvern. 610-644-3500 or www.peopleslight.org.