Review: The things that go on 'In a Dark Dark House'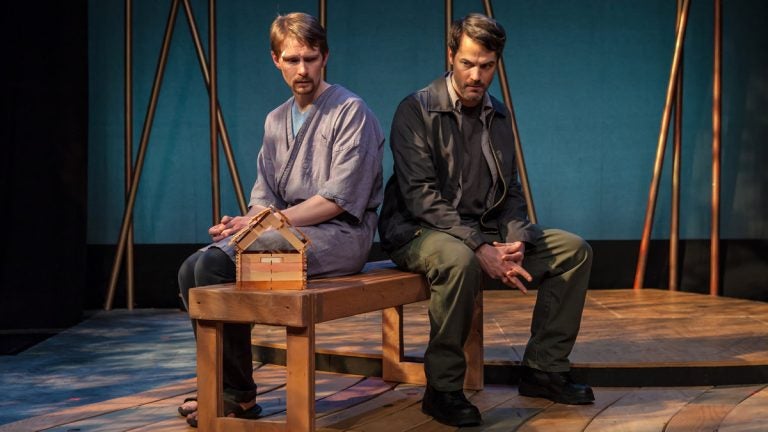 The playwright Neil LaBute is confrontational in a raw way – his characters go full-force at each other, social filters removed.
His "Reasons to be Pretty" even begins in the middle of a visceral fight; the curtain rises on a screaming couple.
"In a Dark Dark House," which the prolific LaBute wrote in 2007, is getting a blood-pumping production by Simpatico Theatre Project – and a thoughtful one, too. The confrontation here is more than a disagreement between two people. It's about two brothers who confront their past and in doing so, each other.
Like LaBute's work generally, "In a Dark Dark House" is driven by a solid plot. We meet two nearly estranged adult brothers (played convincingly by two engaging actors, Ahren Potratz and Simpatico's artistic director, Allen Radway) in a hospital where one is being detained for observation after police arrest him driving drunk. He tells his visiting brother, whom he's summoned, that he babbled to psychiatric workers about his past. He needs his brother to prove that a man named Todd Aston, who befriended both of them as teenagers, really existed. Aston it turns out, was not just close, but way too close.
"In a Dark Dark House" is about the many effects of sexual abuse and, in an odd turn, about the way society might be expected to react to abused people who, themselves, later act out in some way. I can't write much more about it because I want you to be able to experience this smart play the way I have, without knowing its twists and turns.
I can say, though, that LaBute's exploration of the way abuse applies to these two men – one, an amoral lawyer and the other, a man with anger-management issues – is deeper than it may seem on the surface. The abuse they suffered, we come to realize, extends back to a violent father and forward to the current relationship between the two sibs, whose mutual maltreatment is more mental than physical.
Director Harriet Power stages "In a Dark Dark House" so that the play has a constant tension, with taut and sometimes fierce interactions. She does an especially good job directing a tough middle scene, which involves a teenager (an excellent performance by Mary Beth Shrader) and ought to make us cringe, but not overtly.
The intermissionless show runs about 100 minutes, and is the American premiere of LaBute's significantly re-worked script that he produced with director Michael Attenborough at the Almeida Theatre in London after the play opened in the United States. It would have benefitted from about 10 more minutes of cuts, and from an ending laid out more clearly in words rather than context; LaBute ties his story together for sure, but his knot's loose. The rest of it, though, is carefully, tightly coiled, and delivered by Simpatico with care.
"In a Dark Dark House," produced by Simpatico Theatre Project, runs through June 1 on the fifth-floor stage of Walnut Street Theatre, on Walnut between Eighth and Ninth Streets. 215-423-0254 or www.tickets@simpaticotheatre.org.