Review: That 'Stupid F#*@ing Bird' is surely a Seagull
Listen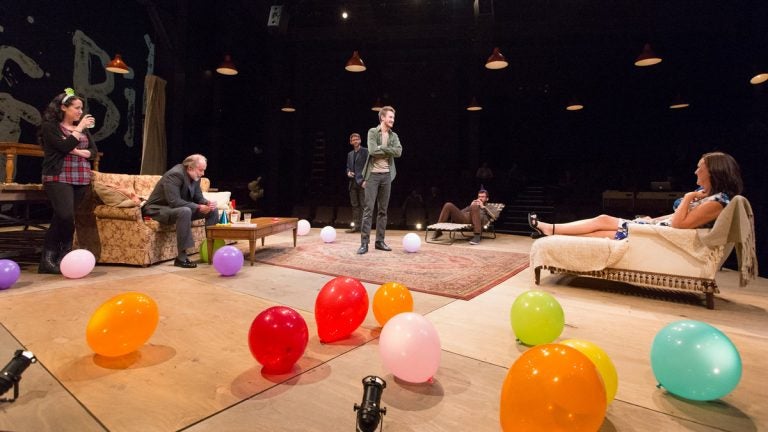 Oh, the pain of it! And the angst. But, hey … what about the fun? The fun is not what you expect from Anton Chekhov's "The Seagull," in which a faded actress, her lover and assorted friends and relatives wallow in their dashed hopes, unrequited loves and general blah. But in Aaron Posner's exquisitely clever adaptation of the play – in a production at Arden Theatre Company that can't be beat – you get the laughs, too. Lots of them.
The play is called "Stupid F#*@ing Bird," complete with the real expletive but often spelled with punctuation to honor old-fashioned decency. There's arguably not great decency among the wallowing characters in "The Seagull," one of Chekhov's masterworks, but there's a lot of old fashion. Posner has wiped it away. In Chekhov's play, folks moan about their lives and you get the gist of much of their suffering and longing behind the words he gives them. No so for "Stupid F#*@ing Bird."
Take the scene in which they all sprawl on the stage floor, like spokes in a human wheel, and talk about their deepest desires. What's clearly on their minds? Love, fame, unanimous acceptance, ice cream. Or the ditty one of them makes up for amusement in her spare time: "Your sadness, it swallows the air/But I'm still breathing despite your despair." What could be harder than life? asks a character. Minutes later, another marvels: "There is so much love in this house!" (Yes, mismatched.) That man offers one of the bleakest characters a life-saver in the middle of her deepest despair. Not in the form of advice or a plan, but the candy.
It's often laughable out loud – yet Posner's play is also sweet, whiny, intense in the extreme. It's a lot like the story of life that the characters constantly flog on their own terms: Misery on the surface, variety underneath. Posner, who co-founded Arden Theatre Company and then left to write and direct plays on his own, is by now a master adapter. He's either co-adapted or adapted plenty of stories, often for the Arden. (Probably his best known piece is the stage version of "My Name is Asher Lev," a beautifully wrought rendition of Chaim Potok's novel, world-premiered by the Arden.)
Posner has called "Stupid F#*@ing Bird" a "sort of adaptation" and others have called it a deconstruction. Really, though, it's not so loosely based, and it doesn't pull Chekov's play apart. If anything, it brings "The Seagull" into modern fine tuning – you could say that it takes a great work and resizes it with lots of additional pixels. It doesn't venture far from the basic "Seagull" plot – and if you don't know or remember much about the play, you can enjoy "Stupid F#*@ing Bird" as a fully evolved piece. But if even the basic plot of "The Seagull" is familiar, you'll see "Stupid F#*@ing Bird" as a fierce and fearless retelling.
Like the original, it's a treatise on disappointment in life and in the theater (or art in general). "If we weren't a rip-off of a classic, we probably wouldn't be here right now!" declares one of its characters during one of several times when the cast steps out of the action to include the audience as the play's co-conspirators.
Misery has never been, in my experience, so attractive while still being miserable. Some reasons this play works so well as a production at the Arden: Posner directed it himself, obviously knowing just he wanted "Stupid F#*@ing Bird" to be. And he assembled a cast that makes each role shine: Arden favorite Grace Gonglewski, a joy to watch as an actress full of herself (that said, everyone here is a navel-gazer); Greg Wood as her low-keyed older brother; an unstoppable Aubie Merrylees as her new-wave playwriting son; Karl Miller as her world-famous boy toy, and Dan Hodge Alex Keiper and Cindy De La Cruz as other hangers-on. All seven actors excel in their distinguishing miseries, which they sometimes debunk even as they play them out.
Between-scenes Russian-like music is sung in high excitement to remind us of the play's original setting, and the words themselves may or may not be Russian – think of them as Cyrillic-like. (James Sugg and Daniel Perelstein created the show's music.) Katherine Fritz's costumes blend in nicely. Tim Mackabee's spare set fits the lives of its characters and Thom Weaver's lighting frequently helps define the characters' states of mind. As for the audience's mental condition, woe has never been so pleasant.
_"Stupid F#*@ing Bird" runs through Oct. 16 at Arden Theatre Company, Second Street north of Market Street. 215-922-1122 or www.ardentheatre.org.