Review: 'Lights Rise on Grace' and set on a triangle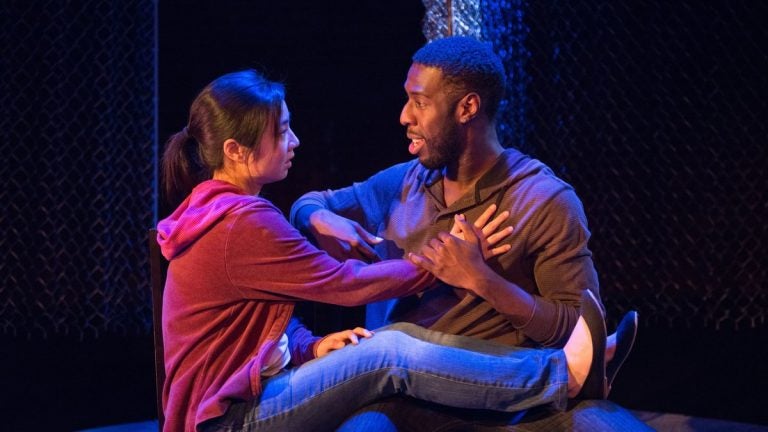 Chad Beckim's flinty new play "Lights Rise on Grace" is as much about a clash of cultures as it is about trying, and failing, to make choices. It's a strong, believable story and in the production that opened over the weekend at Azuka Theatre, intently told.
As high school kids, a friendly black boy (Ashton Carter) and a diffident girl from a Chinese family (Bi Jean Ngo) meet on a corner. He introduces himself and asks her name. She turns away without an answer. He continues to seek her out – deep-down, that's what she wants — and their eventual friendship blossoms into something more. Their families hate them for it.
The boy disappears because he ends up in prison, having violently defended his honor. He's shy and scared, and when another prisoner (Keith J. Conallen) makes an introduction, he turns away without an answer. (Life repeats itself to good effect and so does dialogue, several times in the play.) The two become close prison pals, with all the intimations that relationship suggests. And when they get out, all three come together in an awkward relationship fueled by real feelings and sustained by secrets.
Beckim carefully constructs the difficult conundrums that drive "Lights Rise on Grace" and his play has compelling scenes that deal with the sexual confusions its characters live out. Beckim seems to know these characters inside out, and it's understandable that he wants to give them a future — to make things all right in the long run – especially for Grace, the young woman, as his title suggests. So he attempts to leave us with our own shining lights when the play is over, as if everything can come together in a way that's okay. The tenor of the play doesn't really support that notion, which I found disingenuous for a play that was working well on its own terms.
The production is deftly staged by Azuka's producting artistic director Kevin Glaccum, who allows it to easily unfold on Colin McIlvaine's set – a simple but unabstract space for many different places that morph from one to another in the play's quick changes of place and times that frequently goes backward and forward. Carter, Ngo and Conallen have no trouble with the time warps – they make them seamless – and they capture their roles with great honesty.
"Lights Rise on Grace" is what's called a "rolling world premiere," a phrase used by a consortium of theater companies that participate in the National New Play Network. The network has become one of the nation's best incubators for new stage work – its rolling premieres allow a playwright to sharpen a script between initial productions by several theaters, each allowed to call the play a world premiere. InterAct Theater Company here has been a core member of the network, commissioning and working closely with playwrights, and now Azuka joins Theatre Exile and Trenton's Passage Theatre as locally based associates that produce the network's shows.
For the record, the first fully produced performance of "Lights Rise on Grace" was this past spring at Wooly Mammoth in Washington, D.C, before it went on to Stageworks in Tampa, and now to Azuka in this rolling premeiere. I don't know how much Beckim worked on the play after the first two productions, but if Azuka's is any indication, "Lights Rise on Grace" will continue to attract artistic directors and audiences as a piece well worth staging and then, worth mulling over.
"Lights Rise on Grace," produced by Azuka Theatre, runs through Nov. 22 at the Adrienne, on Sansom Street between 20th and 21st Streets. 215-563-1100 or azukatheatre.org.