Review: Less of 'The Search for Signs of Intelligent Life in the Universe'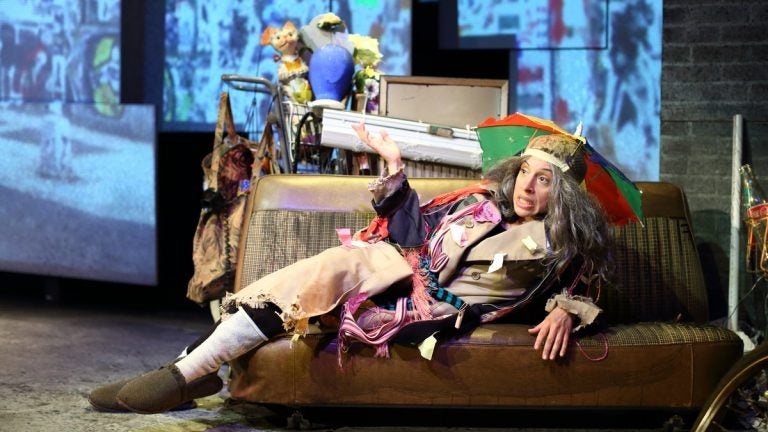 Whatever happened to poor Lyn, who riffs in her backyard about life in California? Or the punk kid who works at the pancake house or her confused suburban grandparents? Cape May Stage's rendition of "The Search for Signs of Intelligent Life in the Universe" seems more like an aborted investigation.
By cutting characters in Jane Wagner's one-woman play – for which her then-partner and now-wife Lily Tomlin won the best actress Tony Award in 1986 – Cape May Stage may have erased some of the most dated material, about 40 minutes' worth. But it also thinned out this stage contemplation, through many characters, on life on this plant and especially in this nation.
The first sign of thinning comes from the theater's own Web site: Try for tickets to the show and you'll see a description of "a magical journey of discovery" during which we ponder the meanings of cultural banners like "the color scheme of Howard Johnson's." Maybe in the original, but not in Cape May's abridgement.
The cuts leave actress Tricia Alexandro in a fix. First, she's portraying a large number of characters that came alive when Lily Tomlin lit up the stage (and with much actual lighting that helped differentiate the characters, not found here). Second, she's left with a script that reduces Jane Wagner's wry epiphanies about American values, which had come from the mouths of many solidly built characters, to something akin to amusing one-liners. Despite Alexandro's solid work in the production, this version of "Intelligent Life" feels at times like stand-up comedy, even though it made its mark on Broadway, and in its earlier productions at Princeton's McCarter Theatre and Seattle Repertory, as cogent commentary.
Perhaps that's because director Roy B. Steinberg, who runs Cape May Stage, imposes a smiley persona on Alexandro, even in her main character, a bag lady named Trudy. In the original, we considered Trudy with caution – she's the woman who wears an umbrella-top on her head and tells us she's made friends with space aliens who probe our cultural mindset to understand life on this planet, then leads us to the many characters they've been exploring. In Tomlin's classic droll characterization, Trudy was the person who entrapped us to go along in this voyage. In Alexandro's, it's more like we all willingly signed up.
Cape May Stage is offering an entire season of plays by women, and Wagner's "Intelligent Life" – produced on Broadway at a time when women were almost wholly absent from playwriting credits there – is a neat fit. But Patrick Mathis' sound and projection designs, not yet available to directors in the '80s, don't make the production any more rich for its script deletions. And it's unfair to ask Alexandro to make her characters distinct without the help Tomlin had from lighting design and, as I recall, a dozen or more telling musical interventions. This search for intelligent life finds less of it than before.
"The Search for Signs of Intelligent Life in the Universe" runs through Sept. 4 at Cape May Stage, 405 Lafayette St., Cape May, N.J. 609-770-8311 or capemaystage.org.