Review: 'Under the Skin' and going deep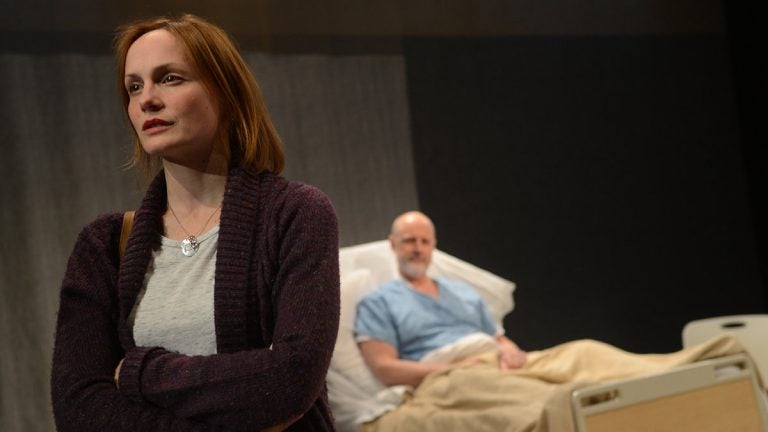 Michael Hollinger, in his eighth play for Arden Theatre Company, has written ostensibly about a man who needs a kidney transplant and asks his estranged daughter to be the organ donor. But "Under the Skin," a cleverly constructed two-act in a world-premiere production performed with precision, takes on a lot more than its basic plot suggests.
The man, it turns out, has had a disquieting past – he's been unfaithful to his daughter's late mother, and beyond that his life hasn't exactly been transparent. As this becomes clearer and clearer to his daughter (and to us), "Under the Skin" develops ever richer layers of plot that Hollinger uses to weave his story.
The play, which mostly takes place in a Philadelphia hospital room, has its downsides. A few quick scenes, possibly for character development, seem like indulgent fill, and the father talks a little too much like a sailor to sound like a guy who needs an exceptional gift to save his life.
In "Under the Skin," characters address each other and also address the audience directly. This works nicely – Hollinger also masterfully segues from scene to scene, letting us see what we were hearing about only a moment ago. Hollinger has written a substantial play with a swift narrative and convincing twists.
The production, under the direction of Arden's artistic leader Terrence J. Nolen, provides the play's four characters with personas that make you want to know more about them: the dad (Douglas Rees), desperate to continue living; his daughter (Julianna Zinkel), who's uncertain why she should be the arbiter of that desire, and Alice M. Gatling and Biko Eisen-Martin in several roles large and small – all, like the two main roles of Rees and Zinkel, performed as clearly built characters.
"Under the Skin" has had an odd production history, but Nolen's direction – and then, re-direction — makes the current performances smooth as if they were planned from Day One. Just before opening night several weeks ago, Craig Spidle, the actor playing the dad, fell ill. Previews were extended when he returned, but during a performance he felt ill again. He was accompanied to the hospital at intermission by Nolen, who assumed the role in the delayed second half.
Spidle decided he should opt out of the run (he's doing fine now, Nolen reports), so Nolen sought the aid of Douglas Rees. The actor — who worked with Arden in "Opus," another of Hollinger's plays — came in from New York and played the role with script in hand for several performances, then fully slipped into it. The production now is seamless.
"Under the Skin" runs through March 15 at Arden Theatre Company, on Second Street north of Market Street. 215-922-1122 or ardentheatre.org.