Review: First the rain, then 'The Tempest'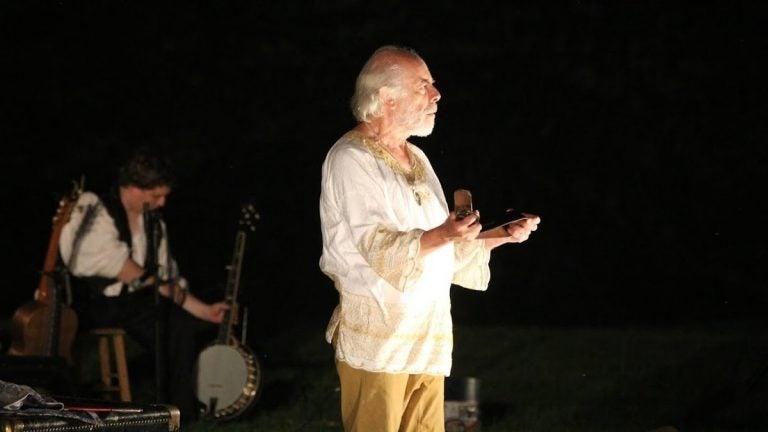 The rain on Wednesday was nothing like a tempest, but enough to wet a swath of land at Morris Arboretum in Chestnut Hill and move "The Tempest" under a tent on the terrace of the gift shop. No problem – Commonwealth Classic Theatre Company is used to wrestling with the weather. The troupe plays in parks all over the region. Sometimes the rain forces a rescheduled performance. At Morris Arboretum, it was a rain-or-shine deal because the arboretum was able to provide the covered area.
The move did, however, mean changes in the production staged by Allen Radway, and I couldn't help but come away thinking that I had missed the full force this "Tempest" delivers in wide-open space. Radway, the producing artistic director of Simpatico Theatre Project, clearly stages bits and pieces that make sense on a field – especially one with a gentle slope. But on the flat concrete of playing space, with the audience members all sitting at the same level, you either had to get up and move to the side so that you could see the show while standing, or get the gist of the action largely through hearing the dialogue.
This didn't seem to bother much of the audience Wednesday. My own feelings may have been tinged by the lavish Public Theater production of "The Tempest" I saw in Central Park weeks ago, out in the open but under a calm sky. Mostly, though, I was sensing how much better this production would be in a less confined space — the way it normally plays.
Even so, the estimable actor David Howey had no trouble grabbing the audience with his refreshingly down-to-earth rendition of one of Shakespeare's defining roles: Prospero, the man whose dukedom of Milan has been usurped by his brother. He's a fantastical character, and not easy to bring off – when Prospero flees Milan and is shipwrecked on an uninhabited island with his daughter Miranda (Mary Beth Shrader), he acquires magical powers, a sprite name Ariel (Kristen Schier), a deformed slave (Joshua L. Browns) and a whole lot of time to wait for his revenge. This is not your everyday island ruler.
Howey's interpretation of Prospero sets the tone for this "Tempest," making it more of the romance it's billed and downplaying its fantasy elements. When Howey's Prospero sends his sprite to work magic, he's more like a supervisor with details to oversee than an authority with a rigid notion of the office hierarchy. When he uses his own magic to disarm or stun another character, there's nothing particularly stagey about it – he has the power, he uses it, it's over. Howey cements his portrayal with his own commanding voice, which is enough: Sharp, clear and frequently magisterial.
"The Tempest," in the end, is a story of redemption and forgiveness. After Prospero conjures a wild storm, his relatives and their mates becomes stranded on the same island and are eventually in his thrall. Among them is the son to the king of Naples (Ned Pryce), who falls for Prospero's daughter, and she for him – a particularly sweet part of this production, under Prospero's watchful eye.
The cast was certainly up to the task Wednesday, in mid-run – the show has a week of performances left at different parks. Some of the interpretations felt safe to me, rather than inventive – the characters Ariel and Caliban lend themselves particularly to fanciful portrayals. But here the text appears more the point, adding to the earth-bound feel of this "Tempest."
The comic relief (Josh Totora and Arlen Hancock) does go all the way. And Radway has turned the part of Gonzalo – a councilor who took risks to provide Prospero and his baby daughter with food and clothing after they were banished – into a woman (played by Peggy Smith). He's also had the good sense to rename her Gonzala, so there's no confusion. That role always carries a sense of grace with it, somehow enlarged here with the change in gender.
_"The Tempest," produced by Commonwealth Classic Theatre Company, is being presented in differed parks in the region through July 25. There is no admission charge, and donations are accepted. More information is at the company's Web site: http://www.commonwealthclassictheatre.org.
Here is the remaining schedule for the show:–Friday, July 17, 7 p.m. at West Pikeland Cultural Center Earthworks, rain or shine.–Saturday, July 18, 7 p.m. at West Goshen Community Park, West Goshen. (Rain date: July 19).–Tuesday, July 21, 7 p.m. at The Willows, Radnor.–Wednesday, July 22, 7 p.m. at East Goshen Township Park, East Goshen.–Thursday, July 23, 7:30 p.m. at Whites Road Park, Lansdale. (Rain date: July 26).–Friday, July 24, 7 p.m. at Brookhaven Borough, Municipal Lawn, rain or shine.–Saturday, July 25, 7 p.m. at Penn Treaty Park, Philadelphia.