Review: 'An Iliad' through history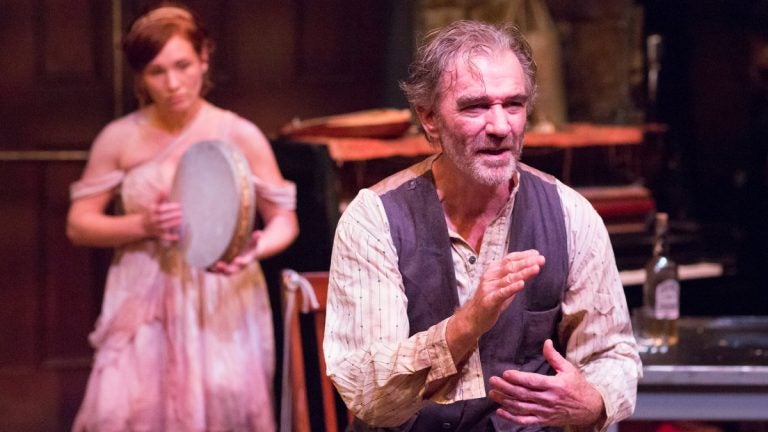 The unnamed poet in Lantern Theatre's stunning production of the audacious "An Iliad" gives us, in awe and befuddlement, his eyewitness account of the Greeks' siege of Troy toward the end of the Trojan War. Suddenly, he's stymied.
He's attempting to call up an anecdote from some other war. But which one? He sits down. He runs verbally through the list in his head, the wars moving ever forward in time. "There was one time … uh .. yes, yes, it was a terrible hot day during the conquest of Sumer – the conquest of Sargon – uh, the Persian war – no…" He tries to find the right one. "Punic War, Gallic War, Caesar's Invasion of Britain…" The list goes on and on, right up to "Afghanistan, Libya, Syria."
He never does find the war he's looking for. But we find, at that moment, a concept that brings Homer's "Iliad" into crystal resolution. History, it appears, is bound to repeat itself – and has done so with astounding regularity. We begin to see the contents of "The Iliad" as a template Homer didn't know he was writing at the time. "An Iliad," based on his account of the Trojan War's final weeks, is translated by the late Philadelphia-born poet Robert Fagles and reconsidered by theater artists Lisa Peterson and Denis O'Hare.
Peterson and O'Hare used several skills, including a knowledge of improvisation, to conceive a script driven by a poet who recalls the details, sometimes erratically and usually in conversational speech. "It's always something," he says, when talking about the conflicts of an ongoing war that's ultimately the creation of interfering gods.
All this comes together at The Lantern in a way that's both scholarly in its everyday retelling of great poetry, and theatrically gripping. The veteran actor Peter DeLaurier, who's performed at Lantern before and is well-known as a member of the People's Light troupe, is smashing as the poet. The persona he creates can be as shoulder-shrugging as it is passionate, as authoritative as it is forgetful, and the moments for each mood are just right.
The versatile Liz Filios plays the poet's muse. She never says a word, although she sometimes offers vocalized melodies in a surreal amplification she and Michael Hahn composed and sound-designed. Playing umpteen instruments, she follows DeLauier around the stage, or sometimes draws completely away from him when he doesn't need her help to recall details artfully.
M. Craig Getting directs with a keen feel for the poet's sensitivities. What we get on Meghan Jones' spare set composed of a table, wooden boxes, a piano, a rack of clothing for no apparent reason and little else, is extraordinary storytelling – and an invitation to consider an ancient and sweeping account in an even more expansive way.
—"An Iliad," a production of Lantern Theater Company, runs through Dec. 11 at St. Stephen's Theater, off 10th Street at Ludlow, between Market and Chestnut Streets. 215-829-0395 or www.lanterntheater.org.
WHYY is your source for fact-based, in-depth journalism and information. As a nonprofit organization, we rely on financial support from readers like you. Please give today.