Resisting the myth of 'post-racial' America and sharing responsibility for injustice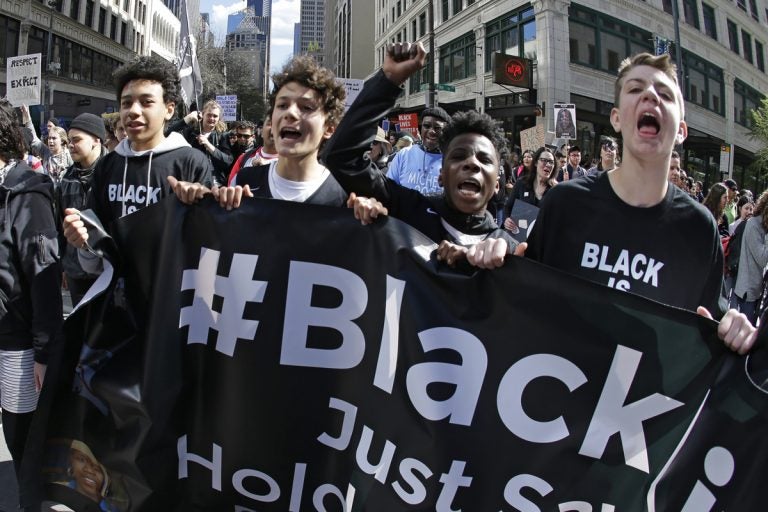 In observation of the life and death and legacy of the Rev. Dr. Martin Luther King Jr., NewCORE and Gwynedd Mercy University presented "Examining 'Post-Racial' America" on Feb. 28, a public discussion that explored the feasibility of a post-racial society and the role civil discourse will play in achieving that ideal. WHYY is publishing a series of essays on that theme.
—
In "The Anatomy of Racial Inequality," Glenn Loury states:
True, the so-called underclass in the ghettos of America is behaving badly, in self-destructive and threatening ways. But those patterns of behavior, embodied in those individuals, reflects structures of human development that are biased because of a history of deprivation and racial oppression.
What Loury is highlighting is that human beings are social products, developed in relation to particular social, cultural, and historical realities — in other words, under a diverse series of background conditions that either enable or constrict action. And as troubling as it might be for us to accept, as a society, we are responsible for those conditions, and many of them are patently unjust. Our generation might not be their direct cause, but we have the choice to either perpetuate them or to fight them, because they are the social structural processes we participate in.
Nevertheless, attempts can be made to evade responsibility for racial injustice. Many deny that they participate in and benefit from unjust social structural processes, and/or deny the fact that our society — and world — exhibits a profound degree of racial injustice. Max Weber, one of the founders of sociology as a discipline, highlighted this problematic human tendency, suggesting that the privileged want to believe both that they deserve their rewards, and that the disadvantaged warrant their destitution. In short, willful ignorance and self-deception are central forces sustaining the myth of a "post-racial" America.  
The reality is, the belief in a "post-racial" America fetishizes what Martin Luther King, Jr. referred to in his "Letter from a Birmingham Jail" as "a negative peace which is an absence of tension," at the cost of "a positive peace which is the presence of justice."  Sadly, many continue to buy into this "post-racial" narrative, simply casting off the tension that arises from resistance as a form of deviance.
What, though, do we as Americans do in light of this reality? For whites, simply feeling guilty or trying to regulate our own personal behavior in order to ensure our impeccable interpersonal moral character is not enough. Demonstrating interpersonal moral responsibility doesn't absolve one from being responsible for structural injustice. Moreover, it has a tendency to lead to self-loathing instead of productive action.
Instead, all Americans ought to see the aforementioned tension as an opportunity to make progress toward justice. We must be critical of those who promote the fiction of a "post-racial" America, by continually providing evidence of injustice, and demanding that those who suggest otherwise provide evidence for their position. The burden of proof must be shifted to those who deny the existence of racial injustice. We must demand that they demonstrate how the racial structures of our society are fair, despite the pervasive evidence pointing to the fact that whites generally have vastly wider options and opportunities than people of color, consistently enabling whites with more means to develop their capacities, contribute meaningfully to society, and to make decisions that impact their lives and the lives of others.  
But one can't simply point to laws or institutions, or even individual attitudes and beliefs, to demonstrate that background conditions are just. Racial injustice can be — and oftentimes is — produced by simply adhering to and abiding by norms that we assume to be just. Thus, we need concerted action to criticize the everyday norms and rules to which we adhere, often with good intentions, because many of those norms, although outwardly "race-neutral," produce and reproduce racial oppression and domination.
The reality that we need to confront when attempting to tackle racial injustice is that racism, and the belief in a racial caste system, has bled into the whole of our society and is woven into our social landscape, making racial injustice flow from our everyday social processes. This means that we not only need to change our laws, institutions, and individual beliefs about racial superiority/inferiority, but also our everyday norms and habits that often appear completely unrelated to race.
We need to take active measures to transform social structural processes in order to enable self-development and increase self-determination for all members of our society — and ideally, all human beings. Thus, we have a particular responsibility to invest in the human capital of people of color — and all oppressed people — and transform the structures of human development that continue to present them with conditions that restrict the opportunity to develop their capacities, and exclude them from decision-making processes. Accepting this responsibility also entails that we begin to look more honestly at our social, cultural, and historical reality.
For example, we must acknowledge that the ghettos Loury refers to were deliberately created to serve as a mechanism of ethnoracial domination, and these are the structural conditions that are often causally correlated to the patterns of behavior that our society is quick to condemn. Thus, although such a transformation is a daunting task, it is one we share responsibility for — not necessarily because we made American society this way, but because we are the only ones capable of changing it. We are the heirs of oppression, and if we truly want a racially just society, then we need to get beyond mythmaking, and get down to the dirty work of transforming background conditions that continue to preserve the status quo.
—
Justin Fugo is an assistant professor in Temple University's Intellectual Heritage Program, where his research centers on the the responsibility of combating conditions of oppression and domination, with a focus on racial injustice.
WHYY is your source for fact-based, in-depth journalism and information. As a nonprofit organization, we rely on financial support from readers like you. Please give today.