Report finds subpar bicycle access on Delaware River bridges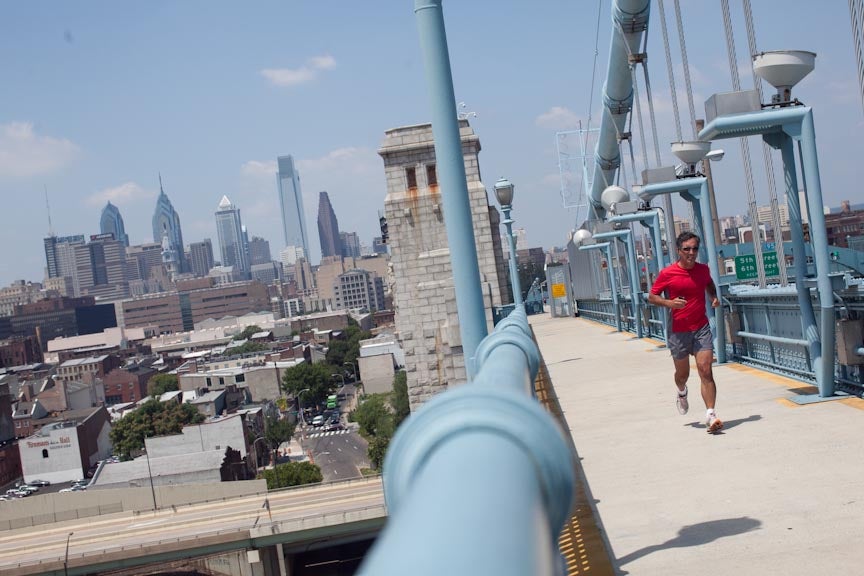 As bicycle advocates in New Jersey and Pennsylvania work to build The Circuit, a proposed 250-mile regional trail network, there is one major disconnect between trail segments in the two states: The Delaware River.
"Crossover: Bridge Ahead Impassible," a new study by the Bicycle Coalition of Greater Philadelphia, finds that of the 12 bridges spanning the Delaware River from Washington Crossing Bridge in the north to Commodore Barry Bridge in the south, only five allow bicycle and pedestrian access, and even then, access is limited by various restrictions.
While securing bicycle access on bridges has been a focus of the Coalition since its inception in the '70s, bridge access between New Jersey and Southeastern Pennsylvania is increasingly important to the Bicycle Coalition now.
"A key component of The Circuit is making the connection between Pennsylvania and New Jersey," said John Boyle, research director at the Bicycle Coalition.
The report also comes at a time when state and local governments are beginning to implement complete street policies. The Bicycle Coalition hopes this report will remind bridge authorities that bridges should comply with complete street initiatives.
"I think [the goal] is starting a dialogue to have the bridge authorities think about this issue," Boyle said. "We hope to engage them with our report [and] see if we can get some feedback from them and maybe we can talk about [what] the challenges would be to implement these recommendations."
(Neal Santos)

(Neal Santos)

(Neal Santos)

(Neal Santos)

(Neal Santos)

(Neal Santos)
Improving access
The five bridges included in "Crossover" that allow bicycle access are Washington Crossing, Calhoun Street, Lower Trenton, Tacony Palmyra and the Benjamin Franklin. The five bridges that prohibit bicycle and pedestrian access are the Route 1 Freeway, Betsy Ross, Burlington Bristol, Walt Whitman and Commodore Barry. The Scudder Falls/I-95 Bridge and 276 Turnpike/I-95 Bridge will have access in the future.
The report profiles each of these bridges and recommends ways in which bicycle and pedestrian access could be improved. Those recommendations include:
Adding bicycle and pedestrian accommodations when bridges undergo major rehabilitation

Connecting existing bridge pathways with bike lanes, sidewalks or major trails

And collaborating with transit agencies, police departments or taxi operators to provide vehicle transportation for cyclists and pedestrians
But retrofitting bridges with bicycle and pedestrian accommodations is no simple task, said Timothy Ireland, director of corporate communications at the Delaware River Port Authority (DRPA), which manages five of the 12 bridges studied.
"Crossover" says DRPA missed an opportunity with the Walt Whitman Bridge because the bridge is being redecked but a pedestrian and bicycle path was not included in the rehabilitation. Ireland countered that such a path would not have made sense on that bridge for multiple reasons.
"It would be completely unsafe to say paint lines or a lane on there that bicycles can use," he said. "It would be impossible to keep cars from hitting them."
The only alternative would have been to cantilever or suspend a bicycle/pedestrian path alongside the bridge, but that option would be cost prohibitive. In addition, the Walt Whitman does not connect with bicycle paths or even neighborhoods on either side. Instead it spans from one interstate highway to another.
The situation is similar up river at the Betsy Ross Bridge, where bicycles and pedestrians are prohibited. The bridge will be redecked in 2025, and the Bicycle Coalition's report states that, "The traffic volumes of this bridge have never met the capacity of the roadway and there may be an opportunity to explore non-motorized access."
But, Ireland contends, "It wasn't designed to handle bicycles and pedestrians, and it wasn't designed to handle them for a real good reason. Bicycles and pedestrians are not permitted on interstate highways."
Again the only feasible alternative would be to cantilever a bicycle and pedestrian path, which Ireland said could run in the hundreds of millions of dollars. That money would have to come from taxpayers.
"So the folks in the cars would be paying for the bridge for pedestrians and bicycles, and there's no indication that we've seen that there's a demand for bicycles to go from that part of north, northeast Philadelphia into Pensauken," he said.
When it comes to implementing the recommendations in "Crossover," Boyle said, "Political will is definitely the biggest challenge."
For instance, to add bicycle or pedestrian accommodations to a bridge rehab project, "Funding may be an issue… but if you're putting hundreds of millions into a new bridge, the cost of allocating a few feet for bicycles and pedestrians is nominal."
Benjamin Franklin Bridge
One DRPA bridge that does allow bicycle and pedestrian access is the Benjamin Franklin Bridge.
"Philadelphia and Camden are fortunate that they have one of few large suspension bridges in the U.S. that were built in their inception for bicycles and pedestrians," Ireland said.
"Crossover" identifies the Benjamin Franklin Bridge as the only connection between Camden and Philadelphia where cyclists do not have to pay a toll. The report states that, "The bridge provides breathtaking views of the Delaware River and the Philadelphia skyline, and is an underappreciated destination in itself."
Yet the report still identifies ways bicycle and pedestrian access across the bridge could be improved. Among those recommendations are extended hours of access, a speedy snow removal policy and reconfigured entrances.
"One of the contentions that the report makes is there's really no universal, 24-hour bicycle access on the Delaware River, and I think that's mistaken," Ireland said.
While the bicycle and pedestrian path across the Benjamin Franklin Bridge closes between sunset and sunrise, PATCO trains do provide 24-hour service across the bridge.
On the south side of the bridge in New Jersey, DRPA is in the process of building a bicycle friendly access ramp in place of the existing staircase onto the bridge. Construction on that $3-$7 million project could begin as early as spring 2014. When complete, the ramp will improve the connection between the growing trail networks in Philadelphia and Camden and welcome more cyclists onto the bridge.
"What we do depends very heavily on the connections on either side of the bridge," Ireland said.
"The more well developed the bicycle trail networks get on either side of the bridge the more pressing the question would be for us about how to make bridges more bicycle accessible."