Remaking Sharswood: Taking a neighborhood through eminent domain in the name of 'transformation'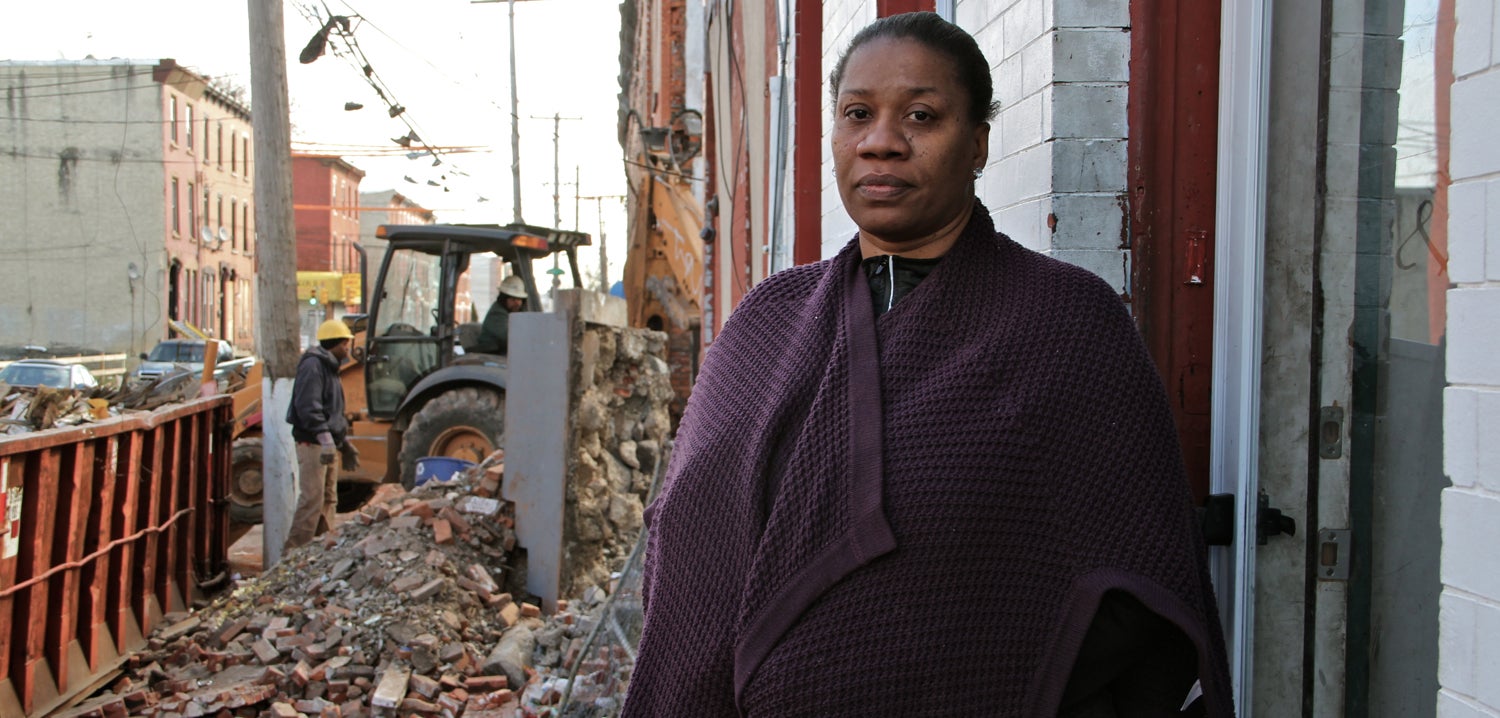 In Sharswood dozens of residents are being displaced through the use of eminent domain, clearing a path for the Philadelphia Housing Authority's sweeping plans to transform the neighborhood. For our series Remaking Sharswood, reporter Ryan Briggs caught up with residents affected by eminent domain about their experiences and the road ahead.
For Sharswood resident Beatrice Mack, the worst part about living next door to the massive Philadelphia Housing Authority's redevelopment project isn't the dust or the constant shuddering that began in February, when excavators started tearing into the abandoned houses a few doors down.
The worst part, she says, is the rats. Thousands are fleeing the demolition of nearly a full row of mostly vacant, infested shells on the south side of the 2400 block of Oxford street, where Mack has lived since 2007. One of a dwindling number of structures on a ravaged block, her home is as good a place to shelter as any.
"The rodents, they're out of control. They're just basically taking over," Mack said.
Mack is one of the last residents on a block immediately adjacent to the Norman Blumberg Apartments, the soon-to-be-imploded epicenter of a 10-year, half-billion dollar redevelopment plan the Philadelphia Housing Authority (PHA) promises will "transform" a neighborhood long marked by poverty and blight. The agency is using eminent domain to seize nearly all of the houses on her block, one of many affected by the redevelopment work, but Mack's settlement is still pending.
Until then, she's stuck waiting. Meanwhile, the towers are scheduled to come down on March 19th, unleashing even more vermin on the few residents left nearby. Flyers PHA has distributed throughout the neighborhood instruct neighbors to call a special "Rat Complaint Hotline" if they have issues after the implosion.
But for a homemaker with five children, dealing with the surge of mice and rats — and the lingering smell of their excrement — is already a costly frustration.
"We have to spend so much money on bleach, on air fresheners," she said. "They jump across the mice traps we put down. The rat poison we put down, they don't eat."
PHA President Kelvin Jeremiah told PlanPhilly that his agency had elected to take down the block, despite a few remaining residents, because he was confident that demo crews were "experienced" enough to perform the work safely.
"I think we will do what we can in terms of making the demo as surgically as we can, preserving what we can." Jeremiah said.
One demolition worker, subcontracted by PHA to tear down structures on Mack's block, nodded solemnly in agreement with her assessment of the vermin problem. When his crew starts their machinery in the early morning, he said he watches colonies of raccoons, mice, and possums scurry for cover.
2400 block of Oxford Street, demolitions underway. February, 2016 | Emma Lee/WHYY

2400 block of Oxford Street, demolition underway. February, 2016 | Emma Lee/WHYY

2400 block of Oxford Street, before demolition, January 2016 | Ashley Hahn/PlanPhilly
The agency has been vague about exactly what the end result of these efforts will look like or how all the work will be funded. It has broadly stated, however, the intent is to replace the demolished towers with low-rise construction, while assembling thousands of vacant properties nearby to construct a mixture of affordable and market-rate housing units on surrounding blocks. The agency has also announced its intent to move its headquarters to Sharswood.
Eminent domain is a legal term that refers to the ability of certain public agencies to seize privately-held property under certain circumstances. This power is briefly detailed in the Fifth Amendment to the US Constitution, which states that takings are allowable only when they contribute to a "public use" and the affected property owner receives "just compensation." The legal process for that taking is called "condemnation."
For more about how eminent domain is working in Sharswood, check out our explainer.
PHA and other public agencies have sat on hundreds of vacant or deteriorating parcels in the neighborhood for decades, but officials abruptly revealed last year that to fully realize their vision for remaking the surrounding neighborhood they needed to seize some 1,300 additional properties. Of those, 500 were already publicly owned and more than 1,100 were vacant lots. But of there were 73 occupied properties on the list, including Mack's rowhome.
Like dozens of other residents, she was notified about the condemnation process early last year. While others were moved out of the neighborhood, the Philadelphia Redevelopment Authority (PRA), which is conducting the eminent domain process on behalf of PHA, identified a problem with the way the deed to Mack's house was recorded by a previous owner. While the issue predated Mack's ownership of the property, it meant PRA has been unable to secure title insurance for the property transfer.
Mack is now receiving legal assistance from Community Legal Services to help her resolve the tangled title, although neither she nor her lawyer, Catherine Martin, can say exactly when she'll be able to leave. Martin says communication from PHA's lawyers has been "spotty and uneven."
The housing authority is legally required to compensate and pay for the relocation of residents it displaces through eminent domain. Mack says she wants to leave, but feels trapped on a gutted block, by a bureaucratic process she doesn't fully understand.
"It's shaking my house. I'm afraid that with me being in the house, that my house might collapse," she said. "I just want them to treat me fairly. They want my property, I don't want theirs."
Meanwhile, the housing authority clearly isn't letting the snag delay their construction work. Inside Mack's rowhome, where she lives with her five children, the sound of rumbling machinery is constant and vibrations rattle the lampshades. Around the corner, foundations have already been poured and posted renderings show a line of three-story, modern rowhomes that will rise in place of existing 19th Century housing. The new units will cost about $400,000 apiece to construct.
When PlanPhilly contacted PHA in mid-January with questions about the relocation process, spokesperson Nichole Tillman acknowledged that the agency had retained Florida-based relocation company O.R. Colan. At the time, she told PlanPhilly that PHA had not begun moving people out of the neighborhood.
"As of now, no one has moved yet with the assistance of O.R. Colan," Tillman wrote in an email exchange, on January 15th. "You many want to delay your article until all your points can be addressed."
But on January 25th, the Philadelphia Redevelopment Authority confirmed that, in fact, 27 residents had begun the time-consuming relocation process or had already been moved out of the neighborhood. PHA has still not made public how many individual residents would be displaced due to eminent domain.
Since mid-January PlanPhilly repeatedly asked PHA to arrange interviews with its relocation contractors and displaced residents, who can be difficult to track down after relocation. Despite weeks of requests, the agency offered only general statements about O.R. Colan's outreach efforts and provided a copy of HUD's national relocation assistance guidelines. PHA arranged a single interview with a relocated resident, only after the agency was notified that PlanPhilly had spoken to other residents in the project zone.
Knocking on doors revealed that some people on PHA's relocation list, like Mack, are still in the neighborhood — and that not everyone wants to leave.
Blumberg low-rises and new construction in progress. February, 2016 | Emma Lee/WHYY

Work in progress at Norman Blumberg Apartments. February, 2016 | Emma Lee/WHYY

Norman Blumberg Apartments. February, 2016 | Emma Lee/WHYY
Lawanda McGlone, who works at an office in Hatfield, Pa., bought a house on a well-kept section of Harlan Street, south of the towers, in 2001 to be close to family. Two and a half years ago, she invested tens of thousands of dollars into home improvement projects, finishing the basement, redoing the bathroom and kitchen. It didn't matter to PHA.
"They didn't care. They just gave everybody the same amount that I got for mine, but I had my whole house redone," she said. "Had I known this was going to happen, I never would have put all that work into my house."
But fighting eminent domain is a costly and difficult process. Eventually, she accepted PHA's offer and O.R. Colan's relocation services. She wanted to stay in the neighborhood in a similar house, and, according to HUD guidelines, she should be entitled to exactly that.
"They showed me a list of two houses and then said, 'This is what's comparable to your house,'" McGlone said. "The [other] houses on those blocks were all boarded up and the streets were covered in trash."
The replacement homes themselves also weren't as nice on the inside as McGlone's current house. She says that because PHA lowballed the value of her house at a time when new development was already creeping into her neighborhood, they made it impossible to find a comparable home for the same price.
"I wanted a house with a new bathroom and a new rubber roof and granite countertops, because that's what I had," she said.
Eventually, she went to a private realtor in Center City to find more properties, which is allowed with PHA approval. She eventually compromised on a house she liked on a block that she didn't.
"By the time they sent me the [approval] letter, some of the properties I wanted were gone," she said. "The whole process just sucks."
As she moves out of her house, McGlone says she's left with a lingering question: Why me?
"I don't understand how they chose the houses that they chose," she said. "My neighbor has the whole back falling off her house, but they didn't take her house…I don't understand the process."
PHA President Kelvin Jeremiah told PlanPhilly that the agency had tried to keep people like McGlone in their homes.
"We didn't take everything. In some places, I thought, somebody had invested in their homes, they're living there," Jeremiah said in a recent interview. "We said, 'Okay, we want you to remain here we want you to be here and we applaud you for being part of that transformation.'"
While this may be true for other blocks, it wasn't true for McGlone. Because PHA has not released detailed plans about what will replace her home, it could be years before she finds out why she had to give it up.
New construction, Sharswood. February, 2016 | Emma Lee/WHYY

Signage for new housing on the way. February, 2016 | Emma Lee/WHYY
Across Jefferson Street, on the south side of the Blumberg complex, Mario Glover is being forced out of the rental house he found on Craigslist in November. Because he and a roommate have occupied the house for just under 90 days, they are ineligible for the 42 months of renters compensation PHA is required to provide for tenants displaced by eminent domain.
Initially, Glover said, a representative from O.R. Colan erroneously told the men to expect relocation money and months of rental assistance. But PHA later clarified that it would only reimburse up to $750 in "travel expenses" — after they came up with the money to lease a new house.
"That [reimbursement] is literally only to help move furniture. It's not to help us move into a place, and they're not moving us into a place. So it's not real assistance," Glover said.
He and his roommate only learned their block was being condemned after they moved in and heard about the Sharswood plan. He now thinks his landlord, who is being compensated by PHA, deliberately withheld that information in order to squeeze a little more money out of the rental property.
"The landlord was telling us from the beginning that they knew as much as we knew. Which couldn't have been 100 percent true, in my personal opinion," he said. "PHA is saying one thing. O.R. Colan is saying another thing. The landlord is hardly saying anything. And we're left in the dark."
Glover worries that once PHA takes possession of the house, he won't have legal recourse if their old landlord skips out on refunding their security deposit. Once again scrambling to find a new place to live, he says he has other questions, but PHA has not been communicative.
"We had to find out about the project on our own," he said. "Now what's going to happen? If I don't have a place to go, will I be out on the street? We're not getting those answers."
Glover said the relocation agents do call him and his roommate about every other day, but not to answer questions. They just want the men to sign a release, forfeiting their right to reside in the house. He said they wouldn't sign any documents until they've talked to a lawyer.
Some people are happy to be leaving the battered neighborhood. Raymond Sharkey, a man in his late 50s, lives in a mint green stuccoed rowhome, fixing cars on a fenced lot next door. His home is one of just a handful still standing on a weedy block of Ingersoll Street, dotted with publicly owned lots and jersey barriers. He jumped at PHA's offer to take his crumbling building off his hands, in exchange for a nice, new house in Logan.
He said he wasn't sure if he would be sad to leave the neighborhood he'd called home for so long.
"In a way, because I've been around here half of my life," he said. "But in a way, not, because these houses are old. Look around, we used to have a block full of houses here."
Mitchell Hughes was born in the neighborhood and bought a two bedroom house on Stewart Street, which he and his grandmother had rented from PHA for decades, through a special homeownership program. Last year, the agency let him know it that it intended to take back the house he'd bought 2010. In exchange, he picked a nicer house in Wynnefield.
Hughes, who works for the city, was happy to take the offer. Although he wasn't sure that his neighbors would be as excited to leave.
"I'm 42 years old. For somebody like me, it was time for a change," he said. "But it's going to be harder for the older generation that lived here all their lives. Some have lived there for 50 or 60 years. They're going to be hurt."
While Hughes was content to start over in leafy Wynnefield, he had mixed feelings about PHA's plans to "transform" a place he'd called home for four decades.
"It's going to be a totally different neighborhood, and that's a good thing. But it's a bad thing that some people are getting pushed out," he said. "They want that neighborhood back because it's close to Center City. That's what everybody's saying. And I think that's true."
Jared Brey contributed reporting to this story.
PUBLIC OWNERSHIP IN SHARSWOOD BEFORE AND AFTER EMINENT DOMAIN:
Slide white bar left and right to see before and after
Parcels in light pink are properties that were publicly owned by agencies like Philadelphia Housing Authority, Philadelphia Redevelopment Authority, Philadelpiha Parks and Recreation.
Parcels in purple are properties PHA is acquiring through eminent domain.

DATA SOURCES: City of Philadelphia, City council bill 150409 | CREDIT: Preston Hull + Ashley Hahn
WHYY is your source for fact-based, in-depth journalism and information. As a nonprofit organization, we rely on financial support from readers like you. Please give today.