Religious vaccine exemption clusters put some schools at a higher risk for an outbreak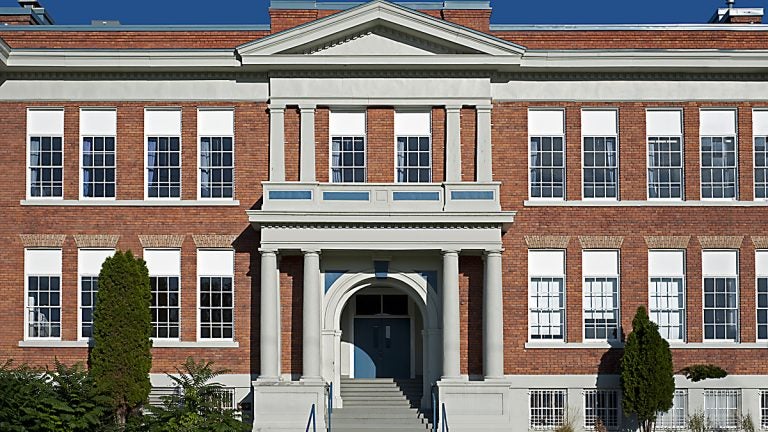 Critics of vaccine mandates often argue that these directives are unneeded, citing a statistic that only 1.7 percent of New Jersey schoolchildren claim religious exemptions from immunizations. But an NJ Spotlight analysis of school statistics reveals that while a majority are in almost total compliance, there are hundreds of schools with high rates of religious exemptions.
Public-health advocates say this is a problem because the lower the vaccination rate in a given school or neighborhood, the higher the risk that a disease will spread. In order to avoid an outbreak like the one that occurred with measles in California this winter, these advocates want to change state law to make it harder for families to claim religious exemptions.
Student vaccination rates by schools in NJ
The issue as to whether to limit these exemptions could put Gov. Chris Christie in a bind. His comment in February that parents should have "a measure of choice" when it comes to vaccinating their children drew national attention, as well as a quick clarification from the governor's press office that "there's no question" that children should be vaccinated for measles.
But the comments also highlighted Christie's longstanding relationship with the community of parents who oppose the schedule of vaccines that children must receive to attend a New Jersey school — public or private. Public health advocates also raised concerns that the comments sent a mixed message to parents, while Christie's own Department of Health is trying to raise the vaccination rate as much as possible. They're particularly concerned that this rate doesn't fall below the level that provides "herd immunity" –the point at which a population is generally immune.
For example, the World Health Organization estimates that the rate to achieve herd immunity for measles is between 83 percent and 94 percent.
In New Jersey, 615 schools and daycare centers of 5,775 in the state had fewer than 94 percent of students who were fully vaccinated during the 2013-2014 school year because they had at least 6 percent of students with religious exemptions– as can be seen from the map. Of those, 111 schools and daycare centers had fewer than 83 percent fully vaccinated because at least 17 percent of students had religious exemptions.
The religious and total exemption rates for each school and daycare center is available in the database accompanying this article. The information it contains was compiled in cooperation with Dr. Drew Harris, a public health advocate who obtained it via the Open Public Records Act.
Private schools and daycare centers tend to have the greatest number of religious exemptions. Of the 111 schools with the highest religious-exemption rates, 23 were public schools, 43 were private schools, and 45 were in the combined category of preschools, nursery schools, and daycare centers.
The counties with the greatest concentrations of schools and daycare centers with high rates of religious exemptions (at least 17 percent) were Warren, Hunterdon, Morris, and Monmouth. Cumberland and Hudson had no schools at that level and Burlington and Middlesex also had few schools with a high number of exemptions.
The Waldorf School of Princeton, a private elementary school with tuition and fees totaling $19,980, had the highest number of religious exemptions. Of 108 students included in the vaccination report submitted to the state, 46 had religious exemptions — or 40.7 percent — while one student had a medical exemption.
The school is one of more than 1,000 "Waldorf education" schools around the world that embody the educational philosophy of by Rudolph Steiner, an early 20th century Austrian writer who supported independent, imaginative thinking.
Waldorf schools also have the highest number of religious or personal-belief exemptions in California and New York City. The Princeton school recommends that parents read material that includes critiques of vaccinations. Waldorf schools in Germany have been the location of measles outbreaks.
School official Jamie Quirk wrote in an emailed response to questions that "the health, safety, and well-being of children is our foremost concern at the Waldorf School of Princeton, and our educational objectives do not include avoidance of, or resistance to, childhood immunization."
Quirk added that the school complies with all state immunization regulations "and does encourage parents to consider their social and civic responsibility in regard to deciding whether to immunize against any communicable disease. However, we also recognize that parents' decisions to immunize their children are made in consultation with their family doctor, and happen before they enter our school."
Harris noted that schools with lower vaccination rates tend to cluster together.
"It's a social-network phenomenon," in which criticisms of vaccines are spread among families and friends, said Harris, director of the masters of health policy program at Jefferson School of Population Health in Philadelphia. "Bad ideas spread like a virus … Part of what we must do is inoculate people against the idea that a vaccine is worse than the disease itself."
A central reason legislators and public-health experts argue in favor of a bill making religious exemptions harder to get is the fact that some children can't receive exemptions for medical reasons, such as having compromised immune systems as a result of chemotherapy.
According to the database, there are 753 schools with at least one student with a medical exemption and at least one student with a religious exemption. Public-health advocates are concerned that in the event of an infectious-disease outbreak, students with medical exemptions could be exposed to unvaccinated students who contracted the disease and whose parents have chosen to get religious exemptions.
As Harris puts it: "children are equally vulnerable of catching the disease, but only the child with the medical condition has no choice in whether or not to be vaccinated — and is more likely to die from the disease."
There's no one common thread among the schools with the most exemptions. Some, like St. Paul's Christian School in Brick and Cheder Lubavitch in Morristown, have religious affiliations. Others have a high percentage of students with disabilities.
Lollipop Day Nursery School in Park Ridge is the preschool with the most religious exemptions in the state. Owner Jim Angelillo said it had nothing to do with the philosophy of the school.
"They choose to take advantage and claim the exemption for whatever reason — I mean, it's legal. I'm not the one who's supposed to police it," Angelillo said.
Saad Omer, a public health professor at Emory University in Atlanta, said that private-school exemption rates started to diverge from public-school rates in the mid-1990s in California, and that — based on national trends — a similar change likely occurred in other states like New Jersey.
Omer said there hasn't been much research as to why private schools have higher exemption rates, although there may a connection to having parents who are more affluent. In addition, public schools may be more consistent in their application of the vaccine mandates, he said.
Michigan State University professor Mark Largent, who's studied the history of vaccines, said that parents of private school students likely have higher incomes and socioeconomic status, and are sociologically more likely to reject government authority based on education, religious commitments, or political ideology.
Religious exemptions have been the focus of a debate in the Legislature this year, as a bill, S-1147/A-1931, which would make it more difficult to get these exemptions, is advancing. Under the bill, parents would have to submit a sworn statement that vaccinations violate their religious beliefs.
Academic assessments of religious beliefs haven't found organized religions that prohibit vaccines. Opponents of the bill say this is irrelevant, since their beliefs are personal.
Some doctors, particularly those with international experience, say that parents who oppose vaccines don't understand their importance because they haven't experienced the alternative. Dr. Peri Kamalakar, director of the Valerie Fund Children's Center for Cancer and Blood Disorders in the Barnabas Health system, began practicing as a doctor in India nearly 47 years ago.
"I still remember the day when I was an intern back home, (that) a child with diphtheria was dying in front of my eyes — there was nothing I could do," he said. "To come from there to here in a developed country with intelligent people — to decline immunizations to me is mind-boggling and I cannot understand it."
He noted that while some people have minimized the danger posed by measles, he's seen children die from the disease.
"My concern as a pediatric oncologist is immuno-compromised children who cannot get a vaccination," Kamalakar said.
Vaccines have been used for centuries and there have always been some people who oppose them. But the modern movement opposing mandatory vaccines is rooted in allegations of a link between vaccinations and autism. This was compounded by an infamous 1998 article in the British journal The Lancet that asserted a link but was later found to be based on fraudulent data. The author later lost his medical license in the United Kingdom.
The federal Centers for Disease Control and Prevention says definitively that there isno link between autism and vaccinations. But there are many people who reject the scientific consensus and believe that the increase in diagnosed cases of autoimmune diseases and conditions such as autism can be affected by the number and frequency of recommended vaccines, as well as the use of a mercury-derived preservative that is sometimes used.
State law requires all school-age children to be vaccinated, but for decades has allowed for religious, as well as medical, exemptions. Public-health officers would sometimes question parents about their beliefs under state regulations that require that exemptions be based on "bona fide" religious beliefs.
This changed in 2008, when the attorney general's office advised the state Department of Health that public-health officers cannot ask parents about their religious beliefs. Since then, there's been a consistent increase in the percentage of students whose parents claim religious exemptions, rising from 0.4 percent in 2007-2008 to 1.7 percent in 2013-2014.
Harris wishes that the state could return to the pre-2008 exemption levels . "If we go back, then we would probably have pretty decent herd immunity," he said.
The 2008 change has led to the New Jersey having a de facto philosophical exemption to mandatory vaccination, said Harris.
Harris supports eliminating the religious exemption. He added that would likely have a stronger chance of surviving a court challenge than questioning parents about their religious beliefs. While a judge may have constitutional concerns about such questions about religion, courts have upheld the constitutionality of states having no religious exemptions at all. Mississippi and West Virginia are the only states without any religious or personal-belief exemptions.
Harris also said the state should work more to ensure that cost is never a barrier to vaccination.
"In essence, we made it easier to get an exemption than to get a vaccination in New Jersey," he said, due to both the costs and the amount of time it takes to get children inoculated.
Harris said the broader public should also be alarmed about the rising exemptions.
"Within the school it is a problem, but it's also a problem for young siblings and younger children in the community," he said.
Department of Health spokeswoman Donna Leusner noted that the while the best immunization rate "would be close to 100 percent," the statewide rate is over 95 percent.
"Immunization is one of the best ways parents can protect children from serious childhood diseases. Through immunization, we have made great strides in drastically reducing infant death and disability in the United States," she said.
She noted that the state promotes vaccines through several programs and public events, including providing free or reduced-price vaccines to 800,000 eligible children annually.
Robert F. Kennedy Jr., an environmental lawyer and son of the assassinated U.S. attorney general, senator, and presidential candidate, is concerned with the proposed bill and recently visited the state to meet with legislators. While he said he believes "that vaccines save millions of lives," he's focused on Thimerosal, a mercury-based preservative that's been removed from most vaccines, although it is still in some influenza immunizations given to children and adults, as well as tetanus and diphtheria shots given to adults. Last year, Kennedy wrote the book "Thimerosal: Let the Science Speak."
The medical consensus is that the Thimerosal doesn't cause autism, and while it was removed from nearly all childhood vaccines to ease concerns raised by some parents, the action doesn't appear to have diminished the worries.
Kennedy responds to those who cite the CDC's position, by saying it is a "a cesspool of corruption." But Kennedy does say he would be concerned about vaccination rates if they fell below 80 percent. When informed that more than 30 New Jersey schools have reported rates below that level due to religious exemption rates above 20 percent, Kennedy said, "It troubles me that 20 percent don't vaccinate — a lot — but I think the solution to that … is cleaning up CDC."
Sue Collins, cofounder of the New Jersey Coalition for Vaccination Choice, said the organization is fighting the bill to protect religious freedom.
"As a society, we've all decided that the only religion that is acceptable is the religion that a pharmaceutical company dictates, and I find it very troubling when as a society we decide that we're all born vaccine-deficient and unless we follow the religion and don't listen to the immune system and what God has given us, then that's a problem," she said.
Collins isn't alone. At least 200 parents and others opposed to the bill attended a recent Assembly Health and Senior Services Committee hearing to voice their opposition. The committee released the bill.
Dr. Wayne Yankus said the public schools in Ridgefield, where he has served as the district doctor since 1991, have seen the number exemptions rise from one or two before the 2007-2008 school year to roughly 80 today.
"All you had to do was mention the word 'religion' in a letter," Yankus said of the revised regulations. "We even had letters that were written on paper towels that were thrown on the nurse's desk, because we couldn't question it."
Yankus said parents are using the religious exemption as an excuse.
"They're bogus, and by and large, it's a philosophical exemption done through religious means," he said.
Bill sponsor Sen. Joseph F. Vitale (D-Middlesex) said he would support eliminating the religious exemption, but doesn't believe it would pass the Legislature, or that Christie would sign it.
Assemblywoman Nancy F. Munoz (R-Morris, Somerset, and Union), an advanced practice nurse whose professional career started in 1976, said she's concerned that the very success of vaccinations in reducing deadly infectious diseases in the United States is leading to opposition to vaccines.
"If Bill Gates is willing to spend $2 billion of his personal money to immunize … the people of Africa, and we're going to go the opposite direction … the message is wrong," Munoz said. "And it's because they simply haven't seen the diseases. We have. I have."
Harris also said that it shouldn't take an open-records request to see the school data: It should be published in a readable format on the Department of Health website. Parents have a right to know their children are vulnerable, he said.
"What you really need to know is, what is the likelihood that my child is going to be exposed to an infectious disease in class," Harris said. "It's a matter of parental rights. It's a matter of being able to inform and to protect children."
__________________________________________________
NJ Spotlight, an independent online news service on issues critical to New Jersey, makes its in-depth reporting available to NewsWorks.
WHYY is your source for fact-based, in-depth journalism and information. As a nonprofit organization, we rely on financial support from readers like you. Please give today.