Relics of a polarizing legacy within reach at Frank Rizzo estate sale
In total, some 2,500 items will be sold over three days, kicking off on Black Friday, the nation's appointed deal-hunting day.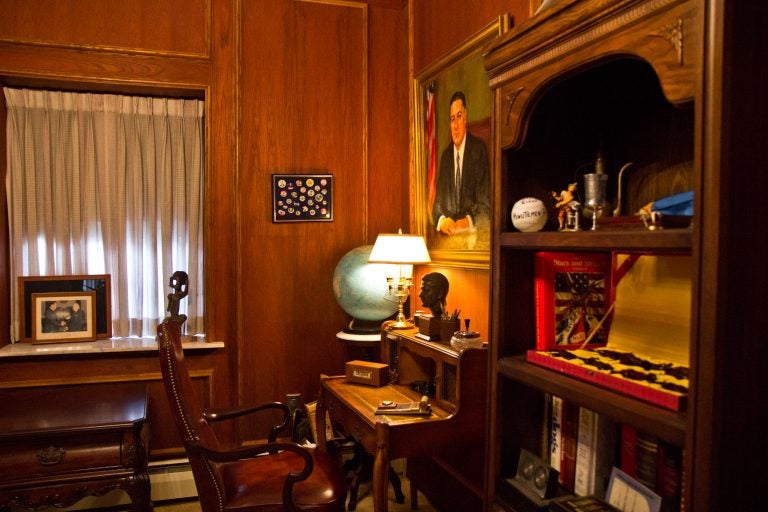 This article originally appeared on PlanPhilly.
Updated 10:18 p.m.
—
The sale and auction of the estate for former Philadelphia Mayor Frank Rizzo got underway Friday as planned.  Among those excited to see the sale was Roberto Ioannucci, who was grinning ear-to-ear as he handed his credit card to the cashier.
"I'm proud as a peacock right now, wearing his coat," Ioannucci said.
Ioannucci bought one of Rizzo's overcoats and found a dry cleaning ticket stapled to the inside breast pocket. But that wasn't the only surprise he found inside the coat.
"He still has two of his favorite hard candies in his pocket," Ioannucci said. "I don't know if I should eat them or what, ha, might be a little bit outdated but…"
John Romani figured there would be a lot of attention. He gets the appeal: He's Italian, the son of a cop, a Philly native. "Mayor Rizzo was talked about on a daily, weekly basis in my house," said the certified appraiser.
Along with his mother, Romani has run Sales by Helen, a firm specializing in high-end estate sales, for 30 years. But they've never experienced anything like the buzz around the sale of Rizzo's home and its contents.
The Daily Mail, a British tabloid, did a story. Buckingham Palace called about a pair of signed photos given to Rizzo by Queen Elizabeth II and Prince Philip.
"Someone from France called to do an interview just about the nightstick," Romani added.
And then there's the Rolodex, full of legendary Philadelphia names: Ed Rendell; Zack Stalberg, former Philadelphia Daily News editor; Grace Daniels, the first African-American ward leader; Irv Davis, the longtime finance director for the school district.
"Obviously, people are going crazy for that," said Romani.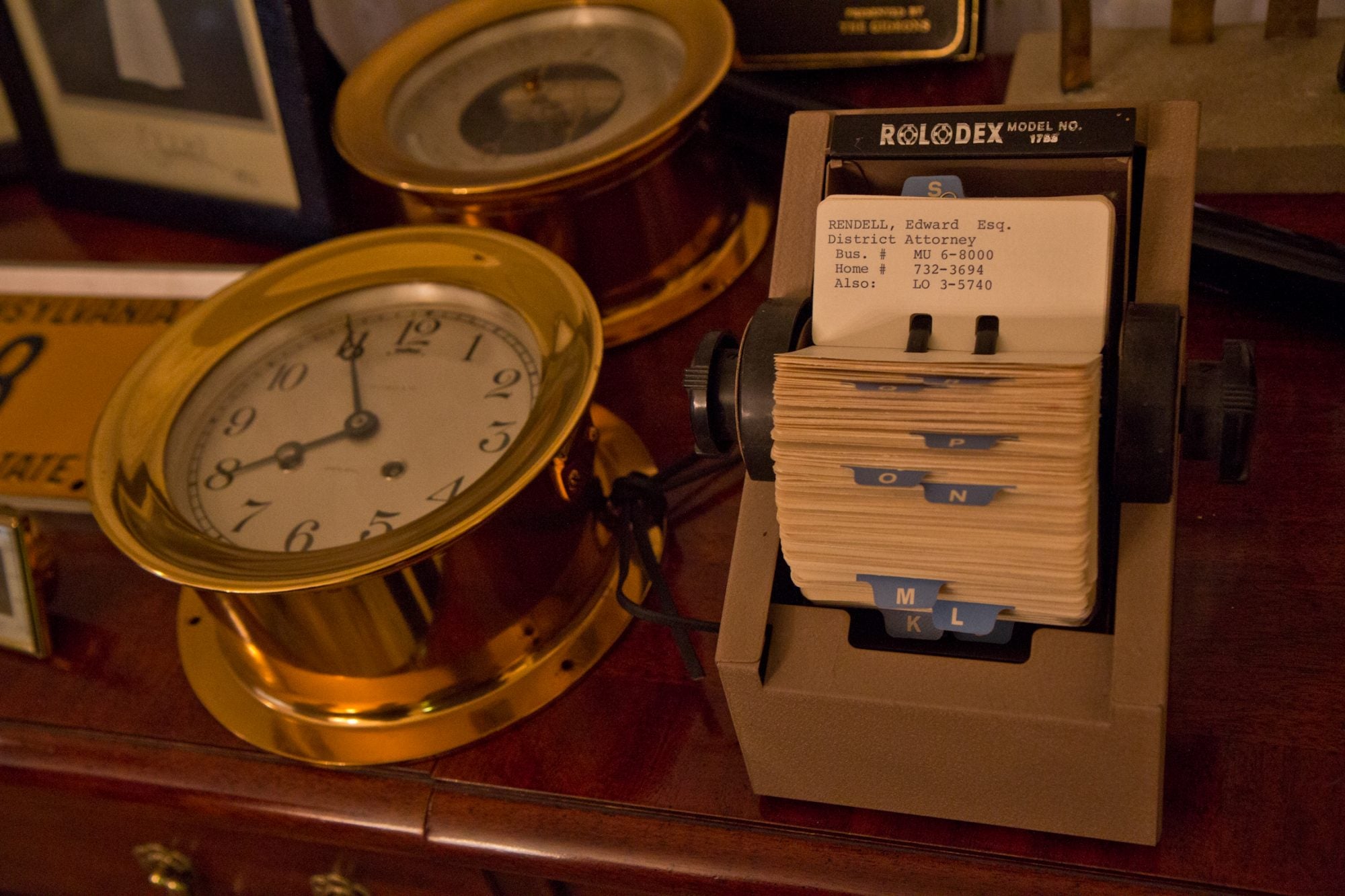 In total, some 2,500 items will be sold over three days, kicking off on Black Friday, the nation's appointed deal-hunting day. The sale will take over 8919 Crefeld St., the Chestnut Hill home Mayor Rizzo bought in a sweetheart deal after public outrage squashed an even sweeter deal on a brand new mansion in Roxborough. (More estate sale details are available here.)
Frank L. Rizzo remains one of the most polarizing figures in Philadelphia history. He was a high-school dropout and local tough guy who became the first Italian-American and Roman Catholic to win the mayorship. Rizzo arrived at City Hall after riding through the Philadelphia Police Department ranks from patrolman to commissioner on a reputation for violently quelling the social unrest that roiled American cities throughout the 1960s.
As mayor, Rizzo ruined the city's already shaky finances and completely botched the Bicentennial in 1976, but his cordial relationship with President Richard M. Nixon helped the city secure federal funds for projects including the transformative Center City Commuter Connection tunnel. Democratic mayor of Philadelphia from 1972 until 1980, Rizzo would run again for mayor in 1983 and, after switching parties, again in 1987. Rizzo tried once more in 1991, but after winning the GOP primary, he suffered a fatal heart attack while campaigning.
Controversy has followed Rizzo into death, as activists call for Philadelphia to take down monuments to his memory. Mayor Jim Kenney agreed earlier this year to move a statue of Rizzo from the front of the Municipal Services Building, but it's unclear just when or where the relocation will occur.
Rizzo's widow, Carmella, passed away this summer at the age of 101. Neither of the Rizzo children wanted to keep their parents' home, where nearly every room is decked out in ornate wallpaper and pastel Persian rugs. It's filled with the sort of collectible ceramics and crystal dining ware that fell out of fashion sometime during the Nixon administration. So, the kids — who are themselves well into retirement — decided to sell almost everything.
Hundreds expected at sale
Romani expects a massive crowd. When he sells off the estates of famous athletes or Main Line millionaires, about a 100 people usually show up, sometimes as many as 500. Romani expects at least 1,000 for the Rizzo sale.
"We've heard stories of people coming here the night before, " Romani said. "Somebody on Facebook said they are going to eat Thanksgiving dinner, and they are going to drive and sit out on the steps and wait for it to open."
"We're going to let in as many people as possible," said Romani. "We do have some [off-duty] Philadelphia police officers we've hired to be on site, to help us control the crowd."
That's befitting, given the controversy Rizzo engendered both during and after his mayorship for the number of city police officers personally detailed to his security. A KYW investigation into the sizable personal security force Rizzo kept after leaving office led to one of the most memorable confrontations in Philly history. Rizzo called TV reporter Stan Bohrman a "lush" and a "crumb bum," while challenging him to a fight in front of the Rizzo home.
There will also be a meatball truck on site for the long lines that arrive Friday morning. Romani said they'll allow about 100 people in the house at a time, and almost everything will be priced and sold on a first-come, first-serve basis. He expects diehard Rizzo fans and Philadelphia history buffs will make up the bulk of the buyers.
"We're not going to sell to collectors, not going to sell to dealers, not going to sell to auction houses or people looking to make a profit on this stuff," said Romani. "People are going to buy this stuff, it's going to be put in their home, and it's going to be cherished."
Rizzo's son, former city Councilman Frank L. Rizzo Jr., recently gave WHYY reporters a tour of the home and some of the items for sale. "There's a lot of people interested in the things that were in this house," said Rizzo. "Things that you honestly think you'd dispose of — 'Don't throw that away, we have somebody that wants that' — [like] an old license plate."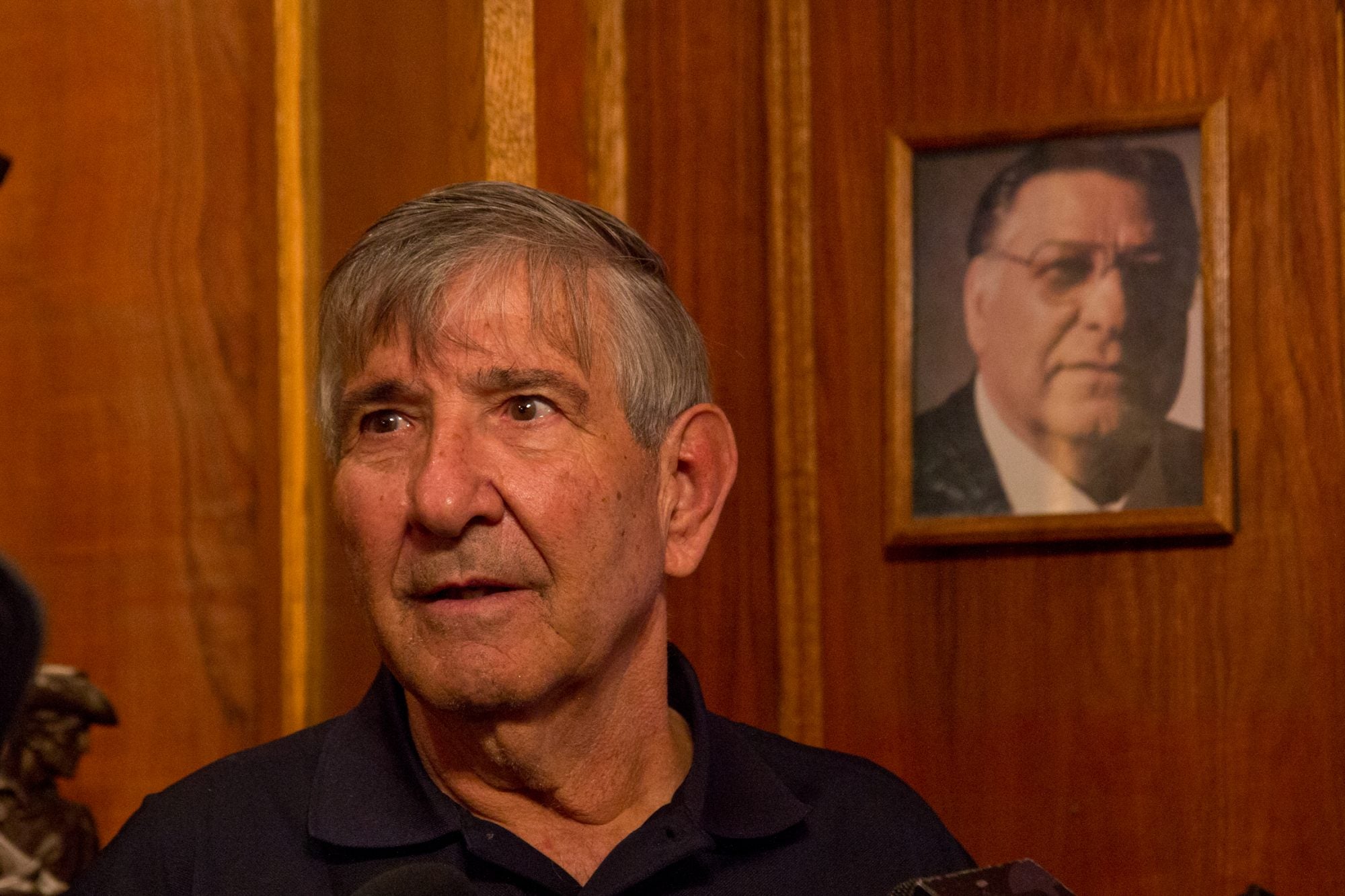 That license plate was the one Rizzo had when he was mayor — Pennsylvania license number 8. The number indicated there were positions above Philadelphia's mayor in the elected official pecking order at PennDOT.
The ticket that might have been
Rizzo guided reporters into his father's wood-paneled study, filled to the brim with memorabilia. There were multiple busts and paintings of the mayor — one apparently done by Margaret Cianfrani, sister of Henry "Buddy" Cianfrani. Campaign tchotchkes were abundant. Rizzo pointed to one large button with just the names "Rizzo Nixon" on it.
"Nixon wanted him to run with him, as vice president, and he turned him down because he just loved Philadelphia. Philadelphia was his passion," said Rizzo. "People came here to negotiate with [Rizzo Sr.], they thought a law and order guy would be good for [Nixon]."
Rizzo said his father told him this story, which hasn't been reported anywhere else. "They sent down a case of those [Rizzo/Nixon buttons] and said, 'Look, we want you to do this,'" said Rizzo. "How serious were they? Did the vetting process happen? I don't know. All I know is, it would have been a good ticket… but I'm glad it didn't happen, after how things turned out."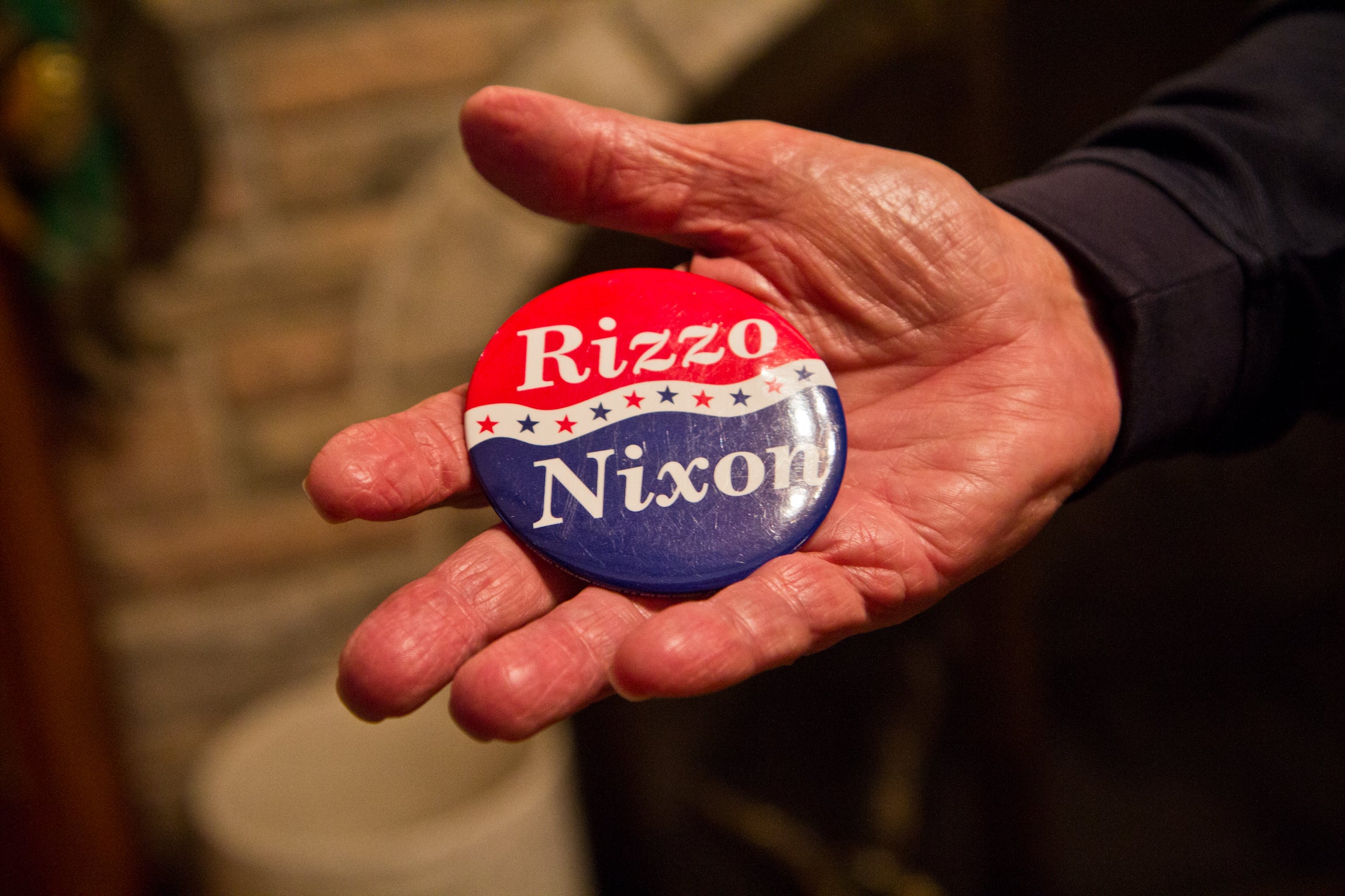 If true, it meant Nixon wanted to replace Spiro Agnew on the ticket in 1972 or the following year when he was forced to resign the vice presidency after pleading no contest to tax evasion charges. Like Rizzo, Agnew had a "tough on crime" reputation as Maryland's governor after violently suppressing riots that rocked Baltimore in the wake of Martin Luther King Jr.'s assassination.
But Rizzo and Nixon historians alike think it's an apocryphal account. While Nixon obviously liked Rizzo — there's a signed photo of Tricky Dick up for grabs, too — the GOP would have never let Nixon replace Agnew with a Democratic mayor. Nixon more famously considered John Connally, his Secretary of Treasury who led the group Democrats for Nixon in 1972 and soon after switched parties — but the president thought some in his own party, as well as liberal Democrats, would balk.
"If [Richard Nixon] knew the party wouldn't accept the ex-Democrat Connally, he'd know that times 10 about Rizzo," said Justin Sherin, a playwright who has written extensively on Nixon. Rick Perlstein, the author of "Nixonland," also found the claim dubious, as did Timothy Lombardo, who recently wrote "Blue-Collar Conservatism: Frank Rizzo's Philadelphia and Populist Politics."
If the story were true, of course, it would have meant that Frank L. Rizzo didn't just turn down the vice presidency, he passed up the White House.
The nightstick
Outside his father's study, Rizzo pointed to another item up for sale and offered another suspicious claim: "That's the famous nightstick in the cummerbund."
This would be the most famous nightstick in Philadelphia, the one depicted in a photo of then Police Commissioner Rizzo arriving on the scene of a civil disturbance in Grays Ferry, dressed in formal wear, having just come from a black-tie event at the Bellevue Stratford. A billy club juts out from under his tuxedo jacket.
"He had a pretty good relationship with the folks there [in Grays Ferry], and he thought his presence could be helpful," said Rizzo. "He got there, no gun, [in a] tuxedo — nothing — so he said to [police Sgt.] John Devine: 'John, at least give me something, a nightstick.'"
Soon after, Rizzo would run for mayor against blue-blooded Republican Thacher Longstreth.
"They thought the photo was going to be negative, so [Longstreth's] campaign made posters and put them all over the city," said Rizzo. "Whenever my dad showed up in the neighborhood, all the folks would go rip them off and ask him to autograph them."
It's an incredible story. The only problem is the nightstick for sale doesn't look like the one in the photo. There's a little silver nub on the handle of this one that's black in the picture.
A storied life
But if Rizzo won't let a couple of facts get in the way of a good story, he's simply following in his father's footsteps. Mayor Rizzo, after all, once agreed to take a lie detector test, to prove he wasn't involved in a shady real estate deal. He failed it.
Rizzo was famous for his penchant for tall tales that somehow never weighed down his political career. As detailed in the authoritative biography, "The Cop Who Would Be King," Rizzo recounted seeing his father bow and doff his cap to Edwin Vare, the state senator and South Philly political boss, and asking why. His father said Vare was a powerful man who could cost the elder Rizzo his job. "'I made up my mind then,' Rizzo said. 'Nobody's going to push me around. Frank Rizzo doesn't bow to anybody.'
'The trouble with this story is that when Edwin H. Vare died at the age of 60 on Oct. 16, 1922, Frank L. Rizzo was 1 year, 11 months and 3 weeks old.'"
It's tough to blame Rizzo's son for embellishing history on the eve of the estate sale, especially in a way that paints his father in a favorable light. After all, while Mayor Rizzo was a symbol to so many in Philadelphia — a law-and-order hero to some, a racist villain to others — to Franny Rizzo, he was dad. Asking him to weigh in on his father's complicated legacy is to invite little more than warm memories — like the time his dad met the queen.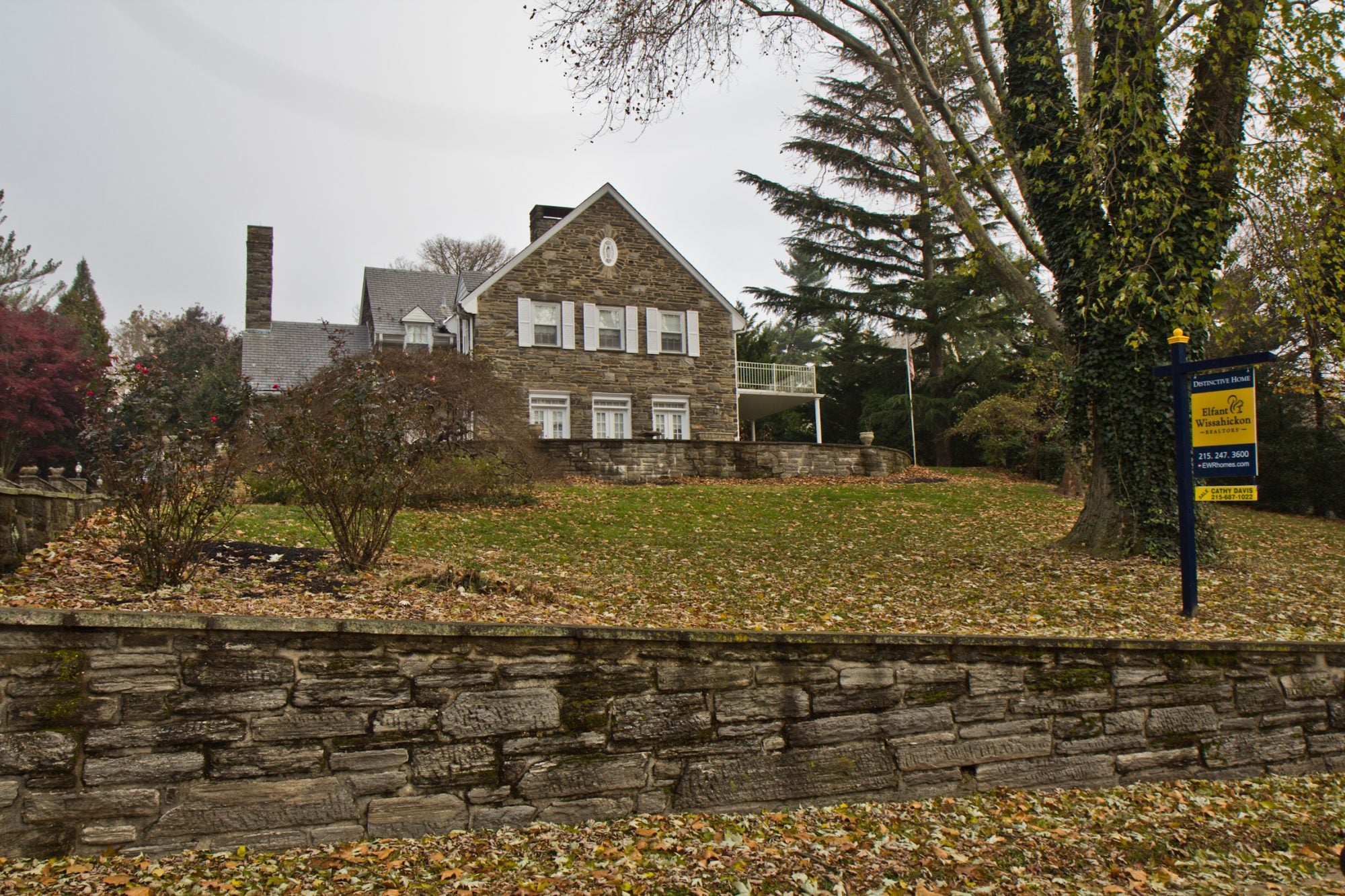 "She really, really liked my dad," Rizzo said while looking at the autographed photos the royals gifted. "She said of all the things they talked about, he was most interested in raising children — [it was] when she was raising her [own] children — I'd love to hear the advice he gave her, but she didn't reveal that."
Thousands of items linked to the city's most controversial mayor are for sale this weekend, but not everything. "I'm keeping obviously some of the photos of my dad, myself, my sister, mom," said Rizzo. "This house is certainly, certainly full of memories."
WHYY is your source for fact-based, in-depth journalism and information. As a nonprofit organization, we rely on financial support from readers like you. Please give today.