Reckoning ahead on rules for Registered Community Organizations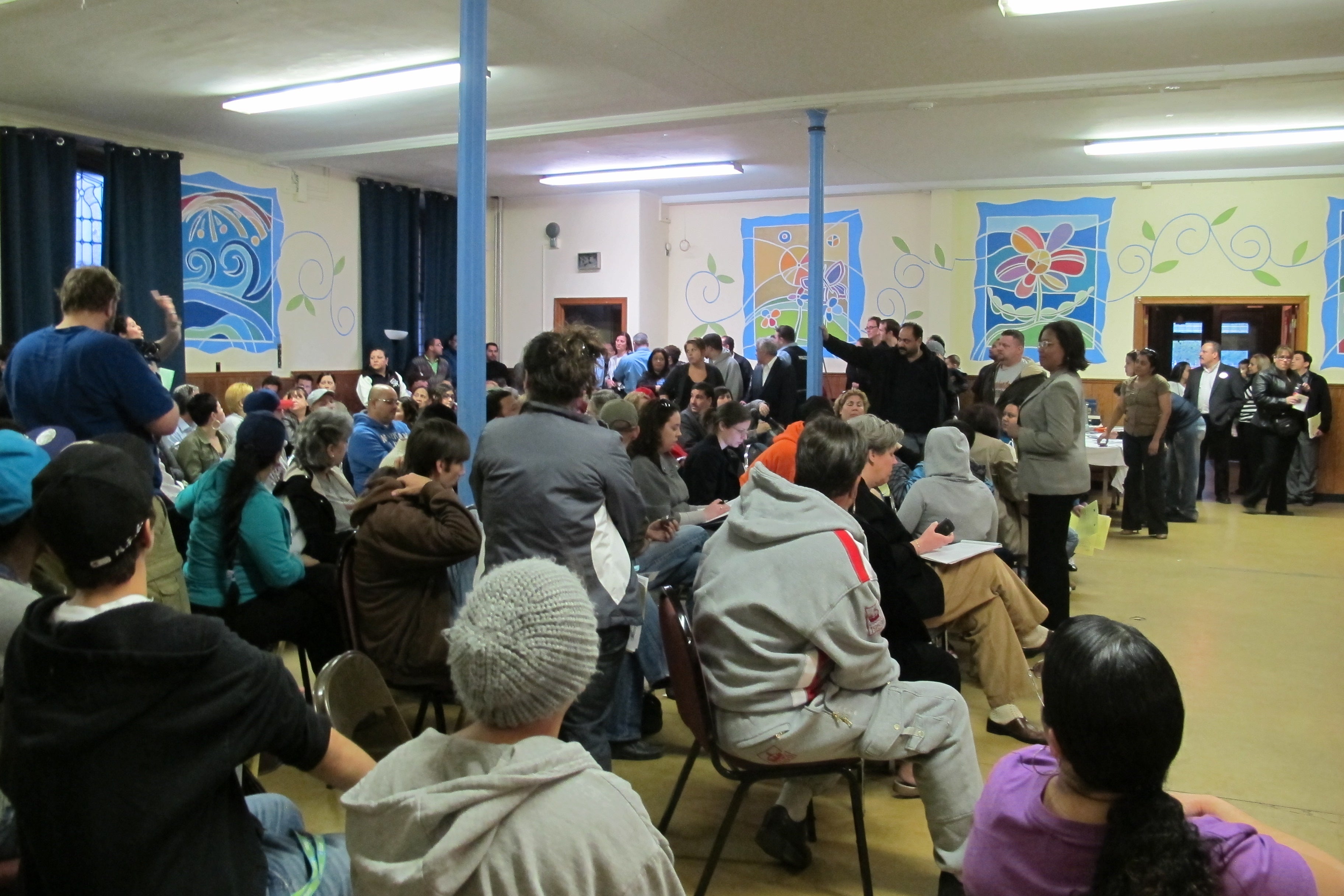 On Tuesday, the City Planning Commission voted to recommend a bill that would authorize the Commission to create a code of conduct for Registered Community Organizations (RCOs), civic associations and other community groups, that receive official notification and a right to meet with developers when construction projects are proposed in their neighborhoods. But the Commission stopped short of actually adopting a code of conduct, delaying those discussions for another day.
The bill was introduced by City Councilman Kenyatta Johnson after reports that some Point Breeze residents made anti-Semitic comments to developers at a zoning meeting last month. Johnson's bill doesn't mandate a specific code of conduct. Instead, it authorizes the Planning Commission to lay some ground rules for RCO behavior in its own departmental regulations, and to decertify certain groups if they fail to follow those ground rules.
Johnson's intent was to keep discussions civil and respectful at public meetings regarding sometimes controversial development proposals. But it's tricky for a number of reasons, not least of which is that, as the Inquirer highlighted, the First Amendment prevents the government from regulating speech in most cases.
But RCO status is already a fraught designation. Registered Community Organizations were created in the city's overhauled zoning code that was adopted in 2011. The code allows civic groups to register with the City Planning Commission to receive notice when developers want to build non-conforming developments in their neighborhoods. It also requires developers who are seeking zoning variances to hold at least one public meeting with those registered groups.
Beyond those two privileges—notification and the right to a meeting—Registered Community Groups enjoy no special legal rights that aren't afforded to other, unregistered groups or individuals. Everyone has the right to testify at a hearing of the zoning board, the Civic Design Review Committee, and the City Planning Commission, and RCOs don't have the power to approve or reject a development proposal simply because they're registered with the city. Municipal zoning policy aside, the entire American legal system protects private property rights from that type of interference.
So the City Planning Commission can give two special privileges to groups that comply with certain regulations—things like holding public meetings and having written bylaws—but it can't take rights away from groups that don't.
The Commission seems to understand the limits of its ability to regulate these groups' conduct. It had actually already been at work updating its departmental regulations before Johnson introduced his bill. On Tuesday, Commission staff presented an updated set of regulations, including some suggested new regulations for RCOs. Most significantly, those new regulations would prohibit what laypeople might call extortion and discrimination.
From the regulations as proposed:
An RCO that attempts to place upon applicants any requirements not enumerated in these regulations or the Zoning Code, including but not limited to the solicitation of payments or services, either financial or in-kind, from an applicant or other party, as condition of fulfilling its obligations outlined in these regulations and the Zoning Code … may, at the discretion of the Executive Director, have its RCO registration suspended or revoked.
And:
RCOs shall perform the activities described in these regulations or the Zoning Code without discrimination against any applicant or other participant or participating member of the public because of race, color, religion, age, national origin, sex, sexual orientation, gender identity, disability, or any other class protected under the Philadelphia Fair Practices Ordinance.
Note that these regulations say nothing about speech.
Because the bill had been introduced in response to accusations of anti-Semitism at a zoning meeting, though, and because nobody had seen the Commission's proposed regulations until today, community members were suspicious.
"This should be called the 'Shut The Black Women Up' change," said Judith Robinson, a North Philly resident who's been a vocal opponent of the Housing Authority's Sharswood-Blumberg Neighborhood Transformation Plan.
Madeline Shikomba, of the North of Washington Avenue Coalition, said that long-term residents of gentrifying neighborhoods are being painted as the "victimizers" in the press.
Tiffany Green and Theresa McCormick of Concerned Citizens of Point Breeze asked why there isn't a code of conduct for developers. They also wanted to know what appeals process would be in place for RCOs that have their certification revoked.
According to Philly.com, the anti-Semitic remarks were attributed to members of Concerned Citizens. Green and McCormick swear they made no such comments. PlanPhilly did not attend the meeting in question.
Other Point Breeze residents, including Albert Littlepage of the Point Breeze Community Development Coalition and Claudia Sherrod of South Philadelphia HOMES, spoke in favor of Johnson's legislation. They said that community meetings in the neighborhood have gotten out of hand, and the Planning Commission should hold RCOs accountable for their conduct.
The Home Rule Charter authorizes various city agencies, including the City Planning Commission, to create departmental regulations. When the Planning Commission adopts new regulations, any interested party can call for a public hearing on those regulations within 30 days of their adoption. If no hearing is called for, the regulations become law.
Because several witnesses felt that that timeline was too short, and there hadn't been enough time for the public to review the proposed regulations, they asked the Commission to hold off on adopting. The Commission obliged, though it did adopt several sets of new regulations related to narrower matters like development on steep slopes and triggers for Civic Design Review.
Johnson's bill will get a committee hearing in City Council. Assuming it passes, the question of establishing a code of conduct for RCOs will come back to the Planning Commission. Gary Jastrzab, the Commission's director, said he wasn't sure yet what kind of process the Commission follow to rewrite those regulations.
In the old days, before the city rewrote the zoning code, community groups met with developers on an ad hoc basis. They gained power by packing zoning board hearings and, by force of will if not by force of law, convincing the board to block or support development proposals. They were powerful because they had a Council member on their side, or they were powerless because they didn't. They held public meetings and open elections, or they did their negotiating in private.
The zoning rewrite was meant to clarify everyone's role in that process. There may still be some work to do.