Q&A: How Philly's firefighters keep the city's historic buildings safe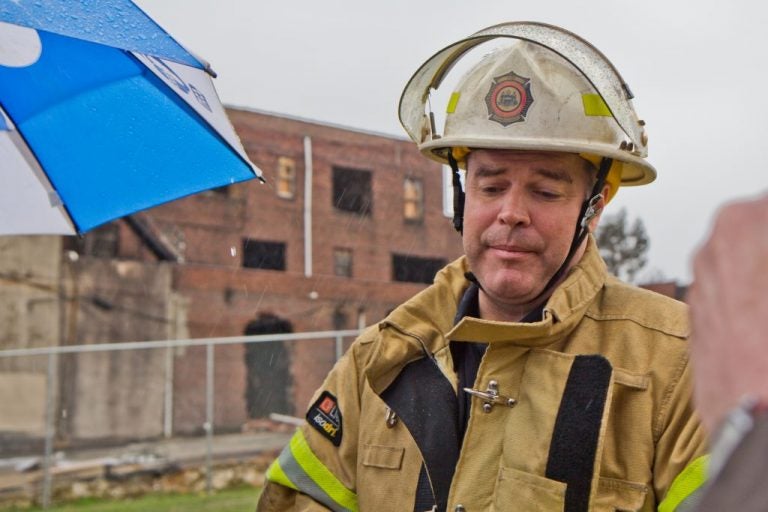 This article appeared on PlanPhilly.
—
Philadelphia is an especially historic city and one that is especially fire-prone too.
Neighborhoods like Old City have seen a series of conflagrations in recent years, as historic buildings without sprinkler systems were felled by fires. Meanwhile, many iconic structures like Independence Hall, Christ Church and City Hall have somehow managed to avert disasters like the fire that engulfed Notre Dame Cathedral in Paris on Tuesday. We sat down with Philadelphia Fire Commissioner Adam Thiel to learn how Philly keeps its icons safe.
This interview has been edited for length and clarity.
Jake Blumgart: Did watching Notre Dame burn yesterday make you worry about any historic buildings here in Philadelphia?
Adam Thiel: One of the great things about this city is the architecture and the built environment, which is unique in the United States. We have more historic buildings than pretty much anywhere in the country, with most of our building stock built between 1800 and 1900. We still have a lot of old factories and warehouse buildings and that does create some firefighting challenges that you don't necessarily experience in other large U.S. cities.
JB: Do we have any protocols in place for iconic buildings like Independence Hall?
AT: It's hard to specify in advance what to do in a certain building type because it depends on where the fire is located. What's the weather, what's the occupancy, is it during the day, is it at night?
So what our firefighters do — 24/7, 365 — is maintain familiarity with buildings and their response areas. So you'll often see firefighters walking around and through buildings. They're learning the building, doing their best to understand that response environment.
But our firefighters are among the best in the business and they get out there and they learn the buildings. That said, you can walk through a building on day one and a lot of things can happen between that first day and 30, 60, 90 days later or even nine years later.
We're very busy here in the city of Philadelphia. We do about 1,000 incident responses every 24 hours. We extinguish seven to eight building fires every day.
JB: Does Philly have so many fires per day because of the city's age or because of our rowhouse housing stock? I imagine if you're fighting a fire in a suburb, that fire is probably going to remain contained in that house because it's surrounded by lawn, whereas here…
AT: It's a little bit of both. It's the density and the number of row homes that we have. It's a combination of the age of the buildings and the density of our population. We have more building fires than Chicago and that's not controlled for population. That's just the raw number. Over there, a lot of the building stock that we still have in Philadelphia burned in the Great Chicago Fire in 1871. We still have a lot of those buildings and they are still experiencing fires.
JB: Can you describe some of the particular fire hazards for historic buildings Philadelphia?
AT: It's almost impossible to generalize anything about any particular building simply based on its age or occupancy type or whatever its use category is.
I think everybody is aware that you need heat, fuel, and oxygen to sustain a fire — that oxygen generally comes in air, especially with buildings that have large open areas. When the building is split up into different compartments, that actually helps us from a fire safety perspective. That is in contrast to a lot of newer buildings which have large open floor plans. Certainly, it's in contrast to churches.
We have a tragic history with church fires here in Philadelphia. We just commemorated the 25th anniversary of the Rising Sun Baptist Church fire, where we lost two firefighters. Churches are a particularly challenging type of fire environment because you have those exposed fuels, you have those large open areas, you have a lot of airflow through the building, which moves the fire around.
JB: Does the fact that so many of our buildings are made of brick have any effect on fires and their ability to spread? Does it help contain fires a little bit more?
AT: I think that that's the conventional wisdom. But other variables can become more important than that. All other things being equal, brick is more fire resistant than wood. But it really depends on how all of the different building components are put together. Every building is a custom job even if it looks like a cookie cutter building, not that we have a lot of those here anyway.
By the time we're in that building, if it's one year after construction or ten years or 100 years, a lot of things have changed. So to use a sports metaphor, we never get to play a home game. We're always the visiting team.
JB: The president was tweeting about how the French should dump water on Notre Dame from a helicopter or something like that. I was reading that was maybe not such a great idea.
AT: I got a lot of questions about why don't they drop water on Notre Dame. Water weighs 8.33 pounds per gallon. So you can imagine what thousands of gallons, basically four tons of water, crashing into a building — that was already structurally compromised — would have meant to the structure. What it would have meant to what might be left of it, and to the firefighters underneath.
The four-alarm fire that we fought here in Philadelphia [on Sunday] we expended literally hundreds of thousands of tons of water. And that fire was orders of magnitude less than what everybody saw in Paris. So again you're talking about hundreds of thousands of tons of water. You put that on a building that's already structurally compromised. You can figure out the rest. It is physics.
JB: There have been a lot of fires in Old City over the past couple of years. At the end of last year, a bill pushed by Licenses and Inspections commissioner Dave Perri began requiring that mid-rise buildings have sprinklers on the first floor and the basement. Do you think that will end that spate of fires?
AT: I will just say it is very rare to have significant property loss or have people die in buildings that are fully sprinklered. We have a tragic history with partially sprinkler buildings here in the city of Philadelphia. At One Meridian Plaza, where we lost three firefighters, that fire burned until it hit the floor where the sprinklers started. We are fortunate thanks to L&I and the foresight of City Council a lot of our new construction is going to be sprinklered, even if it's residential construction. That's not the norm everywhere.