Public radio DJ soothes his listeners' COVID-19 worries with eclectic playlist
Morning Edition host Jennifer Lynn speaks with WXPN's Dan Reed about how he's bringing comfort to the Delaware Valley with his eclectic taste in music.
Listen
5:58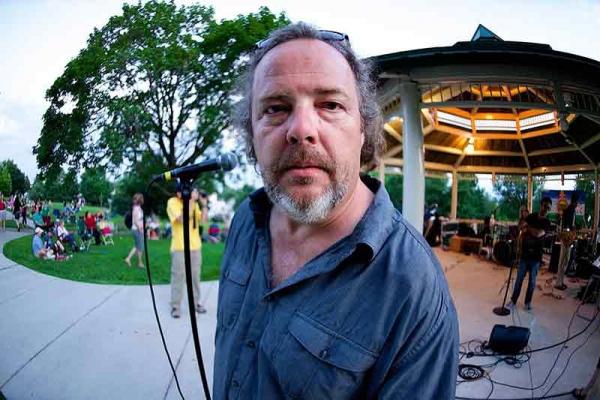 Today is the first ever Public Radio Music Day. Public radio DJ Dan Reed says music is a type of salve during the new coronavirus pandemic. He hosts the afternoon show on 88.5 WXPN in Philadelphia. He offers an eclectic playlist, one of the hallmarks of public radio.
Morning Edition host Jennifer Lynn spoke with Reed about what he's able to offer listeners at this unique time in history. She cued up a Rolling Stones song called "Sway," the B-side of the "Wild Horses" single from June 1971. It's Dan Reed's favorite song.
It's about depression, about not being able to enjoy the simple things in life. Mick Jagger belts out:
Did you ever wake up to find
A day that broke up your mind
Destroyed your notion of circular time?
 It's just that demon. Life has got you in its sway.
–
Gosh, isn't it amazing how music, the meaning of a given song has kind of changed in this pandemic? That one in particular?
Oh, it sure has. I think that song sort of says everything about the Stones in like four and a half minutes. It's like a car with three wheels that you feel like it could fall apart at any time. You know, it's so loose and wild and mean-sounding and sort of semi-menacing. But lyrically, yeah, I've found that a lot of my favorite songs have especially different meanings throughout this crisis we've been enduring. So yeah, I know what you mean.
Yeah, I feel like we've been on a bit of a vehicle with some wheels missing. What does your show sound like right now? Are you providing mood music through the pandemic? 
You know, I'm in here live most days. I think that most of the people that listen to my show in the afternoon want to hear me do my thing. Just to take people's minds off all the other things going on. And the music is the universal salve, you know, I mean, for lots of things that ail us. That's what I think my role is here at the station between 4-7 [p.m. on] weekdays is just to play the music and have a little fun.
What's on your playlist?
There's a lot of things. There's this band in Philly, I guess they've been around for a while. They're called the Deadeyes. And they sent me this song called "Last Days of Summer" that I'm obsessed with. It sort of harkens back, it's sort of a 90s, you know, indie rock kind of sound. You know, a lot of local Philly bands and people I know have sent me stuff that I really enjoyed. I guess it's more of a comfort food situation for me right now.
That's hilarious because that was one of my questions. That was my first question is what is your music comfort food right now?
I've been using that phrase a lot. You know, the comfort food phrase, it just seems to make a lot of sense right now. You know, man, like a lot of people, I've been turning to some of the old masters myself. Neil Young, Bob Dylan. I listen to "Desire" by Bob Dylan all the way through the other day and that was really cool to hear. My first break in the four o'clock hour, I do a thing like, let's all take a deep breath right now. Let's just take a big, deep breath, do it with me and I do it on the air and, you know, and I say, "That's for yourself and that's for those of those of us who can't take deep breaths right now." And that's kind of what I do. And hopefully, if that brings comfort to people and puts a smile on their face and takes their mind off of some of these awful things we're all enduring right now, then, wow.
Yeah. You know, I feel like I'm listening to music differently. I'm noticing things, even guitar parts I never really paid attention to. And I've hummed along to them over the years. But something about I feel like I have fresh ears right now because I just have a heightened sense of everything.
I hear things a little differently now myself. I don't know why that is. I've been struck by these recurring waves of nostalgia, though. I heard the Ramones this morning and almost I just teared up. It wasn't a certain time or anything I could remember, but it's like the Ramones had been with me since I've been in high school. And I've always liked them. I've always come back to when I've seen them live. And just to hear it on the radio this morning was really cool. And it was a song I think was "Judy is a Punk," not exactly an emotional song by any means. But just hearing that the Ramones guitar attack sort of said, "All right. We're going to survive this. I'm going to survive this. I'm going to be smart about it. I'm going to do what I can." I can always go back and hear "Judy is a Punk" and feel a little better.
WHYY is your source for fact-based, in-depth journalism and information. As a nonprofit organization, we rely on financial support from readers like you. Please give today.