Preserving a building without the building in Sharswood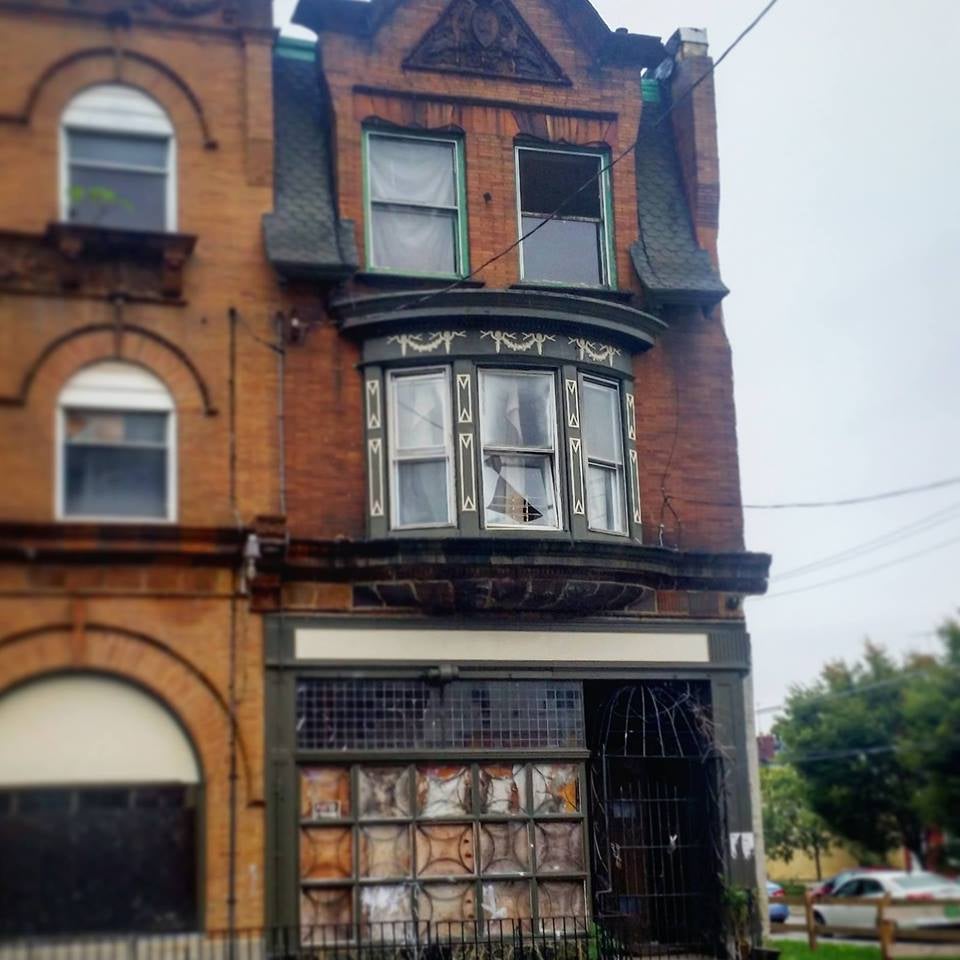 A group of historic preservation advocates dedicated to preserving African-American artist Dox Thrash's legacy in Philadelphia are making strides to foster and repurpose the artist's home in Sharswood, writes Starr Herr-Cardillo, contributing to Hidden City Philadelphia. The Dox Thrash House, comprised of Dana Rice, Andrea Haley, Maya Thomas, and Chris Mulford, have taken some new school approaches to explore 'preservation' without the building, given an increasingly common hurdle: tangled title. The legal owner of the property, activist and minister Muhammad Ali Hasan passed away in the early 1990s without willing his properties to any of his offspring, Herr-Cardillo writes. Transferring the title to a legal descendant would entail a long, and likely expensive, legal process that has thwarted other nonprofits like Project HOME.
So, the house just sits, with a slew of L&I violations, owed back taxes, and no legal property owner to OK the process to submit the house to the national register and qualify for federal tax credits. "The fact that traditional preservation is predicated on the existence of 'original' fabric," Thomas says, "disproportionately affects the representation of African American heritage."
The group has worked with community partners, stewards, and some of Hasan's descendants, instead. The advocates have spoken with some family members who "are open to the idea of pursuing a conservatorship" and the plan to repurpose the house as a public space, owned and operated by various stewards. The group has also worked with Community Futures Lab to host community discussions about the neighborhood's history and consider scenarios that "recognize and honor Dox Thrash's role as both a community member and artist" without preserving the building. The group identified potential community partners and stewards, Cecil B. Moore Library, North Philly Peace Park, and the Martin Luther King Recreation Center.
Thomas hopes the team's approach can serve as a model for similar scenarios and "come up with a framework for doing things differently."
Winter Storm Toby, the Nor'easter's least popular fourth offspring, is here!
Transit by air, rail, and car have been hit hard by Storm Toby today. Flying? PHL International announced nearly 600 canceled flights (and counting) this morning. Driving? PennDOT reduced the speed limit to 45 mph on the east-west mainline from Ohio to New Jersey as well as the entire Northeastern Extension. Not moving at all, just parking? The Snow Emergency went into effect this morning, which means vehicles should be clear of snow emergency routes for snow plows. Taking SEPTA? The BSL and MFL trains will operate every 20 minutes and will also replace the overnight NiteOwl Bus service Wednesday evening. Regional Rail will operate on a Saturday schedule, except the Cynwyd Line, which will not operate today. Keep up on the storm throughout the day and check out pictures from our reporters and readers here.
Why crowdfunding street cleaning creates more inequity across neighborhoods
Bella Vista residents fed up with accumulating litter and debris in their neighborhood have crowdfunded more than $15,000 to pay for their own street sweeping, Philly Mag's Joe Trinacria reports. The campaign, led by the Bella Vista Neighbors Association, was boosted by plenty of local support from neighbors as well as Councilman Mark Squilla, an advantage that BVNA recognizes most neighborhood groups don't have and "which poses a huge problem in pay-your-own-way politics," Trinacria writes. The root of the problem, the Bella Vista neighbors and Councilman Squilla say, was when the city dismantled the city-wide bi-monthly street cleanings in 2009. Mayor Kenney promised to bring back neighborhood street cleanings while campaigning in 2015, but it's a slow political battle to get there: Catalina Jaramillo reported in February that city spokesman Mike Dunn named three major obstacles to rolling out the brooms on residential blocks: a lack of "citywide buy-in; the impact on parking and overall cost. Advocates argue that complaints over parking inconvenience shouldn't get in the way of a basic municipal service, though "this issue is not just about moving cars," the Zero Waste and Litter initiative head Nic Esposito says. "That's an unfair reduction and simplification of the issue." Esposito explains while they recognize that some neighborhoods want to bring back street cleaning, the city's priority is to tackle illegal dumping over street sweeping in areas that are moderately littered. The Streets Department, armed with data from the newly-released litter index, plans to start meeting with residents, organizations and city agencies to create neighborhood litter plans in the spring to discuss what's the best way to tackle trash problems in their areas—including street-sweeping.
In the meantime, PlanPhilly's conducting our own survey, and it's only one question: If the city started a street-sweeping survey to tackle the litter problem, would you move your car twice a week? Tell us and you'll get a prize—the sweet satisfaction of public participation.