Pre-existing conditions shape election debate over health care
Republican U.S. Representative Scott Perry took to Facebook Live last Thursday to talk pre-existing conditions.
"I want to talk to you about something you're probably seeing on TV, generally sponsored by Nancy Pelosi, who is helping my opponent," said Perry, wearing an orange T-shirt, blue jeans and work boots and sitting on a camouflage stool in front of what looks like a wooden barn door.
"They're telling you that I voted 37 times against pre-existing conditions, and let me just make this clear: That's a lie," Perry said. "What I did was, I voted however many times it took to get rid of Obamacare, because Obamacare was a takeover of the health care system by the federal government, and it forced us to buy things we couldn't afford, didn't need, and often-times, didn't want."
Like Republicans across the Commonwealth, Perry finds himself working to prove that he supports laws that ensure that people who have medical conditions can still get insurance, even as he maintains his opposition to the Affordable Care Act.
With the election less than two weeks away, Perry's concerns don't end with the discussion over health care. Although he has won three elections easily, the 10th district was redrawn for this election, making a Republican victory less certain. An ongoing New York Times poll has shown Perry with a 4 and 5 percent edge over his Democratic opponent, George Scott, in a poll that has a 6 percent margin of error.
But at a time when three out of four Pennsylvanians say health care access and cost is the most important issue they're taking to the ballot box Nov. 6, Democrats are arguing that anyone who voted to repeal the ACA voted to end pre-existing condition protections.
The 2010 law signed by President Barack Obama includes a rule that bars insurers from denying individual health insurance to someone who has a pre-existing condition. Prior to the ACA, it was common for insurers to deny people coverage on the individual market for conditions ranging from high blood pressure to a past cancer diagnosis.
So, Republicans' votes against the ACA have Democrats on offense.
"Too many families are making gut-wrenching choices: Pay the monthly bills or get the health care and prescriptions they need to survive," a woman says over foreboding piano music in a TV advertisement for Democratic 7th congressional district candidate Susan Wild. " Why would Marty Nothstein want to go to Congress to take health care away, create an age tax, and end coverage for pre-existing conditions?"
In this case, Nothstein isn't even an incumbent, and therefore hasn't voted against the ACA.
"I support House Bill 1121, the Pre-existing Conditions Protection Act of 2017, which does exactly what the name implies," Nothstein said at a recent congressional debate. "I oppose Obamacare because it's a deeply flawed law that makes things worse for so many."
Read: Barletta, Casey clash over pre-existing conditions, ACA repeal 
At the center of the discussion is whether a vote to repeal the ACA is tantamount to a vote to end protections for people with pre-existing conditions.
"And that's why Republicans particularly are on the defensive, because they have struggled to explain what they are leaving in place of what is the ACA," said Rodney Whitlock, a health policy expert who spent years working for Republican U.S. Senator Chuck Grassley.
Whitlock said the narrative around the ACA has changed.
"During the Obama years…Democrats had to defend the Affordable Care Act in whole while Republicans could attack it. And the Democrats were not as able to defend individual pieces or try to make the ACA about some of its individual provisions, which are actually quite popular, while they were trying to defend the entire statute. Since the election of Donald Trump, Democrats have been able to pivot to effectively say the Republicans are trying to make it all go away, and let's talk specifically now about the provisions they have in legislation tried to repeal, and they have very clearly focused on protections for people with pre-existing conditions."
That's led Republicans to point to other legislative efforts they say would ensure those protections. The most recent is a senate bill introduced in August called "Ensuring Coverage for Patients with Pre-existing Conditions."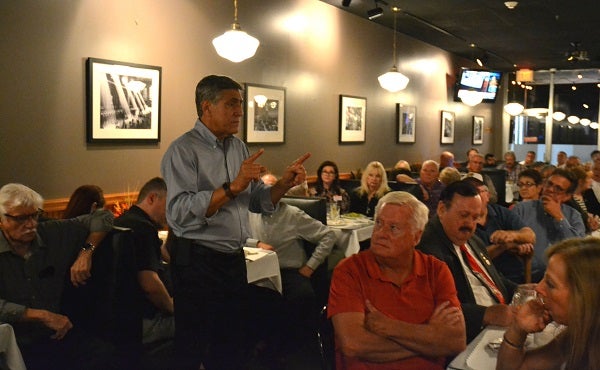 The problem, according to University of Pennsylvania Law professor Allison Hoffman, is that the proposed bill leaves some pretty big loopholes.
"It does things like it says, to ensure if somebody who has a pre-existing condition applies, you have to give them insurance coverage," Hoffman said. "But what it doesn't say is that you have to cover their pre-existing conditions. So just the basic promise that it would cover preexisting conditions is, is, you know, patently false."
Hoffman said the bill also leaves insurers with ways to raise rates that used to be commonplace before the ACA put a cap on how much an insurer could increase premiums for older people and certain other groups.
"It says that you can't charge people based on their health status, but it doesn't say that you can't charge people based on other categories that may be proxies for health status. So you can charge people more based on their age or more based on sex, or more based on occupation. And all of these things are, are characteristics that ensures have historically used as proxies for likely health status as well, I totally doesn't feel good at all."
Hoffman noted, the ACA is only existing rule that requires that insurers provide coverage to people even if they have pre-existing conditions.
Additionally, the proposed bills that would replace the pre-existing conditions protections in the ACA are far from being law. The H.R. 1121 Pre-existing Conditions Protection Act of 2017 still sits in the House after having been introduced last year.  The recent Ensuring Coverage for Patients with Pre-existing Conditions bill was introduced in August. It has a 3 percent chance of being passed, according to Skopos Labs, an artificial intelligence algorithm that analyzes congressional bills.
Whitlock said the issue driving the conversation is that, in the same way the people eventually got used to social security and Medicare,  people have gotten used to the pre-existing coverage protections.
"The Democrats have done a masterful job of defining pre-existing conditions as the standard that was set in the Affordable Care Act, and further defining that if you are not doing it, as well as what was in the Affordable Care Act, you were necessarily failing."