PPA amnesty program a 'blessing' for Philly ticket scofflaws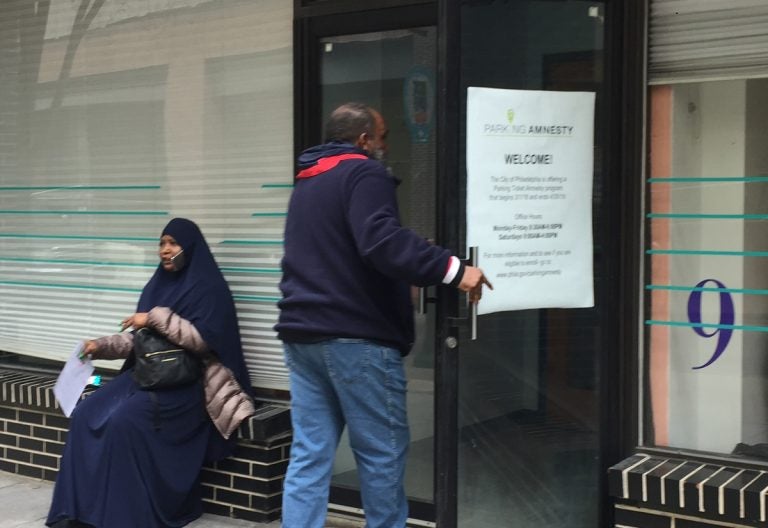 It was a strange sight.
On Thursday morning, people could be seen walking in and out of a Philadelphia Parking Authority office without scowls on their faces.
In fact, some seemed to be smiling.
"This is truly a blessing," said South Philadelphia resident Yolanda Raines as she stood on Filbert Street.
Raines, 50, is one of the dozens who took a number during the first day of a new amnesty program for unpaid parking tickets. She leaped at the opportunity to wipe away the $5,000 she's owed for more than two decades. The debt has stopped her from getting a driver's license.
"I'm willing to sit here for hours until I see somebody," said Raines.
Under the two-month program, the PPA will forgive all unpaid parking tickets issued before 2013, as long as you agree to pay any fines from 2013 to the present. All at once or over time through a payment plan.
If you don't have any outstanding tickets post-2013, the Parking Authority will charge $50 to enroll.
It's a deal North Philadelphia resident Timothy Fontaine will gladly take. He has roughly $10,000 worth of unpaid tickets dating back to the 1980s. A lot of it is tied back to a used car business he was running back then. He would buy cars from an auction and park them where he could.
"For the last 10 years, I've been paying $10,000 in tickets, $50 a month," said Fontaine. "To have them all wiped out in one day, that will help me out. It's gonna help a lot of people out with their finances too."
The amnesty program, which ends April 30, could recoup upwards of a $100 million in unpaid parking tickets. A portion of that will go to the cash-strapped School District of Philadelphia.
To City Councilwoman Jannie Blackwell, whose bill berthed the program, that kind of cash makes the program a "win-win" for all parties.
"Every blue moon when we get an amnesty program, it makes a big, big difference," said Blackwell.
The $100 million is a fraction of what the PPA is owed in back tickets.
In December, Pennsylvania Auditor General Eugene DePasquale released the results of two audits into the agency. One of the findings: since 1990, PPA had failed to collect more than $580 million in unpaid parking tickets and associated fees.
Another one: the school district potentially missed out on more than $77.9 million in revenue between 2012 and 2017 because of uncollected fines.