Potholes a thing of the past? Mayor Kenney calls for $174 million for increase to paving budget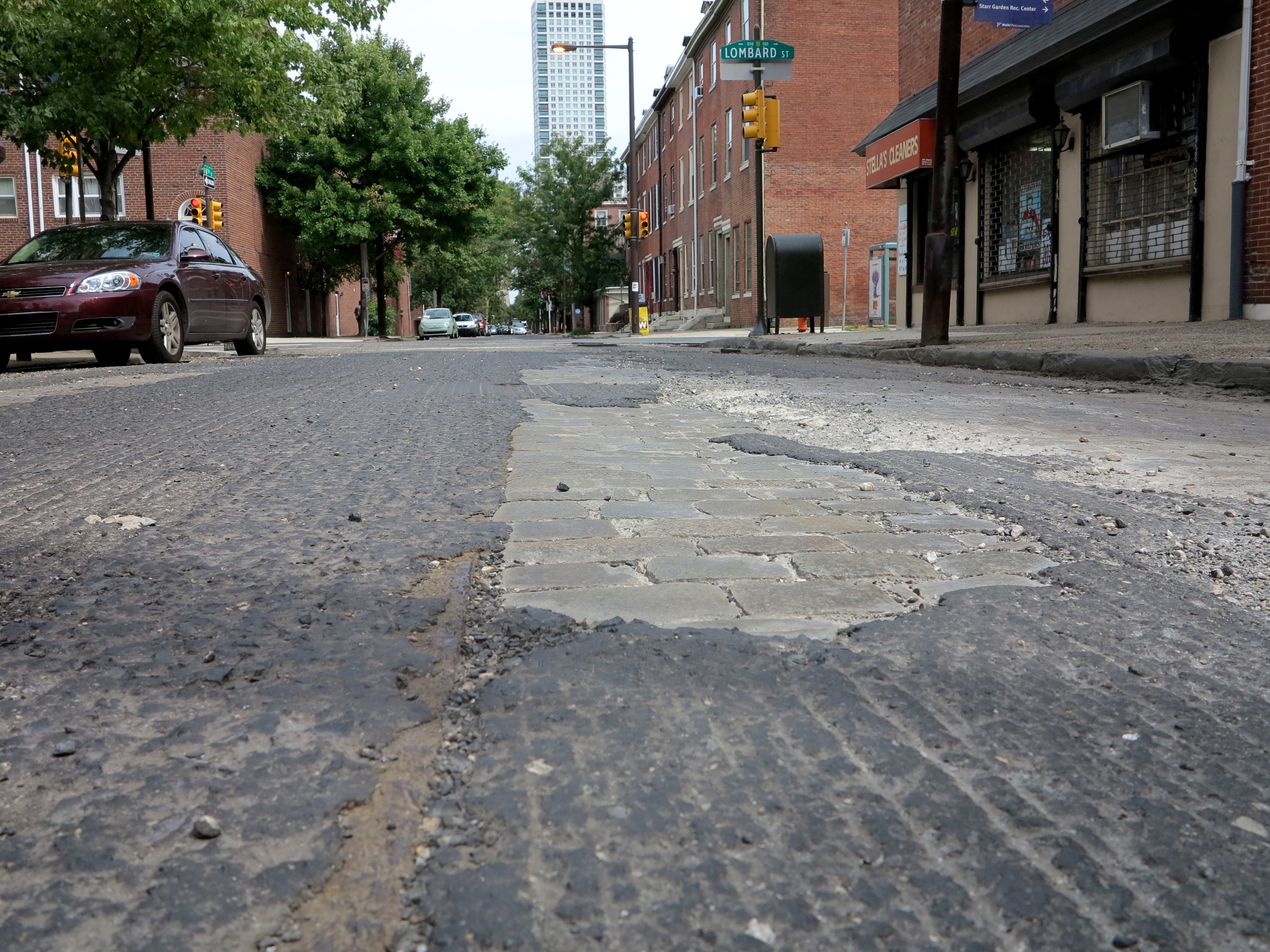 In his budget address last week, Mayor Jim Kenney called for $174 million in capital funds for street repaving over the next 6 years. The plan is to ramp up to $34.4 million per year by 2023, a substantial increase over the $21 million for street resurfacing in this year's budget, which itself was a significant step up from 2015's budget of just $13 million.
Currently, the city has just one repaving crew: 34 employees working a tri-axle truck, a hot asphalt roller, some pavement rakes, and a few other pieces of heavy equipment. Should Council adopt Kenney's repaving budget, the Streets Department will buy another set of heavy equipment this summer and hire another repaving crew of 34 asphalt rakers, crew chiefs and heavy equipment operators, said Streets Commissioner Carlton Williams.
If all goes as planned, the annual repaving totals should increase from an estimated 55 miles this fiscal year to around 75 miles next fiscal year, with the second crew beginning work this fall. As the capital budget ramps up, the plan is to buy enough equipment for a third repaving crew in about two years, said Williams, which would allow Streets to repave 130 miles annually.
That number—130 miles—is about how much it would take for Philadelphia to repave all of its streets every 15 years. The most heavily traffic roads can start breaking down after just a few years, and deterioration can be significantly exacerbated by utility cuts or new construction ripping up patches of the pavement. Currently, Philadelphia's repaving backlog stretches more than 900 miles.
Williams also noted that part of the repaving budget goes to new street restriping, which can be used to redesign roadways by narrowing vehicle lanes (which reduces car speeds), painting crosswalks, or adding bike lanes. "That shouldn't be underestimated," said Williams. "We hope this will help pay for our Vision Zero goals."
The extra hires should cost about $1.5 million more a year, said Williams. Overall, Streets is requesting an extra $5 million a year for its operating budget. According to Williams, those funds will come in part from a shift in the Municipal County Liquid Fuels Tax, which will be dedicated to roadway resurfacing.
The street resurfacing budget cratered during Mayor Michael Nutter's administration. Streets dropped down to just one repaving crew as old equipment broke down without replacement, and annual repaving drop to just 30 miles at its nadir.
The best six-year plans oft go astray: beyond the immediate fiscal year, everything contained therein is a mere preview of what the administration expects to include in subsequent budgets.
Still, the spending proposal should soothe the nerves of anyone who has suffered a busted axle or flat tire thanks to one of Philadelphia's few thousand potholes.
WHYY is your source for fact-based, in-depth journalism and information. As a nonprofit organization, we rely on financial support from readers like you. Please give today.